Cities Skylines II (Cities Skylines 2) is a city-building simulation game developed by Colossal Order and published by Paradox Interactive. The object of the game is relatively simple: players choose a map and attempt to build the largest, most luxurious, and most efficient city possible. Cities Skylines 2 is the new city builder sequel to Cities Skylines, released way back in 2015. Developer Colossal Order has been updating and adding content to Cities Skylines over the years and even as recently as last year with their Cities Skylines "World Tour." However, after going strong for eight-plus years and making it one of the best city builders to date, it was time for a new chapter.
An avid Cities Skylines player in its early days, I wound up playing on and off over the years mainly due to another Paradox-published game, Surviving Mars, fulfilling that city-building itch, I was ecstatic when Cities Skylines 2 was announced. Primarily because some things were showing their age in the long-supported original game. Cities Skylines 2 starts as most city builders. Players choose a map layout to start building their city with ten different map types that represent a wide variety of topographies for players to choose from. Each map also has different starting outside connections available. Outside connections seem to play a much larger role in this game compared to the first, so depending on the level of challenge a player wants, this can matter.
Players also get to choose their building aesthetic, which dictates how your buildings, roads, and other infrastructures will look. But don't worry, you can change this at any time while playing, allowing players to really customize their districts as they develop their city. That said, it is disappointing that there are only two to choose from: North America and Europe. There are a few other options for players, like whether to start with unlimited money and access to all structures, among other things, as Cities Skylines 2 tries to allow players of different levels an access point for entry.
A lot has changed since 2015, both in terms of game development and really how real-life cities manage themselves. There have also been plenty of infrastructure advancements over the years, and Cities Skylines 2 allows city builder players to finally take advantage of these things. While some infrastructure developments were implemented over the years in Cities Skylines both by Colossal via DLC and updates and the amazing modding community, being able to have a "fresh start" is always good.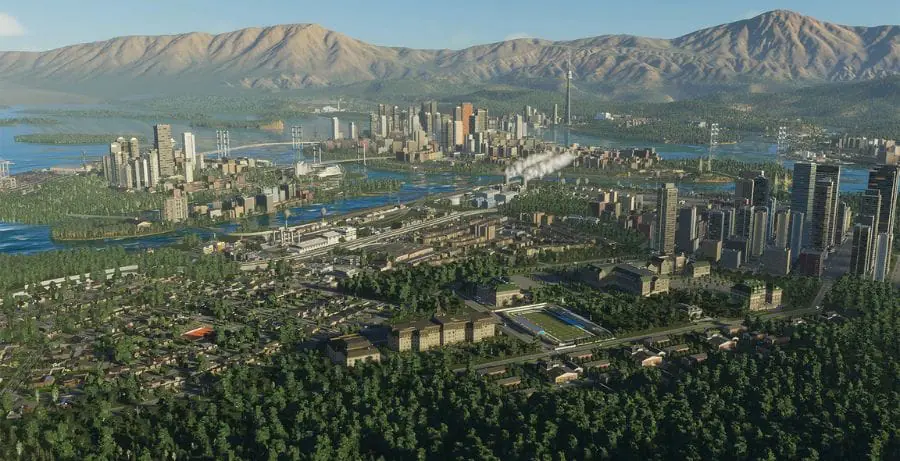 Right off the bat, I know there have been tons of mods implemented over the years, and Colossal has embraced the modding community as well, but having features built into the game is always a plus. As wonderful as mods are, having to rely on mods is never the best option, as they can lead to errors and issues with the game. Additionally, not all players are mod-knowledgeable, or when games are put on consoles, those players, most of the time, do not have access to those mods. Colossal has already stated modding will not be supported at release, but it is something they are working on with a Paradox Mods portal coming later down the line.
Cities Skylines 2 brings a lot to the table in terms of new features and advances that players of the first game are going to love. A prime example of this is introducing the burying of power lines, something smart cities do now. Being able to connect your power grid all by underground power lines feels like a game changer for city planning. No more running power lines all over the place, making space, and hoping you don't hit anything. It is the best and easiest example of not only something that makes playing much more enjoyable but also follows real-life implementation. Players are now able to export excess utilities (power and water) to other cities along with importing these utilities. This feature can help players sustain their economy early in the game or allow them to keep the lights on if something goes wrong.
Traffic will always be a pain, both for Cities Skylines players and anyone who lives in a city. However, plenty of new options have been made available to handle traffic issues. There are asymmetrical roads, which are roads that have an uneven number of lanes to help alleviate turning issues, along with public transit lanes that allow for your buses, taxis, and other public services to use dedicated lanes, which helps speed them up. Even a pedestrian road that allows service vehicles only allows players to build a more walkable city intentionally.
Along the same lines, having a grid system to make roads saves so much time and makes it easy just to make a quick neighborhood that isn't all off from other elements. That said, even though it helps substantially, a little more fine-tuning with the grid system could go a long way. Sometimes, it feels random when it decides to make a new square/rectangle. These things may feel super small, but as a person who has seen them implemented all over a city, they have a larger impact, and it's one small change that stands out in Cities Skylines 2 for me.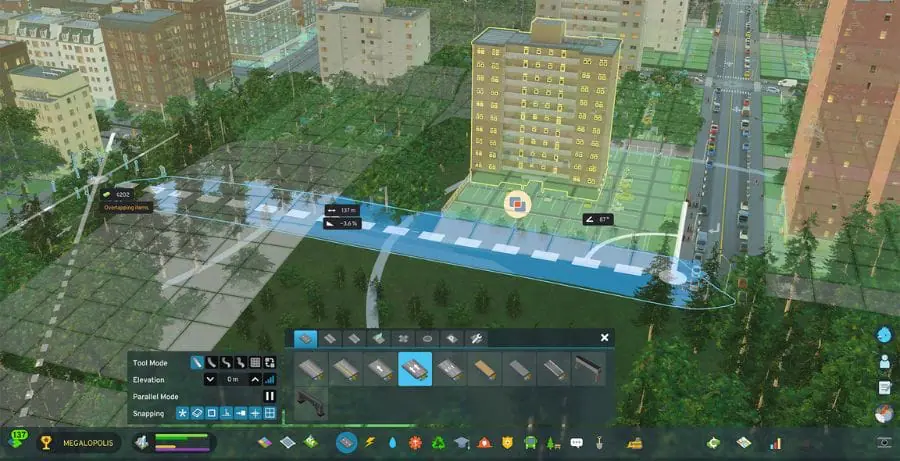 Additionally, being able to upgrade your public services is another valued addition. These upgrades can be made to the original building itself or can be "wing" additions. These allow players to simply upgrade a hospital to have more ambulances or hold more patients instead of needing to make another one altogether. This also adds another layer of city planning for players. Sometimes, you may not be able to afford a new addition, or your city may just not need to upgrade a specific public service right away. Learning how to read your city's needs with the knowledge that you will need to upgrade public services as you expand is a task. You will need to anticipate need for those services to expand by leaving space around them, or you'll have to be okay with either destroying the adjacent buildings or building a new area completely.
Having added depth to some of the service buildings, even outside of upgrades, is a fun addition for this sequel game and allows players to be even more creative. For example, different types of universities allow residents to get educated in specific fields like medicine. The medical university trains those who attend and gives bonuses to those services in your city. Medical research institutions, Disease control, Welfare buildings, Prisons, and others all expand on these basic systems. It isn't just throwing a hospital down anymore. You have to expand it and build complementary buildings to enhance it and make sure you're getting the most out of it to support your population.
On that note, the Parking system is another huge addition that changes the way players will layout their city since it's a valuable way to make money. I now understand even more why no one is allowed to just park for free in a city. Players can choose not to have a parking fee if they're feeling it, or you can adjust parking fees as they please with a sliding scale. There are six different kinds of parking lots and garages for players to choose from, and utilizing the system is very important for your city, not only economy-wise, but it will also help alleviate congestion and add the ability to make a more walkable city. This allows for different roads or city/district policies that can remove street parking altogether. Street parking is also something, while valuable, is a big cause of traffic congestion depending on your city layout, so having available parking to combo with public transit really allows players to customize their city more while opening a different set of challenges as you have to do something with all those cars.
There are a few other systems that have been added to give players a challenge, additional problem-solving, and more things to manage to improve the wellbeing of their citizens like the post office, which makes sure that your city has reliable telecommunications and internet, taxis, and of course, natural disasters. Natural disasters that added natural forces such as tornadoes and forest fires were included in a DLC for Cities Skylines, but they are now fully implemented into the base game, and players are given ways to combat them via public services and new buildings. There are disaster shelters, forest fire towers, and emergency battery buildings, just to name a few. As climate change continues to happen, natural disasters continue to devastate the planet, and Cities Skylines 2 gives players the challenge of combating these natural disasters to keep their city safe. However, it will always be funny when part of your city gets taken out by a tornado, and there is nothing you can do.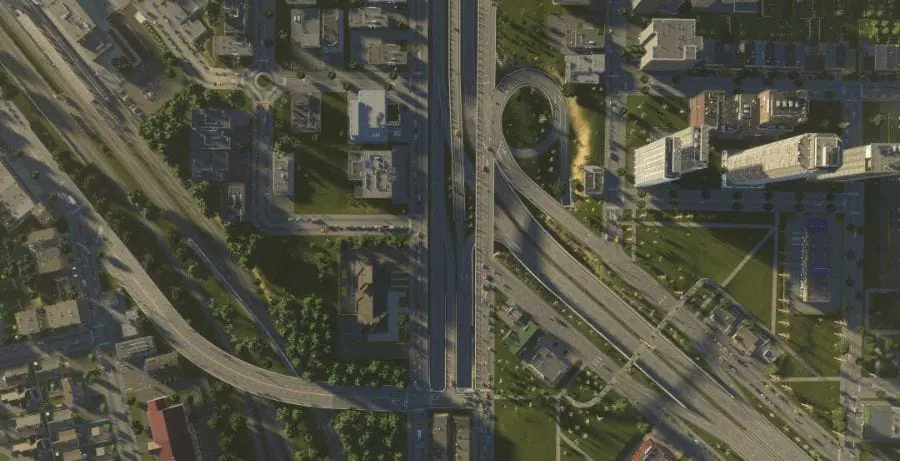 The biggest change from Cities Skylines 2 from the first game is the new development system. Players will still "unlock" buildings and policies as they grow and hit new milestones, but how that is done has been revamped. Players now get XP when they build things, the population grows, citizens are happy, and other basic things. Players will then level up to a new milestone once they have gained enough XP. Once a player hits a new milestone, they are given money, map/tile "permits," and Development Points to use in the development trees along with the increase in the loan amount and then whatever system or buildings came with that milestone.
This brings a whole new set of challenges to players. Instead of just being given a building and needing the money to buy it, you must use development points to unlock the building and then have the money to buy it. This forces players to think about what they find valuable. If a player decides to upgrade to large roads and some fun roundabouts but then realizes they never unlocked a college, well, there is no way to get that without getting to the next milestone and getting more points to spend. Players do get way more points as they grow, but this can make things really tough and challenging for anyone just starting out and the general early game.
This can put players in a weird "must-hit new milestone" mentality and push them to move fast, especially early on, or if they fall behind with money. This system also requires players to follow a tree for each service to unlock buildings, so you can't just unlock top-tier items immediately, but also, because of the scaling of price in the higher-end buildings, either by general price or upkeep pricing, you can unlock some buildings rather quickly if choose too and have no way even to afford it.
Cities Skylines 2 gives players a new set of city and district policies to wield while making their city. There are some familiar ones along with some fresh ones. Whether it's adding speed bumps to a district or having a city-wide pre-release policy, there is a variety of flavors for players to play with. Taxation, exports, and imports are there for players to manage and utilize. Taxing residents based on education level and not income does feel off. It isn't something major, but it doesn't entirely make sense, especially as your city starts majority uneducated and because education doesn't determine a resident's income consistently. I am sure over time, education correlates with income, but I still found plenty of residents who were uneducated and wealthy or vice versa.
The signature Chirper (Cities Skylines version of "Twitter") and some of the most soothing music radio stations is back, along with the always entertaining weird radio ads. This is a city builder, so interacting with citizens isn't always a top priority, nor is listening to ads. Still, they do help the players as usually stuff they are "chirping," or general ads give an idea on things happening around the city that lets players know what is happening. I will never get tired of the "Does anyone just praise the #sun" and then see something really bad happening.
It was just announced in October 2024 that the Cities Skylines 2 console edition was delayed, and general requirements were adjusted for the PC version. I did have very few performance issues with the game, and I did not encounter any crashes or significant issues other than framerate issues and lag. That said, the game pushed my PC to the limit even though I played on the lowest setting to deal with the framerate issue, which was solved by the settings drop. That leaves me to wonder how other players' PCs will handle this game given that requirements were upped just before launch for performance.
Overall, Cities Skylines 2 is a worthy successor to the long-standing original city builder. This doesn't just feel like just a fresh coat of paint as some sim sequels can, but an actual sequel with valuable substance added. There are more systems, complementary unique buildings for services, customization, creativity, informational panels, and just general things like UI that are more up-to-date to today's gaming standards. There is some cause for concern as the game's performance could be very dependent on a player's PC specs. We know there will be more updates and content coming down the line as that is the standard for Paradox Interactive. Outside of that, there isn't much else not to like about the game. Cities Skylines 2 is one of the best games I've played this year. If you are a fan of Cities Skylines or city builders, then this game has plenty of offer and a lot to love.
Cities Skylines II is now available on PC and Xbox PC Game Pass and will be coming to Xbox Series X and PlayStation 5 in 2024.
Cities Skylines II
TL;DR
Cities Skylines 2 is a worthy successor to the long-standing original city builder.