El Paso, Texas, a city often hidden in the shadows despite its vibrant culture, has become the unexpected muse for Xalavier Nelson Jr., the founder of gaming company Strange Scaffold and the creative force behind El Paso, Elsewhere. This neo-noir shooter weaves a unique supernatural narrative amidst intense combat within an otherworldly motel. We sat down with the mind behind the ambitious shooter to discuss his creative journey as he drew inspiration from his time in El Paso, delving into the city's uniqueness and how it influenced the game's development.
Nestled along the border with Mexico, El Paso exudes a distinctive blend of cultures, shaped by its Texan and Mexican roots. Xalavier Nelson Jr., who has called El Paso home for nearly six years, recognizes the city's quiet allure. It was the first place he genuinely felt at home, even after a life spent bouncing between various countries due to his family's military background. Despite its modest recognition on the national stage, El Paso is a city that leaves an indelible mark on those who truly experience it. For Xalavier, the revelation of El Paso's hidden charm came when he started exploring the city and actively engaging with its vibrant community. His deep connection to El Paso became the catalyst for the creation of El Paso, Elsewhere.
El Paso, Elsewhere is more than just a video game, it's a love letter to the city that Xalavier now calls home. The game's narrative, inspired by the magic realism deeply rooted in the local Latino community, unfolds in a rundown West Texas motel—a familiar archetype in the region. The addition of supernatural elements and haunted settings pays homage to the rich folklore and legends that permeate El Paso's culture. Xalavier goes on to recount the discovery of numerous haunted motels in El Paso, sparking the eerie and supernatural elements that make the game so distinctive. Xalavier's aim is not just to represent El Paso but to evoke its "magic realism," deeply rooted in the Latino community that thrives within the city.
Among the sources of inspiration for El Paso, Elsewhere, one stands out prominently: the breathtaking Transmountain Road. Xalavier Nelson Jr. recalls a transformative experience atop the Franklin Mountains, where Transmountain Road offers a panoramic view of El Paso, revealing its hidden beauty. As he gazed upon the sprawling city below, the idea of capturing the essence of El Paso's landscape and its enigmatic allure took root in his mind. The winding road, the mesmerizing city lights, and the sense of elevation became integral elements that he sought to incorporate into the game's design.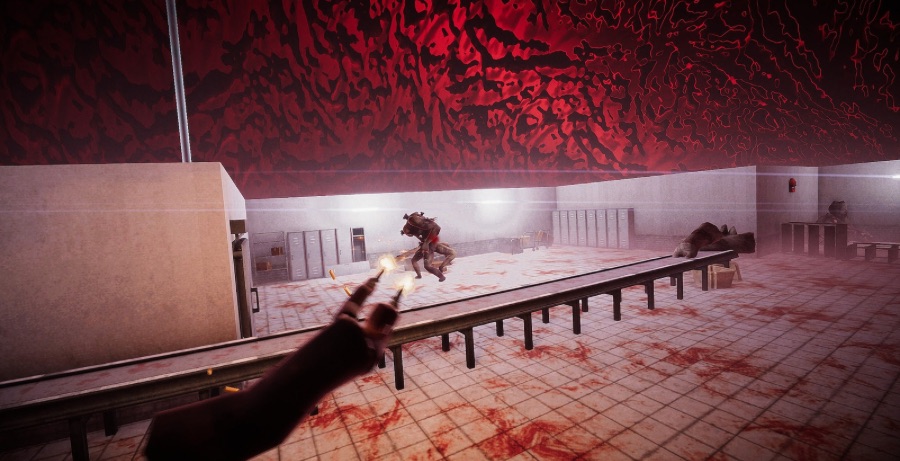 In El Paso, Elsewhere, players encounter an array of unusual and diverse adversaries, from werewolves to biblically accurate angels. The challenge lay in designing combat encounters that transcended the typical shooters like Max Payne where the game gets its primary inspiration. Xalavier and his team drew inspiration from classic monsters and their simplified behaviors to create engaging combat challenges. By infusing these supernatural entities with personality and depth, the game's monsters become an integral part of the narrative, providing players with a captivating experience that goes beyond mere gameplay.
At the heart of El Paso, Elsewhere, it's narrative. The intricate layers of the game's narrative, focus on the protagonist, James Savage, a vampire hunter on a quest to stop the monster he once loved, Draculae. Xalavier shares that the game originally started as two separate ideas—a vampire hunter's journey and a Max Payne-inspired story—and emphasizes the thematic essence is a love story, lamenting that "The first line of dialogue ever written was. 'Would you believe that this is a love story…'" As these two narratives merged, they birthed a unique blend of gameplay and storytelling.
El Paso, Elsewhere makes the environment feel like the third tragic character in this supernatural love story. The game's level design serves as a canvas for artistic expression, with each level designer leaving their unique mark on the gameplay experience. Xalavier wanted to bring back the classical ideal of level design, where players could identify the distinct fingerprints of individual designers. "This approach allowed for a more personal touch, infusing each level with creativity and personality," explained Xalavier. Players will find themselves navigating environments that constantly shift and transform, becoming an integral part of the gameplay experience. As players navigate through 50 levels, the personal touches are certainly felt, speaking to the game's personal touches that are present top to bottom in the supernatural hotel.
A discussion about El Paso, Elsewhere isn't complete without talking about the game's sound design. Xalavier shares his collaboration with talented performers, including Emme Montgomery as Draculae and RJ Lake who brought depth and authenticity to the game's characters and soundtrack. The voice cast, led by Montgomery as Draculae, had a deep understanding of their characters, thanks to years of collaboration and rehearsal. The result is a lived-in, immersive experience that brings the characters to life. Further, for the game's soundtrack, Xalavier highlights the extraordinary work of RJ Lake. Together, they embarked on the ambitious task of creating a hip-hop horror album to complement the game. The soundtrack boasts a fusion of music drawing inspiration from "classical music, Sun 41, classic pop-punk, alternative rock, and R&B as well as hip-hop inspirations ranging from Open Mike Eagle, Eminem, Kendrick Lamar, the Wu-Tang Clan, and the Beastie Boys" resulting in a soundtrack that adds an additional layer of depth and atmosphere to the overall experience.
El Paso, Elsewhere stands as a heartfelt tribute to a city that often dwells in the shadows of recognition. Xalavier Nelson Jr.'s profound connection with El Paso, steeped in years of engagement and exploration, breathes life into a narrative that transcends the confines of conventional third-person shooters. From the haunting stories for El Paso motels to the scenic yet eerie Transmountain Road, the game's captivating aesthetics mirror the vibrant spirit of its inspiration. As characters come alive within this supernatural world, it becomes evident that El Paso, Elsewhere is a labor of love from the team at Strange Scaffold led by Xalavier. With its dynamic monster design, artist-level design, and a musical score that weaves together diverse influences, this game is more than just entertainment—it's a journey that celebrates the artistry and essence of El Paso in all its enigmatic elegance.
El Paso, Elsewhere is available now on PC and Xbox.