Since 2019, Capcom has been on a mission to remake the Resident Evil franchise for the modern generation. Starting with Resident Evil 2 to its most recent release in 2022 with the fan favorite Resident Evil 4, fans are now looking forward to seeing what's next to be remade for the legendary horror franchise. For the first time in a long time, originally cut content in a remake being released as a separate DLC, and Resident Evil 4: Separate Ways absolutely feels worth every cent.
Resident Evil 4: Separate Ways follows Ada Wong, a character who makes brief appearances during the main game's story. This DLC story is supplemental and helps to explain a lot of odd occurrences during a normal playthrough of the Resident Evil 4 Remake. Like, why did the bell in the town ring? Why exactly was Ada in the same remote village as Leon and Ashley? And how does series villain Albert Wesker fit into all this?
What's great about this DLC is it feels necessary for those who want to know more about this messed-up world but don't get in the way of the original story. Even then, it's a compelling story of a character that hasn't been explored much in the greater Resident Evil universe. Hopefully, this story is a setup for whatever comes next for future entries and is foreshadowing that more Ada is on the way in either Resident Evil 9 or whatever remake Capcom decides next. It was a fun 5-6 hour adventure that, first and foremost, shows that Ada is a badass.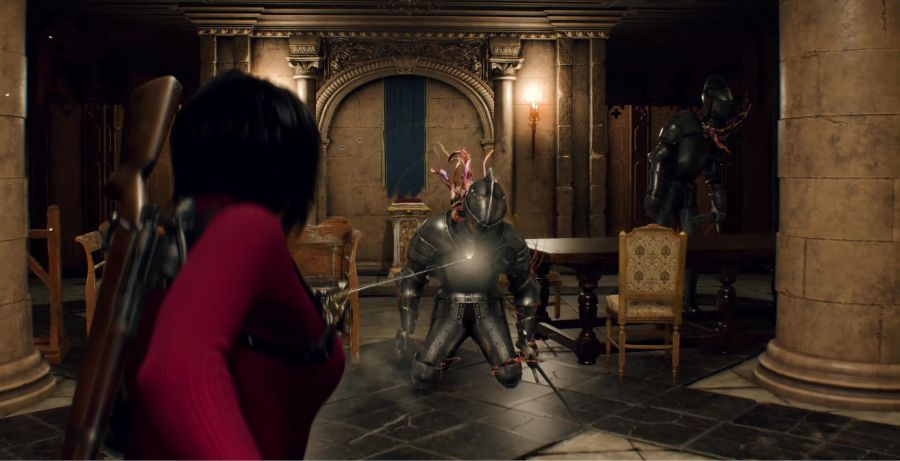 Ada's abilities are on full display in the gameplay. There are some major differences between how she and Leon play. Firstly, Ada has a grappling hook. This is used to get Ada to some hard-to-reach areas or use shortcuts in combat zones. It's really fun to zip around, get to good vantage points, and snipe enemies with ease. What's even greater about the grappling hook is that it serves as an addition to the normal knock-down melee attack used when an enemy gets stunned. If you aren't close enough to someone, you can grapple to them to knock them down now. And it's satisfying every single time.
There's also a new weapon introduced, the blast crossbow, which is a crossbow that shoots explosive arrows. It may sound ridiculous, but it feels so good to fire. This is something that feels like it couldn't work or be very overpowered in this universe, but it works. Crafting arrows for this weapon is pricey, and finding arrows is scarce. They've found a good balance in making this new weapon not feel like it can be abused or change encounters to be a trivial matter.
Other than that, there aren't really any other changes between Ada and Leon. They both play similarly; the inventory works the same, and you have the same merchant with loot and upgrades working the same as the main game. There are even more requests and some new areas to explore. It all just feels like a more streamlined, fat-trimmed version of the original game, which isn't a bad thing. It means that this DLC is just more of a game. However, there are two areas where it does slack: horror and puzzles.
There are a handful of puzzles in the DLC, but they aren't complicated in the slightest. Similar to most other puzzles in the series, the game does give you the solution, but what's given is normally vague. Like it gives you an idea about how the pieces to the puzzle are to be used, but not how they fit together. This DLC's puzzles are like if the puzzle gave you step-by-step instructions in how to get the solution. There is no fun in when the game presents a puzzle to you here.
As for the horror, there is very little. This DLC feels more like an espionage mission than playing a horror game. There are more stealth moments, more action setpieces, and much less scares. In other words, do not approach this DLC with the same vibes as you would with normal RE games. Approach it as something new within the same universe. As after you embrace its uniqueness, this DLC takes you for a ride.
Resident Evil 4: Separate Ways elevates an already great game with a substantial new story. Its new gameplay additions are excellent while its story is gripping and full of exciting moments. Yet its vibes are different enough that it may not be for every Resident Evil fan. Its lackluster approach to puzzles, when the base game had puzzles that served as series highlights, is disappointing, to say the least. Overall, this is an excellent expansion that only makes the Resident Evil 4 remake better as a whole package and shows why this entry in the long-running horror series is a fan favorite.
Resident Evil 4: Separate Ways DLC is available now on PlayStation 4, PlayStation 5, Xbox Series X/S, and PC.
Resident Evil 4: Separate Ways
TL;DR
Resident Evil 4: Separate Ways elevates an already great game with a substantial new story. Its new gameplay additions are excellent while its story is gripping and full of exciting moments.