Having struck out once again in search of his lost mother, Rudeus (Yumi Uchiyama) traveled to the harsh northlands as an adventurer in hopes that his travels would lead him where he needed to be. But while his search for his lost family comes up dry, his journey takes an unexpected turn when he makes an unpleasant discovery one fateful night that shifts the direction of Mushoku Tensei Season 2 Part 1 entirely.
Before the season returns to its wandering hero, it pays a visit to an old friend with a special zero episode that jumps back in time to the mass teleportation event to catch viewers up on what befell Sylphettie (Ai Kayano). Literally crashing into the garden of a princess named Ariel (Reina Ueda), the young mage soon finds herself working as the noble's bodyguard under the moniker Silent Fitz. Sylphie's return is a terrifying moment, as she is depicted as appearing high in the air, over Ariel's home. Her descent is portrayed excellently, as the girl struggles to both grasp what is going on, as well as how to survive it. It is an extremely effective way to pull the viewer back into the world after the season break.
Once Sylphie gets settled into her new life, Mushoku Tensei Season 2 Part 1 returns to Rudeus as he wanders the frozen north hoping to make a name for himself so his mother may know where to find him if the news of his exploits manage to reach her. Along the way, he is drawn to a young archer named Sara (Haruka Shiraishi). When the pair's feelings blossom into something romantic, they look to spend a night together to affirm those feelings.
Unfortunately, Rudeus is still bearing the weight of his last romantic connection with Eris (Ai Kakuma) left him abandoned after he opened himself up to her. The scars remaining from that encounter have left Rudeus impotent, ending the night on an uncomfortable note for both parties. Sarah leaves in a huff, taking Rudeus' lack of performance as a slight to her physical appearance.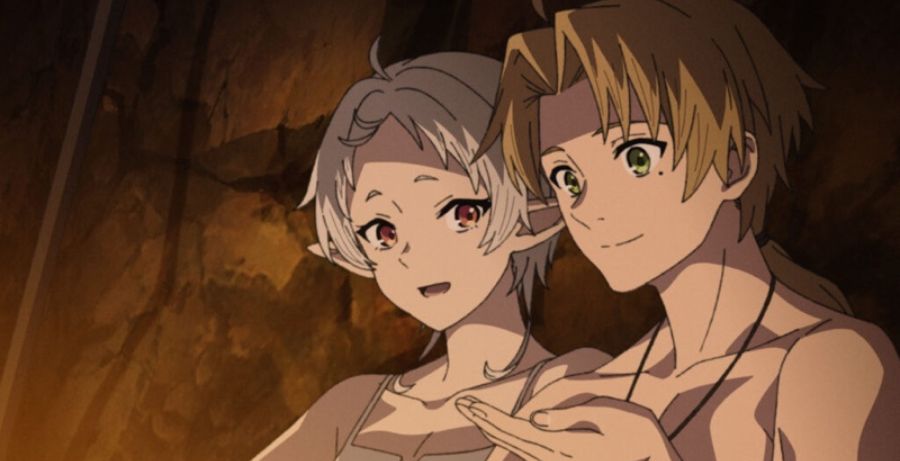 This unfortunate occurrence escalates when Rudeus, after making an ill-considered attempt to rectify his malady suggested by his fellow adventurer Soldat (Kôsuke Toriumi) is overheard by Sara complaining about her. While Rudeus was just blowing off steam and venting his frustrations in what he thought was a private conversation, his words clearly hurt Sara, causing Rudeus to feel even worse about the whole situation and prompting him to leave town with Soldat when his adventuring party departs the next morning.
This opening batch of episodes delivers the emotional elements of the narrative extremely well. It handles the feelings and reactions of the individuals in a way that is realistically flawed. Things are assumed, which leads to misunderstandings and hurt feelings, just as they all too often do in real life.
Jump ahead two years, and Mushoku Tensei Season 2 Part 1 sees Rudeus still adventuring with Soldat's group when he has a run-in with an elf named Elinalise Dragonroad (Rie Tanaka). While Rudeus has no recollection of the elf, fans will remember her as one of Roxy's traveling companions in season one. She delivers a letter to Rudeus that offers him admittance to the prestigious magical academy of Ranoa. After a visit from the Man-God informs him that it is there that he will find a cure for his impotence, Rudeus sets out for the university with Elinalise in tow.
It is during Rudeus' time at Ranoa University of Magic that we see the rest of this leg of his journey play out. Upon arriving at the university, he soon meets Princess Ariel, as well as her bodyguards Luke Greyrat (Kazuyuki Okitsu) and Silent Fitz/Sylphettie. While Sylphettie is surprised to see Rudeus again, her growth as a person, along with her more masculine attire worn as Silent Fitz, keeps Rudeus from recognizing his old friend. Nevertheless, the duo begin spending time together and slowly grow closer over the rest of the season.
While this deepening relationship between the two serves as a strong central element for the back half of Mushoku Tensei Season 2 Part 1, many of the surrounding pieces of the story do not fare as well. One episode features Rudeus nonchalantly purchasing a slave to help with his training of his old acquaintance Zanoba (Satoshi Tsuruoka), who is also attending classes at the university.
The myriad of problems with this story and its handling of its subject materials are many. Whatever the status of slavery may be in this world, for Rudeus, who originally spent the first 30-plus years of his life living in modern-day Japan, the fact that purchasing a person leaves no problems for him is a scathing statement on his morality and personal qualities. Why the series even decided to introduce slavery in this fashion now, when previous episodes dealing with it presented it as an underground and hated industry, is baffling.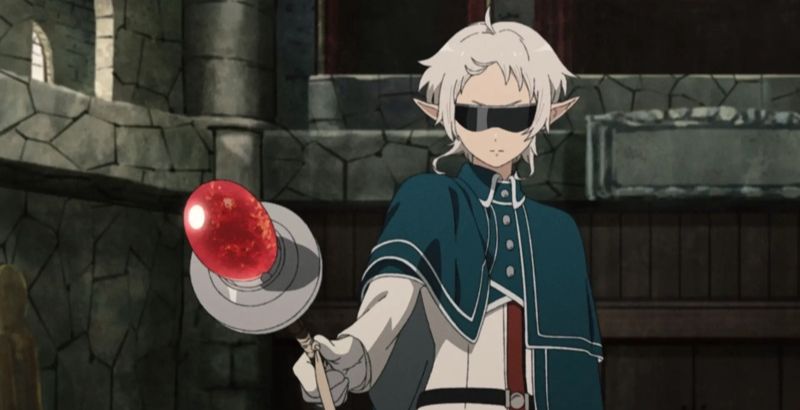 This unfortunate entry is followed up with a story that features Rudeus assaulting and kidnapping a pair of beast girls who damaged the figurine of Roxy that Rudeus had made in the last season. This story further highlighted not only how bad Rudeus can be at times, but also how no one ever seems to care when he does something bad.
This is highlighted when Rudeus brings Sylphettie to his room to help him figure out the best way out of the situation he has created. There Sylphettie finds the pair of girls tied to chairs, moaning about hunger and numb arms from the lack of blood flow, and having soiled themselves from how long Rudeus had left them there. Not a word of scolding happens and Sylphettie's feelings about Rudeus as this wonderful guy seem to be unshaken. It feels completely absurd.
Once Mushoku Tensei Season 2 Part 1 gets past these major failures, it refocuses itself on the growing bond between Rudeus and the still unrecognized Sylphettie. The evolution of their friendship is handled well, apart from the aforementioned lack of concern Slypohettie has over Rudeus' abhorrent behavior, and the pair grow together till the series finally brings the situation to a head in the final episodes.
This culmination is beautiful, sad, and joyous all at once. How these events explore trauma, the acceptance of those burdened by it, as well as the elation once it is reconciled is fantastic. Its heartfelt delivery of these emotional steps for the duo is captured skillfully thanks to the animation, which explores the crucial moments between the two with equal parts grace and tact. This stretch of the series couldn't have ended on a better note.
Mushoku Tensei Season 2 Part 1 delivers some great emotional moments while stumbling with its secondary plots. The profound level of care it deals with Rudeus's relationships and pain is offset only by how casually it allows him to be terrible without any consequence.
Jobless Reincarnation: Mushoku Tensei Season 2 Part 1 is streaming now on Crunchyroll.
Jobless Reincarnation: Mushoku Tensei Season 2 Part 1
TL;DR
Mushoku Tensei Season 2 Part 1 delivers some great emotional moments while stumbling with its secondary plots. The profound level of care it deals with Rudeus's relationships and pain is offset only by how casually it allows him to be terrible without any consequence.