No other franchise feels like it falls victim to its own hype as much as Star Wars does. The franchise has often grappled with the immense weight of its own legacy, born from George Lucas's groundbreaking Original Trilogy over four decades ago. Directed by Dave Filoni, Ahsoka Episode 5, "Shadow Warrior" emerges as a remarkable and refreshing exception that proves itself more than up to the task. Now more than ever, viewers are pushed to let go of their expectations of what they know about Star Wars in live-action and to dive into the unknown.
Ahsoka Episode 5 seamlessly extends the series's cinematic style, picking up the narrative threads from the previous episode without delay. It immediately addresses the burning questions that have kept fans on edge: How will Ahsoka escape the enigmatic World Between Worlds, and how will Hera and her allies locate her? In "Shadow Warrior," the plot unfolds dynamically, interweaving Ahsoka's journey within the mystical dimension with Hera's relentless search on the outside.
Yet what truly sets this episode apart is its ability to blend the best of Star Wars animation into the live-action realm, ushering in an exciting new era for the franchise. With breathtaking visuals and a seamless transition between mediums, it delivers an immersive experience that's unparalleled in live-action Star Wars.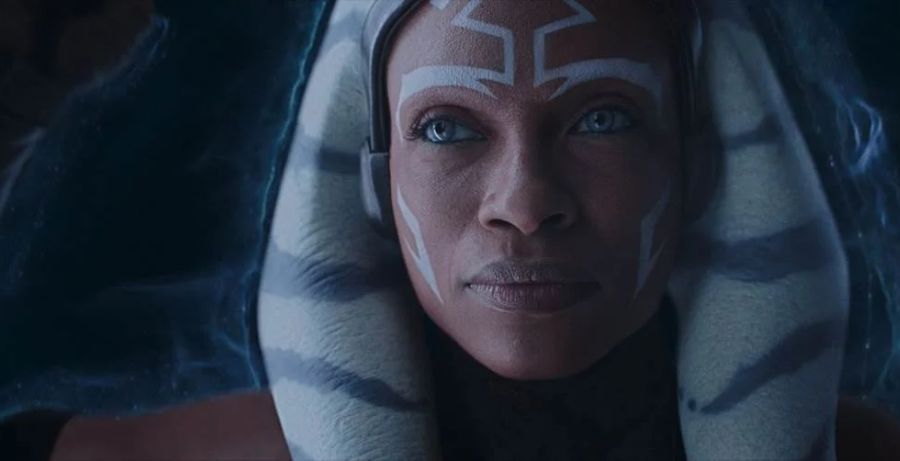 The Star Wars universe has always been a vast canvas, capable of evoking a sense of wonder that goes beyond even the groundbreaking 1977 film. While the Prequel Trilogy and Sequel Trilogy have expanded the franchise's spectacle, the magic of animation has consistently conveyed the intricacies of the sci-fi elements with a unique touch. "Shadow Warrior" invites viewers on a remarkable journey that bridges the gap between animation and live-action.
It submerges Ahsoka deeper into her exploration of the World Between Worlds, offering a rare glimpse into the dynamics between her and the likely Force Ghost of her former master, Anakin Skywalker. Through poignant flashbacks to The Clone Wars era, this episode pushes viewers to dispel what they think is possible in live-action as Ahsoka grapples with her true purpose in the ongoing struggle.
Regardless of whether you're a veteran of The Clone Wars or a newcomer to the series, it's impossible to deny Hayden Christensen's remarkable portrayal of Anakin Skywalker in all his complex facets. His dynamic with both versions of Ahsoka, though reminiscent of Matt Lanter's performance, is imbued with his own unique authenticity, showcasing the character's growth even beyond his tragic fate in Revenge of the Sith. While the episode's brief glimpses into their shared past might not do justice to the extensive character development both Ahsoka and Anakin experienced during The Clone Wars, "Shadow Warrior" provides enough context for newcomers to grasp the significance. It serves as an enticing invitation to explore the rich world of Star Wars animation.
As Hera continues her relentless search for Ahsoka, she finds herself walking a fine line between being a warrior of war and a champion of peace, as her mission lacks the endorsement of the New Republic. Hera, much like Ahsoka, seeks her place in this evolving galaxy. When the New Republic threatens to apprehend Hera for her unauthorized actions, it becomes clear that she must adapt to the changing times or persevere in her personal crusade.
Amidst these unfolding events, "Shadow Warrior" successfully upholds the pillars of Star Wars, offering glimpses of Jacen Syndulla's Force-sensitive abilities. Very matter of factly, Huyang reveals to both Carson Teva and the audience that Jacen's father Kanan Jarrus was a Jedi. While this fact is well-established among fans of Rebels, its inclusion here might come as a surprising revelation to those unfamiliar with the animated series. However, Dave Filoni's deliberate focus on this information speaks too much to the underlying message he has for fans in Ahsoka Episode 5.
Ahsoka has consistently strived to introduce its animated characters to a broader audience, and while "Shadow Warrior" continues this endeavor, it also signals a shift. It now feels as though the series is inviting viewers to embark on a new journey within the Star Wars universe or risk being left behind. The events of "Shadow Warrior" may feel familiar to those well-versed in Star Wars canon from animation, comics, books, and video games. Elements such as the Force Echo, previously recognized in Jedi: Fallen Order, remain present in the episode but might appear foreign to those unfamiliar with these aspects.
The episode's awe-inspiring portrayal of the purrgil, showcasing their power and beauty, stands as a testament to the expansive possibilities of the Star Wars universe, an exploration that animation ventured into long before. These moments truly solidify that Star Wars is much more than what the current slate of films in the Skywalker Saga has to offer its fans. There is a breath of Star Wars for fans to enjoy, and "Shadow Warrior" only touches the surface of what there is outside of the silver screen.
In more ways than one, an apprentice has completed their training and is now taking the crucial next steps to carve out their own legacy. Ahsoka, adorned in white attire, representing her fully realized self from Star Wars Rebels, and Filoni, poised to debut his cinematic masterpiece, are set to usher fans into a fresh and unforeseen era of the Star Wars universe. "Shadow Warrior" proves that the vision of George Lucas is alive and well in Star Wars, and it continues on in his former apprentice.
Almost as if it was the intention all along, Ahsoka feels like a glimpse of what Dave Filoni plans to deliver in his upcoming film. By the end of Ahsoka Episode 5, it feels as if a torch has been passed through its nostalgic yet awe-inspiring episode.
Ahsoka Episode 5 is available now on Disney+ with new episodes every Tuesday.
Star Wars: Ahsoka Episode 5 — "Shadow Warrior"
TL;DR
By the end of Ahsoka Episode 5, it feels as if a torch has been passed through its nostalgic yet awe-inspiring episode.