I started watching Korean Dramas (K-Dramas) because of how much they reminded me of Mexican telenovelas, outrageous with twists and melodrama in spades. While the landscape of K-Dramas is as vast as the genres you can tell a story in, every now and again, like with Remarriage & Desires, you can find one that embraces absolutely unhinged storytelling and melodrama outrage first. Now, Mask Girl is ready to be your next absolutely shocking and outrageous obsession. Written and directed by Kim Young-hoon and based on the webcomic of the same name by Mae Mi, the series is a look at a beauty obsession and weighing your worth by it.
In the very first episode, we meet Kim Mo-mi, an ordinary office worker by day who is extremely insecure about her appearance. Having always wanted to become an idol, Kim Mo-mi has had that dream bullied out of her, until she just decides to hide in the background of life. At first, Mask Girl seems to be a series dealing with the way in which beauty standards oppress women and crush dreams, but quickly, the series makes a selfish flip, and the heroine and the other characters we see the story through become unlikeable characters that eventually converge in a tragic and unexpected end.
Ultimately, Kim Mo-mi isn't just an ordinary office worker, but she's also the eponymous live-streamer who covers up her face with a mask. The world may ignore Mo-mi, but on the live-streaming platform, she's flooded with heart pangs (which equal real money) from thirsty fans who show up for her idol dances and other borderline adult content. Loved online, but not always keeping the mask between her and her fans, Mo-mi is just where we start the story. As in, only the first episode focuses on her perspective, and from there, the series spirals out through a series of connected stories, each episode titled for the main characters in them.
In addition to Mo-Mi, we also meet Joo Oh-Nam (Ahn Jae-Hong), her colleague at work. Like Mo-mi, he's extremely self-conscious, to the point that he can't look women in the eye, and invests in adult dolls and anime to satisfy himself, with a hefty element of watching girls on stream. His favorite, though, is Mask Girl. After connecting the dots, literally, Oh-Nam tries to save his crush from others on the internet, only to be pulled into violence and enact it himself. Through him, we meet his mother, Kim Kyung-Ja (Yum Hye-Ran). The most precious element of her life, when Oh-nam goes missing, she begins to follow Mask Girl and find if and how she connects to his disappearance.
And that still isn't all. In the last half of the series, the impact of Mask Girl changes substantially, and for that, you'll just have to watch when Mo-mi finds herself pulled toward another woman with a similar past. While Mo-mi's story is the main driver for the series, Kim Chun-ae's (Han Jae-Yi) is equally as depressing and intriguing as we see her get revenge and form a friendship with Mo-mi.
That said, the real triumph of the series is the three actors who take on the task of bringing Kim Mo-mi to life. For her part, Lee Han-byul plays a Mo-mi who is riddled with vulnerabilities and worried about what others think. We see her transition from someone debilitated by fear and being "ugly" to someone who takes her life into her own hands. But when she grabs the reigns herself, she changes entirely. Nana's (aka Im Jin-ah) version of Mo-mi has resolved to never feel less than again, banking on her now traditionally beautiful looks and using them to bolster her sense of self. She's intriguing to watch. And finally, Go Hyun-Jung as Mo-mi is a person wracked with guilt. Not because she regrets her actions but because she regrets the impact her choices have on her daughter and how they've rippled outside of her own individual life.
Across them all, Mo-mi is intriguing, endearing, and also volatile. She oscillates between likable, to unlikable, to justified, and then completely out of line. Her path isn't linear, and the choice to tell it with three different actresses captures that fantastically.
Additionally, Shin Ye-Seo as Kim Mi-mo, Mo-mi's daughter, is a fantastic young actor. Determined and just trying to build a life outside of the shadow of her mother's crimes, Mi-mo is extremely charismatic for her age and one of the best parts of the series. She acts with a gravitas that absolutely leaves an impact.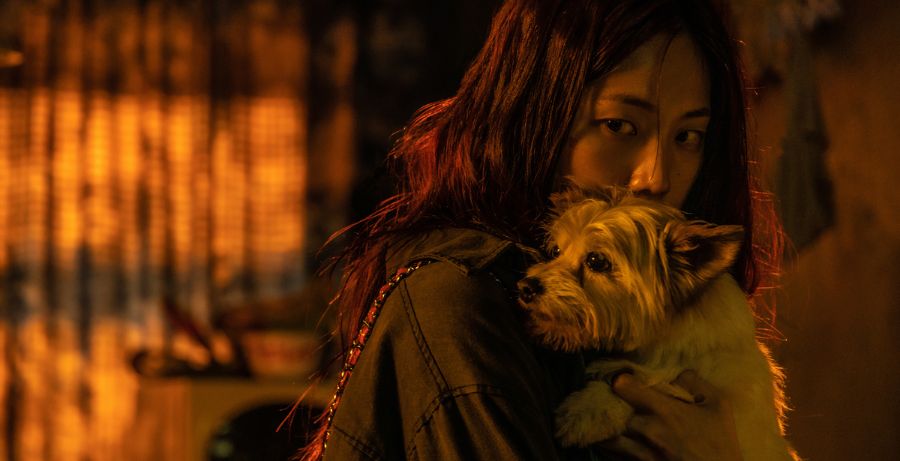 The series itself, through interconnected stories, divides itself into three acts across the seven episodes. There is where Mo-mi's life begins to fall apart after a murder that drives her to complete facial reconstruction using plastic surgery to reach the beauty standard she's always wanted (and switching actresses in the process), and then there is when she is caught, and we see her choices impacting her daughter beyond prison walls. The series itself consistently reframes its tension and narrative push factors. It shifts the perspective and elements of chaos and violence, leaving the audience on unsteady ground, which ultimately keeps you hitting the next episode after each one.
Still, Mask Girl, for all of its thrilling twists and unhinged maneuvering that pays off, the amount of sexual assault and domestic abuse is startling. While I don't think there are subjects to not be broached in media, they do have to be handled with care and ultimately make sense within the larger narrative. While each situation brings an element of desperation to the female characters, it's the amount of graphic assault that is in the series that dilutes its weight.
The camera lingers too long. We see too much. And it seems like the only trauma that the writer puts women through involves intimate violence. Thankfully, this only makes up about two-thirds of the series, with the last two episodes separating themselves completely and presenting a different revenge story as the impetus for the actions of the characters. However, as the last act, it can't undo the road the other episodes took to get there.
Outrageous, melodramatic, and with erratic pacing, Mask Girl is an unwieldy series that will find its footing among viewers looking for a drama of the unhinged variety. It's thrilling and weird, and even with the amount of information I've given in this review, you're still going to be left surprised by how many twists come out of nowhere only to devastate a character. Mask Girl is the kind of melodrama and mess that makes for a fantastic night in, even if its darker subjects aren't given as much respect or perspective they deserve.
You can catch Mask Girl now playing on Netflix.
Mask Girl
TL;DR
Outrageous, melodramatic, and with erratic pacing, Mask Girl is an unwieldy series that will find its footing among viewers looking for a drama of the unhinged variety.