In the ever-expanding realm of superheroes, there arises a beacon of hope and diversity, soon to soar onto the silver screen: Jaime Reyes, the Blue Beetle. Bursting onto the scene in 2006, this teenage hero has captured the hearts of fans worldwide with his relatable personality and extraordinary powers. But there's more to Jaime than meets the eye; his journey as a Latino superhero has broken barriers and shattered stereotypes, making him an inspiration to a new generation of comic book enthusiasts. As anticipation builds for this groundbreaking cinematic adventure, it becomes imperative to delve into the heart and soul of this remarkable superhero.
The Blue Beetle's compelling comic origins, magnetic personality, formidable powers, relentless adversaries, and, above all else, his profound significance as a Latino superhero is ready to be explored. Join us on this journey as we unravel the extraordinary tale of Jaime Reyes — a true emblem of representation, inspiration, and heroism before he graces theaters on August 18, 2023, in a highly-anticipated film directed by Angel Manuel Soto, with Xolo Maridueña stepping into the heroic shoes of the beloved character. As we eagerly await his cinematic debut, let us delve into the remarkable world of Jaime Reyes, exploring his comic origins, compelling personality, formidable abilities, greatest adversaries, and the profound impact of his place as a trailblazing Latino hero within the ever-expanding DC film universe.
Comic Origins
Jaime Reyes made his debut as the third Blue Beetle in Infinite Crisis #3 in 2006, created by writers Keith Giffen, and John Rogers, and artist Cully Hamner. In the rebooted Prime Earth continuity, Jaime Reyes makes his debut as a part of the DC Universe within the pages of Tony Bedard and Ig Guara's New 52 Blue Beetle series in 2011. Finally, Jaime would see a refresh in the DC Rebirth in Blue Beetle Volume 9 by Giffen and Scott Kolins in 2016.
Unlike his predecessors, Dan Garrett and Ted Kord, Jaime's origins as Blue Beetle stem from an extraordinary extraterrestrial encounter. While exploring an abandoned warehouse with friends in El Paso, Texas, Jaime stumbles upon an alien artifact known as the Scarab. The sentient Scarab bonds with Jaime, granting him a technologically advanced living armor that transforms him into the Blue Beetle. This event marks the start of an epic journey for Jaime, as he takes on the mantle of Blue Beetle and embraces his newfound heroic destiny.
Unlike previous Blue Beetle iterations, the Scarab grafts itself onto Jaime's body, initially transforming him into the Blue Beetle against his will. The sentient Scarab AI within the armor is at first more aggressive and less cooperative with Jaime, leading to internal struggles as he learns to control its immense power. The AI's history of oppression and violence raises ethical questions for Jaime, leading to internal conflicts that add depth and complexity to his character. This dynamic creates a compelling vehicle for character development as he gradually gains control over the Scarab and aligns it with his sense of heroism.
A Teenage Personality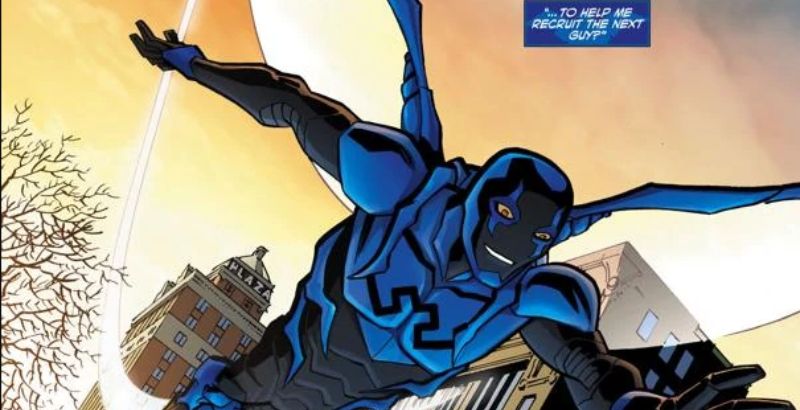 At the core of Jaime's character is his deep sense of compassion and empathy. He genuinely cares for others, be it friends, family, or even strangers in need. Jaime's ability to understand the struggles of those around him allows him to connect with people on a profound level, making him a natural hero. Despite the weight of his superhero responsibilities, Jaime embraces humor and wit, using them as coping mechanisms to navigate through challenging situations. His lighthearted nature adds a touch of levity to even the darkest moments, endearing him to both his allies and readers.
In true Latino fashion, Jaime's strong connection to his family is a defining aspect of his character. His love and loyalty to his parents and younger sister are unwavering, and they serve as a grounding force in his life. This family dynamic adds depth to his character and motivates him to be the best hero he can be. This is especially important because Jaime's journey as the Blue Beetle is riddled with trials and tribulations. However, his determination to do what's right, even in the face of overwhelming odds, makes him a formidable hero. He doesn't shy away from self-sacrifice and always strives to protect the innocent, never giving up in the face of adversity.
Jaime's journey as a hero involves self-discovery and growth. As a curious teenager, Jaime is eager to learn more about the alien scarab that has bonded with him. His inquisitive nature leads him to explore the depths of the scarab's abilities and history, seeking to understand its true purpose and potential. As he comes to terms with the scarab's influence on him and the legacy of the Blue Beetle, he learns to embrace his identity while navigating the challenges it presents.
Powers from the Extraterrestrial
Jaime's powers stem from Khaji-Da, a sentient AI alien scarab device that grants him a vast array of abilities. With the Blue Beetle armor, he gains superhuman strength, speed, and durability, making him a force to be reckoned with in combat. The scarab also bestows him with the power of energy projection, enabling him to create energy constructs and powerful weapons. For protection the living armor can generate shields, enhancing Jaime's defense. Further, the Scarab allows him to soar through the skies, granting him unmatched mobility both in combat and during his heroics in protecting the city or even in space.
Additionally, the Scarab has the ability to translate and understand virtually any language. This skill enables Jaime to communicate with people from different cultures and even with alien beings. His AI companion also possesses vast knowledge accumulated from its interactions with multiple alien civilizations. This knowledge proves useful in various situations, such as analyzing advanced technologies or identifying weaknesses in enemies.
It is important to note that while the Scarab provides Jaime with incredible powers, it also comes with potential risks. The sentient AI within the Scarab has a history of oppressive use by the Reach, leading to internal struggles between Jaime and the Scarab's influence. As a result, Jaime must constantly balance his own judgment with the AI's guidance to ensure that he uses the Scarab's powers responsibly and does not lose control of the Scarab's innate nature. While it is the source of his power, Khaji-Da also serves as one of his greatest enemies.
Enemies from Beyond the Stars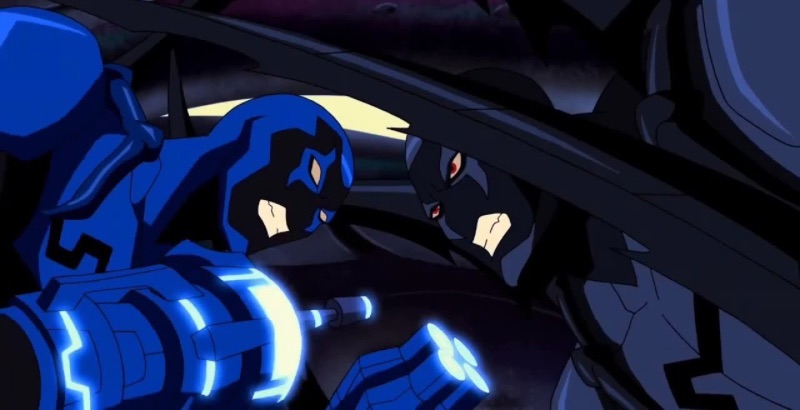 When he is not taking on threats with teams like the Teen Titans, Young Justice, and even the Justice League, Jaime has had his fair share of villain encounters. Among his most notorious foes is the Reach. The Reach is an ancient and oppressive alien race responsible for creating the Scarab technology. They seek to reclaim the Scarab and use it as a living weapon for their conquests. The Reach is a recurring threat in Jaime's life, and their attempts to retrieve the Scarab often put him and Earth in grave danger. Additionally, Blue Beetle often crosses paths with classic DC villains like Black Beetle, who possesses a twisted version of the Scarab technology further adding to the conflict with the Reach. He serves as a dangerous adversary and a direct counter to Blue Beetle's powers. Black Beetle is skilled in using the Scarab for destructive purposes, and his confrontations with Jaime are intense battles of will and power.
No mention of Blue Beetle is complete without La Dama. La Dama is a powerful crime boss who poses a significant threat to Jaime's community in El Paso as she brings magical metas under her control. She is a formidable enemy, even more frightening in the Prime Earth continuity, who uses her connections and resources to challenge Blue Beetle both physically and emotionally. Despite the fact that the Blue Beetle film will no longer primarily take place in El Paso, Texas, La Dama marks one of Jaime's first arcs as a hero where he pushed to discover the hero he wants to be. While we don't know who he will be taking on in theater just yet, La Dama would make an excellent first villain for the Blue Beetle to tackle in live action.
DC's First Live-Action Latino Superhero
Jaime Reyes as Blue Beetle will be DC's first live-action Latino superhero. His place as a Latino hero in the landscape of representation is of significant importance, given the historical lack of Latino/Latina actors (let alone heroes) in media. Prior to his introduction in 2006, there were relatively few prominent Latino superheroes in major comic book universes, and the portrayal of Latino characters often fell into stereotypes or limited roles. However, Jaime's creation marked a crucial step forward in diversifying the superhero genre and providing a more authentic and meaningful representation of the Latino community. Unfortanelty, Blue Beetle's solo comic cancellation has left many wondering why DC would take such a big risk on a character they haven't supported in some time as far as the comics are concerned. Thankfully, Blue Beetle: Graduation Day's miniseries that was released earlier this year and its continuation gives some hope.
Despite his absence from the comics, the hype for the upcoming film should not be dissuaded. Jaime Reyes's place as a Latino hero is a transformative step in addressing the lack of representation of Latino/Latina superheroes in the superhero genre. His character provides a positive and authentic portrayal, breaking stereotypes and inspiring inclusivity within the comic book and entertainment industries. As Blue Beetle, Jaime has become not only a beloved hero but also an emblem of the progress made towards creating a more diverse and representative landscape for superheroes, encouraging greater inclusivity and empowerment for audiences of all backgrounds.
Where to Find More Jaime Reyes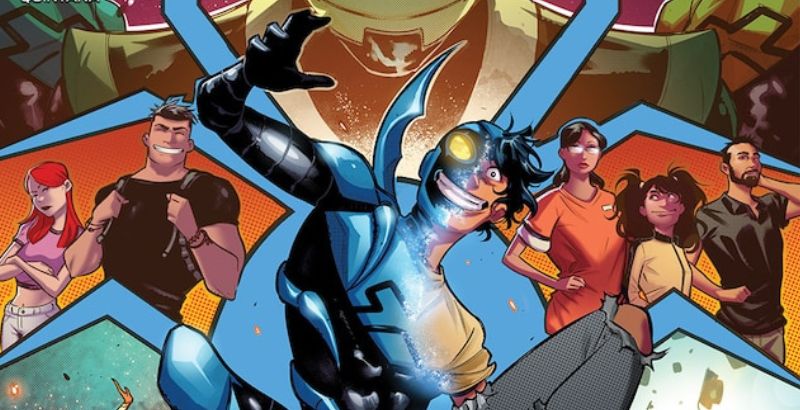 If you are looking up to brush up on your Jaime Reyes knowledge before the film's release, we got you covered. For comics consider checking out Blue Beetle Vol. 7 through Blue Beetle Vol 9 to get the full picture of Jaime's journey from Prime Earth, New Earth, and the DC Rebirth. Additionally, Blue Beetle: Graduation Day will give readers the latest look at Jaime's journey and one of the best ways to understand Scarab technology. For animation lovers, Blue Beetle can be found in Young Justice Season 2 where he has a substantial role and some might forget that he had a recurring role in Batman: The Brave and the Bold as well. Both give viewers a look at Jaime in his early years as he tries to find himself as a hero. Further, Jaime has also made appearances in the DC animated films, Justice League vs. Teen Titans and Teen Titans: The Judas Contract. Last but certainly not least, if you want to play as Blue Beetle there a few different options but most notably check out Injustice 2 and take on other characters in the DC Universe.
---
Jaime Reyes, the Blue Beetle, is a superhero whose impact extends far beyond the pages of comic books. With a compelling comic origin that ties him to an extraterrestrial legacy, Jaime's journey as a hero is a tale of self-discovery, courage, and embracing responsibility. His personality, marked by compassion, wit, and a strong sense of family, endears him to fans of all backgrounds, making him an inspiring role model for readers young and old. As we eagerly await the release of the live-action film, let us celebrate the significance of Jaime Reyes as the Blue Beetle, a hero whose legacy embraces diversity, inspires hope, and reminds us all that heroism knows no boundaries. In a world hungry for representation and empowerment, Jaime Reyes stands tall as a true emblem of the superhero for our times.