Reading Time:
2
minutes
The time I have been waiting for has finally come, the Blue Beetle trailer is here, and fans get the chance to see our boy Jaime Reyes in action for the first time. From Warner Bros. Pictures comes the feature film Blue Beetle, marking the DC Super Hero's first time on the big screen. The film is directed by Angel Manuel Soto and written by Gareth Dunnet-Alcocer, it stars Xolo Maridueña as the titular Blue Beetle, Jaime Reyes.
In DC's live-action Blue Beetle film, recent college grad Jaime Reyes returns home full of aspirations for his future, only to find that home is not quite as he left it. As he searches to find his purpose in the world, fate intervenes when Jaime unexpectedly finds himself in possession of an ancient relic of alien biotechnology: the Scarab. When the Scarab suddenly chooses Jaime to be its symbiotic host, he is bestowed with an incredible suit of armor capable of extraordinary and unpredictable powers, forever changing his destiny as he becomes the Superhero Blue Beetle. 
Joining the superhero Latino superhero movie pantheon with Miles Morales, the Blue Beetle trailer is unapologetically Mexican and absolutely stunning. With one of the best suits in DC film history, a hilarious extended cast shown with tìo George Lopez, and an intimidating villain in Susan Sarandon, this is a film that clearly has legs – six of them. For his part Xolo Maridueña brings that awkward just out of college energy that yields just enough comedy only to be thrust into power with the scarab choosing him. There is a lot to love about Jaime, and getting his powers from a scarab hidden in a Big Belly Burger box is just the start of it.
With great effects work, a dope suit, and a feel that hits my Mexican-American heart, the Blue Beetle trailer shows that James Gunn was absolutely right to move the film to a theatrical release. The film stars Xolo Maridueña, Bruna Marquezine, George Lopez, Harvey Guillén, Raoul Max Trujillo, Elpidia Carrillo, Damián Alcázar, Belissa Escobedo, and Adriana Barraza.Are you excited for the Blue Beetle trailer? Let us know on social media. 
A Warner Bros. Pictures Presentation, a Safran Company Production, Blue Beetle is in theaters nationwide on August 18, 2023.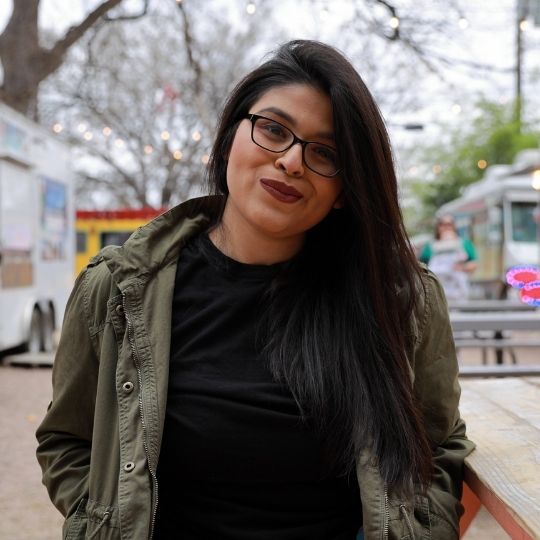 Kate Sánchez is the Founder and Editor-in-Chief of But Why Tho? A Geek Community. There, she coordinates film, television, anime, and manga coverage. Kate is also a freelance journalist writing features on video games, anime, and film. Her focus as a critic is championing animation and international films and television series for inclusion in awards cycles.