The tokusatsu genre is filled with diverse stories that go hard on absurdity, ground themselves in sincerity, and aim to amaze audiences with character designs and action sets that will make you whoop at the screen. It's a kinetic and dynamic genre that, at its best, is epic. Directed and Written by Hideaki Anno, Shin Kamen Rider is epic.
Screening as a part of the Fantasia International Film Festival's 2023 programming highlighting Asian cinema this year, Shin Kamen Rider (Shin Masked Rider in the US) shines brightly in a program filled with robust and diverse genre films. A Tokusatsu with a long history, Shin Kamen Rider follows in the footsteps of other films in the Shin series that Anno has been involved in, like Shin Godzilla and Shin Ultraman, in encapsulating the history of what made the franchise a fan-favorite while also building on it uniquely.
In the film, our masked rider is a college student and motorcycle lover, Takeshi Hongo (Sôsuke Ikematsu), who is kidnapped by a mysterious evil organization SHOCKER that is building an army of mutant cyborgs, artificial hybrids of humans, insects, and machines, known as Augs, to dominate the world and mankind. As they begin to take candidates who are fit for augmentation, Hongo is the perfect candidate, given his physical aptitude and intellect. After being augmented into a grasshopper-hybrid cyborg, his suit and programming dampen his aversion to killing and set him on the path to relentlessly eliminate any person or hybrid in his path.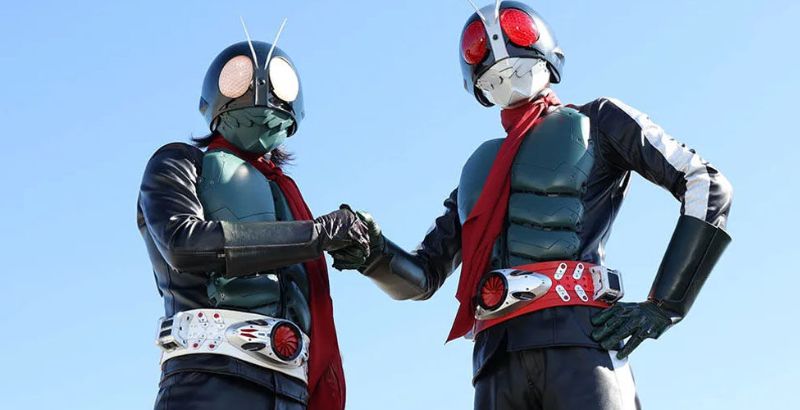 But this isn't just Hongo's story. Instead of being brainwashed by his new augmentation and suit, he's rescued by Dr. Midorikawa (Shin'ya Tsukamoto), a former SHOCKER scientist who is now fighting back against the organization because of her deep guilt that manifests for professional and personal reasons. Now saved, Hongo uses his power for good and, with Midorikawa's daughter Ruruiko (Minami Hamabe), runs through the SHOCKER invasion with a brutal force that makes every single action sequence astound.
At its core, director Hideaki Anno's love of the Kamen Rider manga comes through in this film. He is able to capture a balance between absolutely bloody action moments and the fantastic absurdity that the Tokusatsu genre is known for on television.
While Hongo stomps his foot through a chest of an enemy on the ground in one moment, a bat-man aug flying above ab auditorium filled with test subjects in brown leather coats adds humor and wildness to the action. The action is epic and spectacular, but not because it's choreographed to the action gods or even edited well. With jump cuts galore and some rudimentary special effects, and awkward blocking, the film is grounded in the era and style that we know and love as fans. By keeping large elements of Kamen Rider rough around the edges, Shin Kamen Rider is as much a love letter to the legendary tokusatsu franchise of the past as it is a reset and Anno Hideaki's ode to the future. The past informs the present, and for existing fans of the franchise, this is gold. For newcomers, maybe not so much.
Capturing that balance in character design and action is a strong point of the film. This is clear with all of the designs for Kumo Augmenet-01 (Nao Ômori), Koumori Augement-01 (Tôru Tezuka), Hachi Augment-01 (Nanase Nishino), Sasori Augment-01 (Masami Nagasawa), and Kamakiri Chameleon Augement-01 (Kanata Hongô). Each of the Augs carries idiosyncracies that are put to good use on the screen and keep the film endlessly interesting, especially in their mustache-twirling villainy that we see opposite the tortured Hongo. The physicality and camp that each of the stunt performers act out in unison with the voice work from the cast is excellent and captures a time of media past that I want to dive farther into.
Absolutely absurd and fun, even when the maniacal villain is monologuing or the fights get blood, the core of the film is the relationship between Hongo and Ruriko Midorikawa, which is phenomenal. As Ruriko points out in the film, "We don't share a romantic relationship. We share trust," the mutual respect between the two characters allows them to push each other and grow. But most importantly, Ruriko isn't a damsel in distress, even though there are moments when she seems like one. She has agency, skill, and deep respect from Hongo that has come from working together.
The film's only fault is playing each new Insect-aug as a monster of a week in one film without a great transition between them. Instead of feeling like cohesive fights leading one to another, it feels like episodic strung together within a larger narrative. Thankfully, however, the film's opening and closing acts are its strongest moments, mostly due to the battles and acting from the men beneath augments as they shine through.
Particularly when it comes to the film's final battle, any disconnection between previous elements fades because of the masked riders on display, fighting side by side and against each other. As much as you fall in love with Hongo, Kamen Rider No. 2 (Tasuku Emoto) is also someone to fall in love with.
Shin Kamen Rider is epic and absurd, but most importantly, it's surprisingly sincere. Japan's biggest hero, Kamen Rider, is here to stay for many generations.
Shin Kamen Rider screens July 22, 2023, during the Fantasia International Film Festival and is available to watch now on Prime Video.
Shin Kamen Rider
TL;DR
Shin Kamen Rider is epic and absurd, but most importantly, it's surprisingly sincere. Japan's biggest hero, Kamen Rider, is here to stay for many generations.