F1 Manager 2023 is the second in the new F1 Manager series that builds on what F1 Manager 2022 delivered. Developed by Frontier Developments, the racing management game puts players in the shoes of a Formula 1 team principal. It utilizes real-life Formula 1 driver data to give as authentic of an experience as possible.
The main career mode of F1 Manager 2023 remains the same as the 2022 variation. Players are put in charge of all aspects of running a Formula 1 team, from developing car parts to training the staff that runs the show. All of these decisions cost money, and each team has a cost cap each year that players need to remain under. Choosing which upgrades to focus on is vital in order to stay under the cap, so there are often tough decisions to be made between focusing on the current season's car to developing the next one. New staff hires and upgraded facilities that give stat boosts also factor into this equation.
While the core of F1 Manager 2023 has stayed the same, small additions have made a world of difference. The first has to do with driver and staff development. Instead of assigning stat points to various skills, every driver and staff member is given a specific focus that will improve the specific stats that fall under it. This takes away some of the hyper-specialization of drivers and stats but adds a new layer of decision-making. This also carries over to pit crew training, where specific improvements can be worked on but each comes at the expense of other stats. There is a fine balance between all of the different specializations and is no universally correct choice, something I really appreciated.
Race day in F1 Manager 2023 also has some new changes. Alongside new qualification rules that have been implemented in real life, F1 Manager 2023 introduces Sprint races into the mix. These shorter races take place over a select few weekends and are only a fraction as long as the normal races. They allow teams to earn additional championship points on these weekends and mix up the practice and qualifying format as well, keeping things as interesting in-game as they are in real life. I was bummed that these were never added to F1 Manager 2022, so having them now is a welcomed addition.
Other additions such as tire temperature, driver tactics, and driver confidence all add to the layer of challenges on each race day. Choosing when to pit and what tire strategy to use is arguably the most important part of the race weekend, but the more in-depth mechanics of driver tactics and confidence just make it more challenging to pull off a successful race. I'm glad to see the race day gameplay enhanced, as it really nails the feeling of participating in an F1 weekend.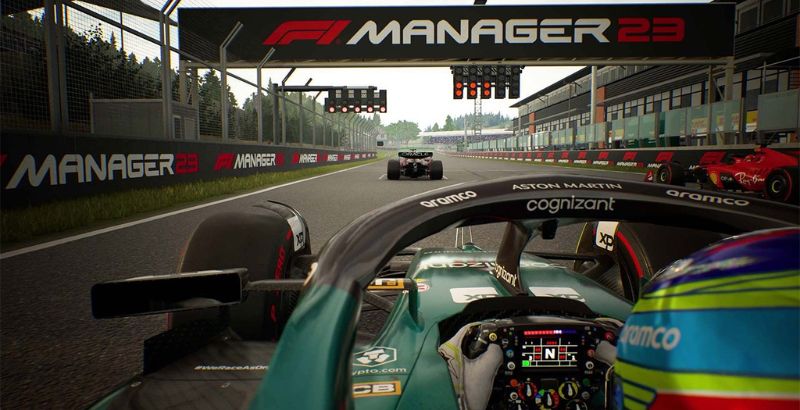 Planning a team is more involved now too, as the Formula 2 and Formula 3 drivers are given fully simulated seasons and real contracts. The simulated seasons help improve up-and-coming drivers more realistically and add more importance to the scouting mechanics. Having knowledge of which young drivers might succeed in Formula 1 could be the difference between competing for points or competing for wins in Formula 1. I would like to see the addition of the F1 Academy, Formula 1's all-female racing series, as well as managing feeder teams in future games, but the additions that are there now do still greatly improve the youth scouting in F1 Manager 2023.
There is more to play than just the career mode as new race day replays and scenarios give new ways to play F1 Manager 2023. Race day replays allow players to replay the races from the 2023 season with specific objectives in mind. Want to lead Lewis Hamilton to victory at Silverstone? Race day replays allow you to do just that. You can either replay the entire race with a team of your choice or take on a race-specific scenario in order to change your favorite team's fate over a given race weekend.
The race scenarios included in the deluxe edition of F1 Manager 2023 add 12 fictional scenarios around various legendary circuits which test a player's ability to adapt on the fly. You might need to lead Fernando Alonso to victory at his home race or miraculously get Haas on the podium in Las Vegas. The scenarios are perfect for shorter play sessions. It's just a bummer they are currently locked behind needing to buy the more expensive version of the game. Hopefully, more scenarios will be added in the future and made available without the extra cost, as their addition is one of the best parts of F1 Manager 2023.
F1 Manager 2023 takes a good management simulator and makes it better. The new additions to the race day experience as well as new challenge scenarios, enhance the Formula 1 management experience and bring the high-octane sport to life in a whole new way. While some more improvements can and should be made in future iterations, the current package of F1 Manager 2023 is one absolutely worth checking out.
F1 Manager 2023 is out now on PlayStation 4, PlayStation 5, Xbox Series S|X, and PC.
F1 Manager 2023
TL;DR
F1 Manager 2023 takes a good management simulator and makes it better. The new additions to the race day experience as well as new challenge scenarios, enhance the Formula 1 management experience and bring the high-octane sport to life in a whole new way.