The world as we know it is still torn. Desolate. Bleak. Humanity clings to exist and sustain itself in a place that once was home. Rusted vehicles pile up along overgrown city roads. Walking along the skeletal remains of a distant past and through a very present reality, Remnant II defines itself immediately for those new to the title while taunting veterans with what awaits. Published by Gearbox Publishing and developed by Gunfire Games, Remnant II is the anticipated sequel to Remnant: From the Ashes. In this third-person co-op action role-playing game set in an apocalyptic world, a lingering evil permeates inhabited areas, and players aim to end this for good.
In Remnant II, players begin by stumbling upon Ward 13. Rebuilt somewhere along a docking port, shipping containers stack tall and function as a general shelter with sleeping quarters and merchant hubs players can trade at. It is a haven that feels both communal and resilient. The sound of creaking metal with crashing waves against a warm hazed, setting sun showcases the first of many environmental details this sequel improves on. This place is your starting area where you'll select your playstyle or Archetype.
There are five archetypes players can select from. Hunter (long range and precision), Challenger (close range and survivability), Medic (well rounded and healer), Handler (utility and pet companion), and Gunslinger (firearms and dps). Archetypes have been reworked for the better, along with other improved quality-of-life functions.
Each Archetype houses three skills and four Archetype specific perks that buff you and help teammates. Archetypes have traits that can be used in combination with other existing Archetypes once it has been maxed out with ten trait points gained by defeating bosses or found in the world. This forms a foundation where players have more options to further customize builds where, additionally, players can eventually unlock the ability to Dual Archetypes. Each archetype can solo a campaign but also presents a player with their own sets of minor challenges.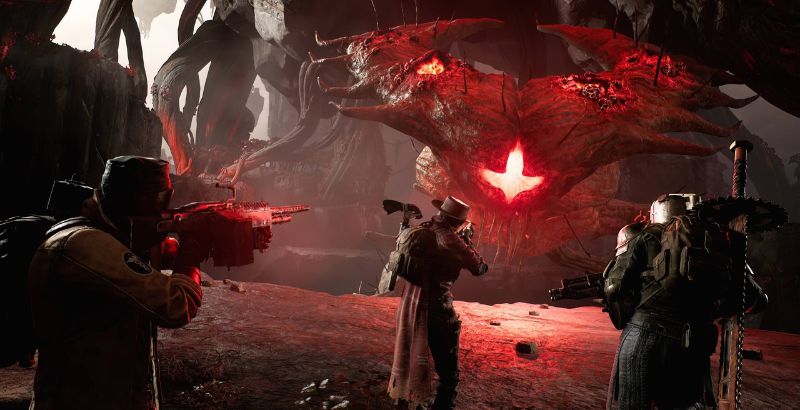 A sleeker user interface provides a quicker visual glance at gear, Archetype traits, status aliments, and weapons are just some examples of how much has shifted from Remnant: From the Ashes. To brief, armor no longer has set bonus perks, instead takes a more cosmetic route. While this sounds like it could be a step back for some, added slots for more gear hold modifiers give more freedom to a personalized build. So now, players can continually die while looking good.
Traveling to different biomes, players begin to unravel the main story whilst discovering each biome has its own personal tale. In a soulsborne style, the story may not always be so clear. Reading documents, engaging in conversations, or allowing enough time to pass may give a better understanding of what is and was.
A 3D map grants better visual placement for players to see where they are, have been to, and need to go. Remnant II wants its players to experience something new with each playthrough. A path one player takes may differ in layout and encounters from another's. Should you ever feel lost, a marker on the map will indicate where to progress.
As several hours passed, the more I became pleasantly surprised. Each biome felt grand in scale. Detailed and striking. Thoughtful environment design allowed something that felt fresh and alive that set itself apart from each other. Wooden floors would let out a long echoing croak in an otherwise eerily quiet, dimly lit parish. Its wallpaper hangs itself loosely to the surface, while another biome is brimming in elegance with high ceilings, statues, and gold details.
Playing through as a Handler, the AI of the pet companion never felt frustrating to command. Pets are intuitive and helpful for solo runs since they will always pick you up should you have a Relic. In a co-op setting, commands to attack an enemy can be misplaced to guard or heal a crossing ally instead—a minor inconvenience but forgivable since you and your allies can pet the dog.
The option to join others' playthroughs can be accessed by choosing Quick Match, which is seamless and rarely presents any lag, if at all. While players can have fun solo, the series shines best while co-opping with others. The Archetypes and personal builds can get interesting playing off one another, especially in higher-difficulty settings or even during boss fights that can be lengthy and need more power.
Combat in the world can be fast and sudden. Proper positioning and awareness are vital. That being said, while dodging, vaulting, and jumping for one's life, player movement feels fluid during enemy encounters. World enemy encounters often work in a hoard mentality. An interaction can signal a wave of enemies with one Elite amongst the crowd. Boss fights can be simple and straightforward or require a little more thought and pattern recognition. Each stands out in its own unique way, making for entertaining fights that add to the enjoyment of this sequel.
I never felt truly haunted by Remnant: From the Ashes. While I understood the hype and appreciated the concepts, it was never to a point where I kept thinking about it well after I stopped playing. Remnant II, however, manages to linger in my mind with its glow-up: memorable, impressive, and damningly fun.
Remnant II will be available on PlayStation 5, Xbox S and X, and PC July 25, 2023. Early Access releases on July 21, 2023.
Remnant II
TL;DR
Remnant 2, however, manages to linger in my mind with its glow-up: memorable, impressive, and damningly fun.