First revealed as a part of the PlayStation Showcase digital livestream hosted by Sony Interactive Entertainment, Foamstars offers players a unique and dynamic four vs four third-person multiplayer hero combat. Why is it unique? The foam! Three-dimensional, the foam is used to attack directly by encapsulating your opponent in foam or for defense by building walls up around your team, and of course, you get to surf on it, moving more quickly when on your team's foam. Developed and published by Square Enix, Foamstars is an online shooter where players use cartoonishly detailed and fun weapons to sling foam everywhere. Offering up a tactile experience, it also pushes players to work together differently than other games that it may be compared to.
At Summer Game Fest Play Days, we got the chance to go hands-on with Foamstars multiplayer by playing in our own four-vs-four matches against other journalists and it was one hell of a time. In order to capture the Foamstars multiplayer experience we had, we thought it was best to cover the game in our co-op style to go into the teamwork and competition from two points of view. For a full preview of the game, you can head here.
What challenges does working with a team in Foamstars bring to the gameplay?
Kate: In other games, it's easy to stay focused on getting "kills" or "splats" and just taking out the other team. It's the easiest way to engage in hero combat and keep one objective at the center of your gameplay. However, in Foamstars multiplayer, you don't just need to "chill" your opponent by getting them stuck in your foam. You also need to save your teammates. When you get someone encased in foam, you have to surf through them in order to "chill" them. At the same time, you can also save an encased teammate by doing the same. When you find yourself between an opponent and a teammate trapped, you have to make the decision to lose out on the chill, of which you only need seven to trigger the end phase of the game or keep a chill away from the other team. It's a choice that pushes you to choose how you'll play. Are you aggressive first and always? Or are you playing pure support, keeping your team in the fight by saving them? It's your choice, and there are plenty of hero variations to do that.
Matt: In the lone game mode we were able to play, there were plenty of challenges. Getting "kills" or "chills" as they call it, was important but was not the main focus. Players needed to make sure to pay attention to their teammates and revive them if possible as the game mode we played was based set on the number of "chills" a team received before triggering the end phase of needing to "chill" the other Team's Star Player.
Who was your favorite Star to play as?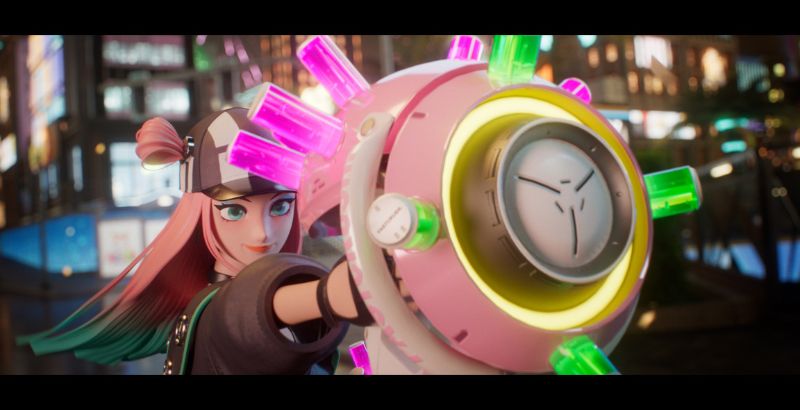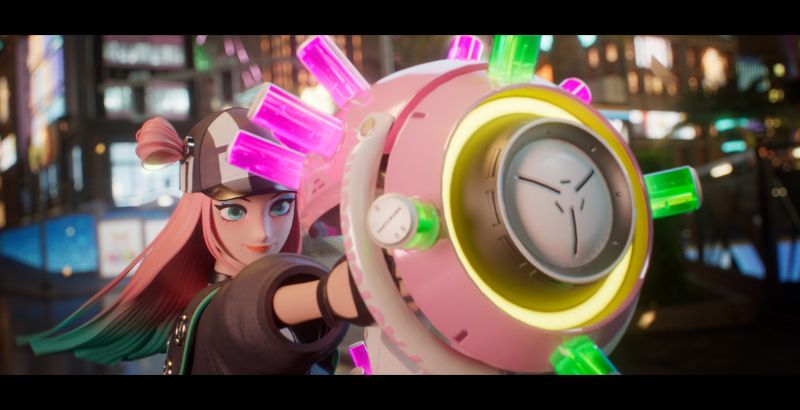 Kate: I want to say that Tonix was my favorite star, with their crowd control turrets, but truthfully, it was Mel T's bruiser style with her rocket launcher that fit my playstyle much better. With her, she's about quick blasts and large area coverage, but her most useful skill is her super which unleashes a foam beam that is pretty much undodgeable by the opposing team. While it's great to use at any time given the large area it covers, it's better to communicate with your team and use it while pinching enemies onto a particular part of the map, especially if their Star Player is active. A Star Player is the best player in the match and is chosen after the opposing team reaches seven "chills." In order to win the match, you need to get the Star Player put in foam, which is a lot easier with Mel T's super move.
Matt: My favorite star was Pen Gwyn by far. Outside the lovely being a "Penguin Soldier" who fights against Global Warming, Pen was my favorite due to the weapon choice of Assault Rifle. Pen was a run-and-gun type character with skills that seemed relatively straightforward. One skill is for damage and one is for mobility. Weapon choice and mobility are huge things for me when it comes to selecting and character, and Pen Gwyn has both of those for me. I was able to try a few of the other characters, and there is differently some variety, but none came close to matching what I like from a character.
How was the competitive learning curve for Foamstars?
Kate: While we only played one of the game modes, the multiplayer was extremely accessible regardless of skill level. The nature of the foam itself removes a large need for precision, and that alone opens the door for more players to jump into this hero PvP game. The only thing you really need to learn is how to cooperate with a team and how to choose to compliment characters.
Matt: I am not entirely sure as we were only able to preview one of the main game modes that are coming with the full launch. Based on the mode we were able to preview, I would say Foamstars seems like one of those games of easy to get to hang of it but takes quite a bit to master. Player comps will matter and sure Stars will matter based on maps and modes so think average players will play just fine, but to get to a higher level will take some more learning.
Are you excited for the release?
Kate: I'm definitely excited for the release! The prospect of a new multiplayer game to jump into makes Foamstars an immediate buy, granted it is only on one platform, which limits the playing pool. That said, for the around 45 minutes we played, it offered a lot of competitive joy and unique gameplay that helps make it worth getting excited for.
Matt: Yeah, I am excited about the release. I was already kind of excited when Foamstars was announced, but still have my reservations. Getting a chance to sit down and test it out was a pleasant surprise, and the game definitely played much more than I was expecting. I am not sure how well being a PlayStation exclusive will go for the game, but overall I enjoyed my playtime with the game and I'm excited to see what all it has in store.
---
Foamstars will release on PlayStation 4 and PlayStation 5, though a release date hasn't been shared.