After the previous controversial, yet incredibly eventful episodes, we're now embarking on new territory between Gu Won (Lee Jun-Ho) and Cheon Sa-rang (Im Yoon-ah) in King The Land Episodes 9-10. There's also more investment in these two episodes, pushing the character development for Sa-rang's friends, Gang Da-eul (Kim Ga-eun) and Oh Pyeong-hwa (Go Won-hee).
The war between heirs is still on in King The Land Episodes 9-10 but takes a backseat in these episodes. That doesn't stop the seed for future episodes from being planted. Gu Hwa-ran (Kim Sun-young) is still surging forward in maintaining her hold. She's working on getting her connections into the 100th anniversary of King Hotel, regardless of Gu Won's plans. With Gu Won taking on the responsibility of getting everything set up, the pressure – in theory – should be high for the contender to the kingdom.
Nope, he's got other priorities. By this, I mean love. On his way to work (notably after a decent declaration to his father and the Board to take on the 100th-anniversary event), he goes out of his way to see Sang-ran's grandmother to check in on her. This escalates to her needing to go to the hospital. While wholly inconvenienced by his visit, his taking a chance turns into something beneficial for them both.
It doesn't seem like Sa-rang's grandmother approves of Gu Won. That doesn't stop her from taking him away with her to meet her friends in the market. This results in an auntie session of interrogation, where Gu Won's inexperience shows but also his earnestness. Gu Won cares deeply for Sa-rang It's transparent for all to see, including her grandmother.
While her words indicate a lack of approval, she takes him to open a housing subscription account that enables him to start putting aside money for his first home. Regardless of where he and Sa-rang go in the future, Sa-rang's grandmother is softened by his inexperience. There also seems to be some home there for him. It is by the end of their time together when she makes him an entire feast that the audience can see that perhaps this grandmother might approve of the young man one day.
Meanwhile, in King The Land Episodes 9-10, we're starting to see further cracks form for employees of different King Properties teams. Coaxed with the lure of incentives, despite making top numbers, Da-eul and her team do not earn a trip to Southeast Asia. All we see is their superior taking them to a tropical bar. While an expected lie, it does little to boost morale. When the superior dangles the lure again over their head, they feel resigned to do well while knowing that it won't lead anywhere.
In her journey, Pyeong-hwa has been working desperately to try to be promoted. What we see in her employment struggle is that she is not the favorite. Always the bridesmaid. Never the bride. At least, that's how it comes across in her airline team. After being the top earner for the cycle, everyone, including the audience, thinks she'll finally win that promotion. Instead, the rug is swept out from underneath her in what is a harsh further blow to her self-esteem.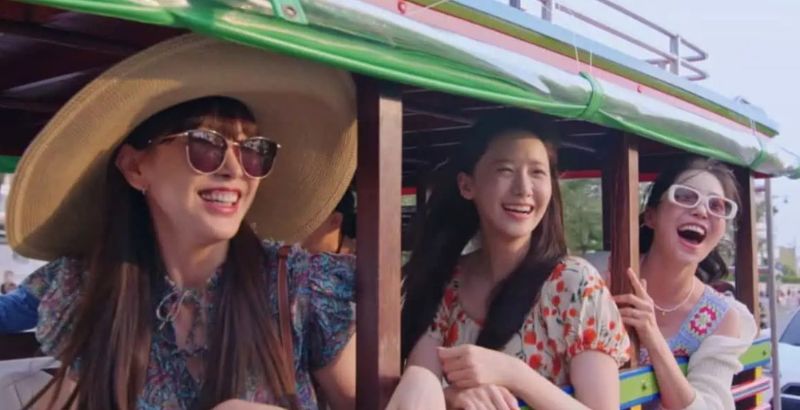 The writers have been highlighting the hypocrisies of capitalistic business practices in King The Land. It is in King The Land Episodes 9-10 that we see more of this underlying theme highlighted. The proverbial carrot dangling over the head of employees is an all too relatable gripe across cultures. Oftentimes, if there are incentives, they are lackluster or non-existent. As we've come to get attached to the characters in King The Land, it's like an expected splash of cold water in the face. We know it's coming, but it's still going to make us shiver.
After hearing her friends' complaints and learning more about his company's false promises to boost productivity, Gu Won decides to put Noh Sang-sik (Ahn Se-ha) in charge of putting together a trip for the trio. Under the guise of rewarding King's top employees, he seems determined to make sure all have a good time. This while also hoping to get brownie points with Sa-rang. However, he has to go under his fake name with the gals, as Sa-rang's friends still do not know his identity.
This leads us to King The Land Episode 10. This episode is incredibly beautifully shot. However, it's a not-so-subtle advertisement to travel to Thailand. That's not necessarily a bad thing, because we get to see the relationship between Sa-rang and Gu Won develop even more. We also get to see how Da-eul's work personality comes out even whilst vacationing. The thing is that the shots and the overall sense of promotion are quite obvious.
With Sang-sik taking on the pretend role of department manager, he's temporarily placed in a higher position than his boss, Gu Won. However, he does let it get to his head. This leads to some brilliant comedy moments between Ahn Se-ha and Lee Jun-ho, particularly in a fanservice type of scene that is sure to leave fans trying to cool themselves down.
Sang-sik's approach to the trip is to organize everything as a whirlwind style tour, picking things that a tourist guide would select rather than accommodate everyone's preferences. While the gang has a good time, you can see them rankle under the constant storm of activity scheduled by Sang-sik. The only one that really seems to be making a go at it is Da-eul, but she explains to Gu Won that she does it because she doesn't want to be on Sang-sik's bad side. As their senior, they must try to make sure Sang-sik has a good time and no feathers are ruffled. This further highlights the type of toxic dynamic that the King group seems to be perpetuating within their employees.
Since King The Land Episodes 9-10 have been focusing a bit more on Sa-rang's friends, we get to see Pyeong-hwa get action as well in Episode 10. We see her happiness radiate off her face at the prospect of this trip. She's been eager for a reward, something to take her mind off of things at her job. But then her junior colleague, Lee Ro-woon (Kim Jae-won), pops in unexpectedly on their dinner cruise. He has a layover in Bangkok and, while messaging Pyeong-hwa, she shared that she'd be there. Clearly uncomfortable, she is too polite to turn down her colleague with the obvious crush.
The awkwardness persists, but he joins them for their nighttime activities. He is invited to stay over and he accepts albeit in an uncertain fashion. He has to leave early and tries his best not to wake anyone. His glimmer of hope in what honestly was an awkward evening is that Pyeong-hwa got up early to prepare him a breakfast with a little note. While she doesn't show obvious signs of interest, maybe there could be something there further down the road. Either way, it's nice for her to get this push forward with her plot after being the punching bag so far.
There's also little room for Sa-rang and Gu Won to get away but, when they finally do, it makes for some of the most beautiful scenes of the show. The environment the team has created here with the lighting, production, and set design is truly well-done. It creates this natural aura of magic and appeal that would make even the most cynical of people want to fall in love. Serving as a gorgeous backdrop to their growing feelings for one another, King The Land Episode 10 is likely to be a favorite of many in the series. It might be a battle between Episodes 8 and 10 for the best romantic ambiance.
With six episodes left in the series, I expect that we're going to dive deep into addressing several things in a whirlwind fashion. The 100th anniversary of the King Hotel is going to be at the forefront of upcoming episodes and may feature heightened tension for Sa-rang and Gu Won. King The Land Episodes 9-10 served as a calm soothing balm before the storm assaults our senses. With their love in such a tender stage, the trials ahead can either break them or make them even stronger.
King The Land Episodes 9-10 is a calmer round of episodes that serve to develop and push the storylines for the supporting players in Sa-rang's and Gu Won's immediate circle as well as our leading couple. A minor nitpick would be how much Episode 10 felt like an advertisement to travel to Thailand, but that's also not necessarily a bad thing. It resulted in some really stunning scenes that will leave an impression on many. With the drama that's sure to pummel us in future episodes, King The Land Episodes 9-10 was a necessary boost of serenity before we dive into battle.
King The Land Episodes 1 through 10 are now available on Netflix, with new episodes airing on Saturdays and Sundays.
This piece was written during the 2023 WGA and SAG-AFTRA strikes. Without the labor of the writers and actors currently on strike, streaming platforms like the one being covered here wouldn't exist.
King The Land Episodes 9-10
TL; DR
With the drama that's sure to pummel us in future episodes, King The Land Episodes 9-10 was a necessary boost of serenity before we dive into battle.