Reading Time:
2
minutes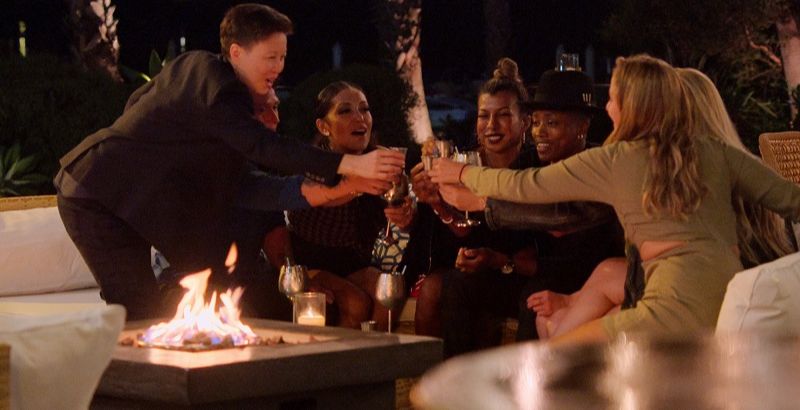 The Ultimatum: Queer Love is a spin-off from the hugely successful Netflix show, The Ultimatum: Marry or Move On, that first aired in 2022. Husband and wife duo Nick and Vanessa Lachey host the reality dating show. They're not unfamiliar with the dating show genre as they're well known for hosting Love Is Blind. However, this time around, they're taking a back seat. American actress JoAnna Garcia Swisher will host The Ultimatum: Queer Love instead.
The Ultimatum: Queer Love pretty much follows the same rules as the first series. It starts with five LGBTQ+ couples. Over eight weeks, their relationships will be tested to the limits. At the end of the show, they must decide whether to call it quits or get married.
But to make the situation all the more messy, one individual from each couple wants to avoid getting married. So what do they do? They enter a reality show with other couples in similar situations. But it's not going to be a bed of roses. Instead comes the temptation of cheating and/or just simply walking away. 
For ages, audiences have been crying out for an LGBTQ+-focused dating show. And now, thanks to Netflix, we finally have one. It truly shows that there's room for LGBTQ+ dating shows. Hopefully, The Ultimatum: Queer Love will be a success with audiences, even if it is just so we can see similar shows in the future.
Of course, for anyone who has seen even just one dating show, it's never going to be a smooth ride. As one would expect, there are tears, heartbreak, and intense scenes throughout the series. But what The Ultimatum: Queer Love does differently is that it forces the audience to question the way we date. Should we remain with just one partner at one time? Should it be acceptable to have more than one partner? And how unreasonable is it to not accept our partner's tiny (or, in some cases, massive) flaws? 
Whilst The Ultimatum: Queer Love is naturally quite similar to The Ultimatum: Marry or Move On, having JoAnna Garcia Swisher as the host allows it to breathe on its own. It was indeed a smart move to bring her on board. Whilst Nick and Vanessa Lachey were great as hosts, ignoring that criticism from the Love is Blind reunion special, their absence helps the show not just feel like a cheap copycat.
For fans of reality TV, The Ultimatum: Queer Love has everything that one would expect. Drama, emotional reveals, shocks – the list goes on. It's a decent reality dating show. It might not completely blow you away, but it does exactly what it says right from the get go. As it's a show that can make you forget about the worries of the world for a while, it will be a needed distraction.
Catch the first four episodes of The Ultimatum: Queer Love on Netflix starting May 24.
The Ultimatum: Queer Love Review
TL;DR
Whilst there is an overload of dating shows on Netflix, The Ultimatum: Queer Love impresses by featuring an LGBTQ+ cast. It doesn't divert far from similar shows, but it's still an enjoyable watch.