Reading Time:
2
minutes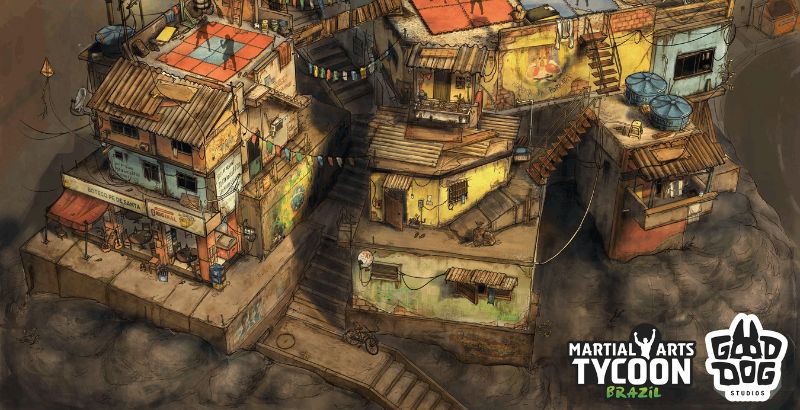 Brazil's International Games (BIG) Festival, the largest independent games festival in Latin America, announced today that it will be hosting the Martial Arts Tycoon: Brazil world premiere in São Paulo, Brazil, on June 30th, 2023. Developed by Good Dog Studios, an innovative game development studio led by Chance Glasco (a co-founder of Infinity Ward and creator of the Call of Duty franchise), the game blends tycoon, simulation, and RPG elements, offering players a unique opportunity to manage a Brazilian Jiu-jitsu gym in the heart of Rio's lively favelas and surrounding communities. The game is scheduled for release on PC in 2024, with consoles to follow.
Martial Arts Tycoon: Brazil invites players to step into the shoes of Lucas, who inherits his Uncle Renato's gym and guides him with his pet capybara, Raphael. As they navigate the challenges faced by the favela community, including climate and health issues, players will train fighters for competitions, expand their gym, and engage with diverse NPCs, each with unique stories and motivations for joining the gym.
The game's rich cultural setting, combined with real-life issues faced by Brazilian communities, sets it apart from other tycoon games on the market. Players will not only manage their gym but also make strategic decisions to improve their local community, address environmental concerns, and make a tangible impact on the game world.
To celebrate the upcoming world premiere, BIG Festival will be unveiling Martial Arts Tycoon: Brazil's first cinematic trailer during BIG 2023 on June 30th. In addition, the event will be hosting a talk by creative director and co-founder Chance Glasco, who will discuss the game's development, unique features, and the importance of addressing climate and health issues through gaming. The cinematic trailer showcases the game's breathtaking visuals, capturing the essence of Rio de Janeiro's vibrant culture and delivering an authentic Brazilian Jiu-jitsu experience for players to immerse themselves in.
"We're thrilled to showcase Martial Arts Tycoon: Brazil at BIG 2023," said Chance Glasco. "It was a natural fit for us to uncover the game for the first time in Brazil since this is where the game takes place and is inspired by."
"We're honored to be working with Chance Glasco and showcase Martial Arts Tycoon: Brazil as a world premiere during BIG 2023," said Gustavo Steinberg, BIG Festival CEO. "From what we have seen so far, Martial Arts Tycoon: Brazil oozes with realism and brings the vibrant, diverse, and eclectic Brazilian culture to life"
For more information about Martial Arts Tycoon: Brazil, please visit the official website or follow the game on Twitter, Instagram, Discord, TikTok, and Facebook, for the latest updates and news.