When it comes to free-to-play games, Hotta Studio's free-to-play open-world RPG Tower of Fantasy has a lot to offer players, and it's just getting bigger. Together, with Level Infinite, Hotta Studio unveiled additional details and showed new gameplay for "Vera," the first major update and expansion for Tower of Fantasy. "Vera" will be available for free on October 20th at the official site, as well as on the App Store and Google Play. Plus, members of the Steam community will be able to download and play the full game along with the new "Vera" expansion on the same day.
If you're not familiar, Tower of Fantasy is set hundreds of years in the future after humanity has escaped the collapsing environment of earth and fled to the distant planet of Aida. Offering cross-platform play, the game is a shared open-world MMORPG filled with action. With an immersive open world, and both co-op and solo adventures, Tower of Fantasy also features freeform character development, unique simulacrums, and combat that allows and encourages players to switch weapons to craft their own unique way to play.
At today's special stream event which took place on Youtube, Twitch, and Twitter Hotta provided an in-depth look at the full "Vera" update. We got an exciting trailer for the mysterious new character Ruby, a beautiful and regal enemy. And, the stream also teased her Spark weapon and abilities. The stream also showcased how "Vera" is diversifying the environments players can explore. First, you have the irradiated wilderness of the Desert Gobby, and second, at its center, the cyberpunk city of Mirroria. In stark contrast, Mirroria is a glittering city that seems like an oasis in the middle of the desert, but players are promised to discover that it comes with its own danger and conflict.
Both areas come with a fresh set of missions, events, raids, instances, monsters, and legendary bosses to overcome. Not to mention, new vehicles to discover and weapons. One of the new bosses that players will get to face off against is Magma Lair. Originally created in the city, magma's owners have set it loose in the irradiated desert. One standout that Tower of Fantasy offers exciting character designs.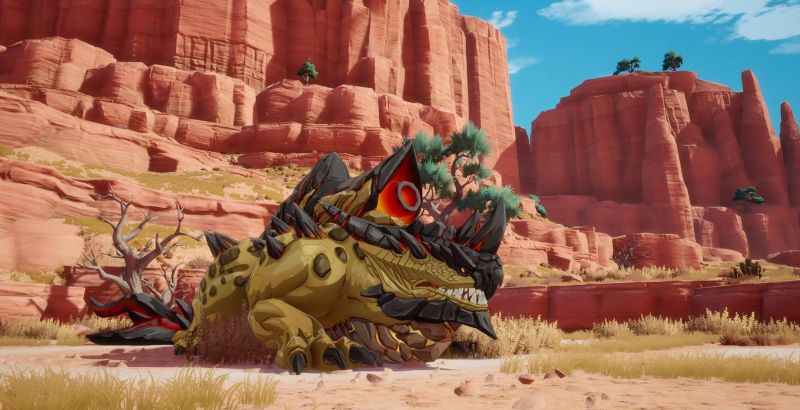 Magma Lair is a creature that embodies the rocky landscape around it and actually manages to both look intimidating and exactly like it could be a pet. This combo makes it stand out and its abilities off Wanderers a pretty difficult challenge: a wall to trap you in close combat. Players will also get Rudolph, a mechanical moose that charges players with its horns and hits them with charged lightning hits.
In addition to the two new areas, Desert Gobby also offers a challenging area called the Grayspace. When Wanderers enter the Grayspace, the whole environment darkens to signal the difficulty ahead as you fight Grayspace Entities, the enemies that inhabit this zone.
Overall, Tower of Fantasy's "Vera" Expansion looks like it's going to make the game bigger. Not just because of new areas, but also because of the new challenges that new enemies and the Grayspace offer players.