The Woman King was one of my most anticipated movies of the year, and I can proudly say it lived up to the hype. It's a bold and bloody film, and it'll probably lead to a new definition of the word "badass." But thanks to the work of Gina Prince-Bythewood, alongside her phenomenal cast, it's also a very emotional story with multifaceted characters. Here are four reasons to watch The Woman King when it debuts in theaters next week.
It's Based On Actual History
The Woman King tells the tale of General Nanisca (Viola Davis), who leads the warriors known as the Agojie in defense of the West African kingdom of Dahomey. The Agojie's membership is made up entirely of women, who train to be the deadliest fighters in West Africa. And like most historical films, The Woman King is steeped in actual history. The Agojie were created when Dahomey's men perished in conflict with opposing kingdoms and were referred to as "Amazons" by Europeans after the Grecian myth. It was this history that inspired the film's co-writer Maria Bello to develop and produce the film, and for Prince-Bythewood and Davis to fight to get it made. It also continues a trend of films and TV shows that explore the vast depths of Black history, from Black gunslingers to Black samurai. When viewers watch The Woman King, they'll learn that it doesn't shy away from the darker parts of the Agojie's history, including the fact that Dahomey participated in the slave trade. "When I came aboard, those were some of the first conversations," Prince-Bythewood said during an interview. "But it was, 'We're going to tell the truth. We're not going to shy away from anything.'" That honesty adds a new layer to the storytelling, as Nanisca attempts to convince the young king Ghezo (John Boyega) that Dahomey can prosper without the slave trade.
The Action Sequences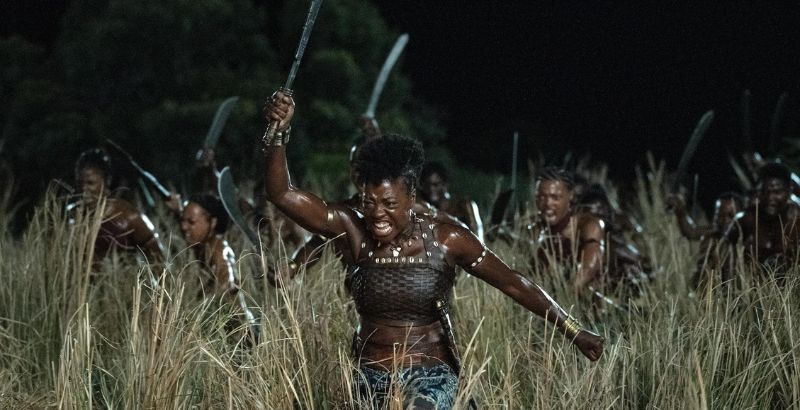 Prince-Bythewood made a splash two years ago with her film adaptation of The Old Guard. The Netflix original not only put Greg Rucka and Leandro Fernandez's Image Comics epic on the silver screen but it was also packed to the bone with bloody, brutal fight scenes that felt on the level of action epics like John Wick or 300. Though The Woman King isn't as bloodsoaked as The Old Guard, it still has some intense battles between the Agojie and the opposing warriors of the Oyo Empire. The Agojie are built like warriors—they're extremely tall and muscular and put every ounce of strength into hurling their spears and striking their foes' heads off. Prince-Bythewood drew inspiration from Braveheart and Gladiator while crafting the fight scenes and sought to make them as realistic as possible. Having had the chance to watch The Woman King, I personally feel she succeeded. You'll feel like you're watching an actual war on the screen.
The Emotional Heft
For all of its action and historical inspiration, where The Woman King really shines is in the emotional weight that it brings to its characters. Nanisca is scarred in more ways than one, as shadows from her past reappear to menace her. Nawi (Thuso Mbedu) joins the Agojie out of a desire to escape her family but has to learn to depend on others just as much as herself, as well as a romantic connection with an outsider (Jordan Bolger). It's that balance of genuine heartfelt moments and action sequences that's made Prince-Bythewood such an interesting filmmaker, and it's what makes The Woman King stand out from other action films. It also gives a human dimension to the Agojie, rather than stereotyping them as the "Strong Black Women" that another filmmaker would have easily leaned into.
The Cast (Especially Viola Davis)
I would be remiss if I didn't talk about the amazing cast that Prince-Bythewood pulled together. Of course, all the props go to Davis's turn as Nanisca; she hasn't had a bad performance, and to see her in a more action-oriented role is simply awesome. Like the other Agojie, audience members will be hanging on her every word. She also has excellent chemistry with Mbedu, as Nanisca and Nawi's relationship grows from antagonistic to more welcoming. Equally as compelling is Lashana Lynch as Igozie, who is as quick with her wit as she is with her razor-tipped fingernails, as well as Sheila Atim as Nanisca's right-hand woman Amenza. And Boyega has a commanding presence as Ghezo, as well as a natural-born swagger that one would expect from a king. Prince-Bythewood assembles amazing casts for her films, and this is no exception.
---
The Woman King is playing in theaters nationwide on September 16, 2022.