Doctor Strange in the Multiverse of Madness is now playing in theaters, and it's a terrifyingly trippy thrill ride worth the price of admission. Whether you're interested in seeing more of Benedict Cumberbatch's Master of the Mystic Arts, or have been waiting to see Elizabeth Olsen return as the Scarlet Witch — or you're super curious about which Marvel heroes might show up from which universe — this film has something for everyone thanks to director Sam Raimi and screenwriter Michael Waldon. And much like other films from the Marvel Cinematic Universe, Multiverse of Madness draws inspiration from a wide range of Doctor Strange comics. Here are the Doctor Strange comics to read that focus on the Sorcerer Supreme and his allies.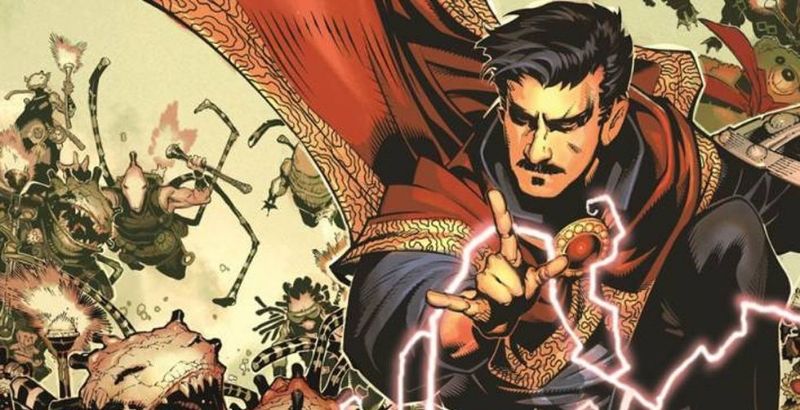 Thor: Love and Thunder isn't the only Marvel film that draws from the work of Jason Aaron, as the writer teamed with artist Chris Bachalo to present his take on Doctor Strange in 2016. Aaron introduced the idea that Strange's magic had a price. Every spell he cast wrought havoc on his body, and Multiverse of Madness touches on that with the Darkhold exacting a price from its user. Bachalo had previously teamed up with Aaron on Wolverine and the X-Men, and he brought his outlandish style to the world of Doctor Strange. This run had it all: killer teddy bears, demonic bacon, and a taxi that defies the laws of gravity. The most striking visual features Strange with a literal third eye which is a horror flourish that more than likely appealed to Raimi.
Doctor Strange: The Oath is considered the greatest Doctor Strange story ever to be put to screen, mainly for how it explores the relationship between the Sorcerer Supreme and his partner Wong. When Wong is diagnosed with terminal cancer, Strange attempts to find a magical elixir to cure him and nearly gets shot for his trouble. The script by Brian K. Vaughn (Y: The Last Man, Saga, Runaways) touches on Strange's all too human side, while the art of Marcos Martin (Amazing Spider-Man) pays homage to Steve Ditko's psychedelic designs. The Oath has had a major influence on both Doctor Strange films; its antagonist Nicodemus West is played by Michael Stuhlbarg, who shows up in both films. The Oath also features Doctor Strange joining forces with Night Nurse. Christine Palmer, who took up the Night Nurse identity, plays a role in both films.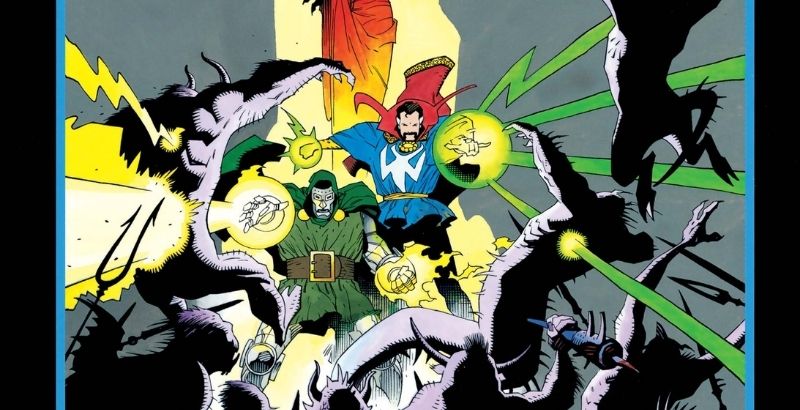 Doctor Strange isn't the only magic user in the Marvel Universe; one of the most formidable is the Fantastic Four's archenemy Doctor Doom, who incorporates spellcasting into his many defenses. Doctor Strange/Doctor Doom: Triumph and Torment sees the two joining forces, as Strange has to grant a favor to Doom after winning a mystical tournament. Doom's request is simple: he seeks Strange's help to free his mother's soul from Hell, specifically the clutches of the demonic Mephisto. Roger Stern, who served as a co-writer on The Death of Superman, and future Hellboy creator Mike Mignola craft a comic that more than lives up to its title. Stern's scripts have moments both heroic and horrifying, all rendered in wonderful detail by Mignola.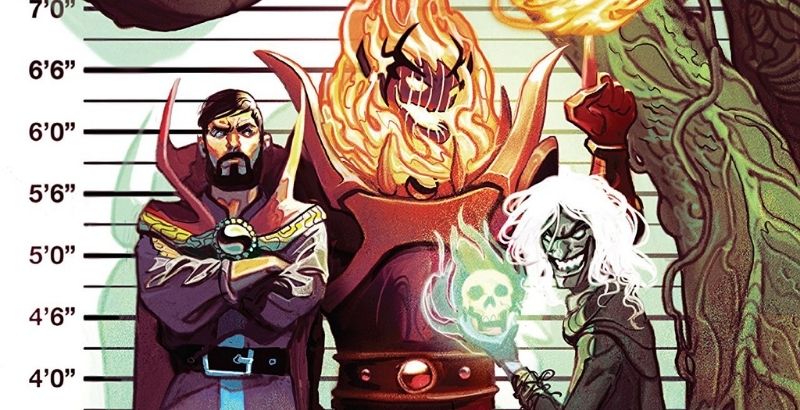 Donny Cates has become one of Marvel's most prolific writers in the past few years. Under his pen, Venom has ascended from antihero to deity, and a brutal battle between Thor and the Hulk serves as a celebration of their 60th anniversary. One of Cates' most underlooked comics is his brief run on Doctor Strange, which showed his penchant for pushing a character to new limits and his deep knowledge of the Marvel Universe. Among these stories is an arc where Loki becomes the Sorcerer Supreme (yes, really) and the Damnation event that Cates co-wrote with Nick Spencer, which saw Strange raising Las Vegas from the dead after the events of Secret Empire only to see Mephisto take it over. Cates also had the chance to work with an arsenal of talented artists, including Gabriel Hernandez Walta (Magneto), Niko Henrichon (Pride of Baghdad), and Rod Reis (Winter Soldier).
Perhaps the most significant moment of Multiverse of Madness features Strange encountering the Illuminati, a secret society of superheroes formed by one of his alternate selves. In the Marvel canon, Strange served as a founding member of the Illuminati alongside the X-Men's Charles Xavier and the Fantastic Four's Reed Richards. Their actions would lead to events including World War Hulk and Secret Invasion. Before reinventing the X-Men, Jonathan Hickman wrote New Avengers, which saw the Illuminati dealing with multiversal incursions, a plot point that's addressed in Multiverse of Madness. Hickman and a collection of artists, including Steve Epting (Captain America) and Valerio Schiti (Inferno), laid the groundwork for 2015's Secret Wars. Waldon laid hints for a potential MCU adaptation of Secret Wars in Multiverse of Madness and the first season of Loki, and I wouldn't be surprised if an adaptation is in the works — especially since Joe and Anthony Russo (Avengers: Endgame) have shown an interest in directing a Secret Wars film.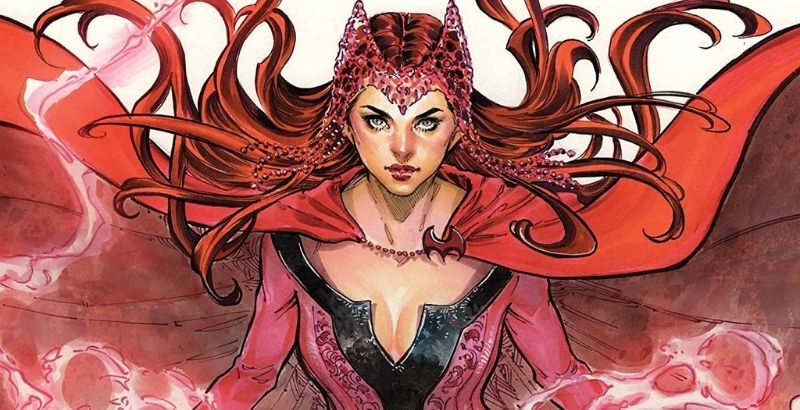 Fans have been mixed on Multiverse of Madness transforming the Scarlet Witch into a villain, especially after the events of WandaVision. If you want to see more of Wanda Maximoff's heroic side, I highly suggest picking up the Scarlet Witch series written by James Robinson (JSA, Stargirl). When witchcraft is broken, Wanda embarks on a journey to fix it encountering figures from her past, including Agatha Harkness and her brother Quicksilver. The series is also unique due to the fact that a different artist illustrates each issue, with artists including Annie Wu and Joelle Jones (Wonder Girl) putting their own spin on Wanda. While comics like Tom King's Vision and House of M tend to get recommended when it comes to the Scarlet Witch, this series is criminally overlooked and worth a read.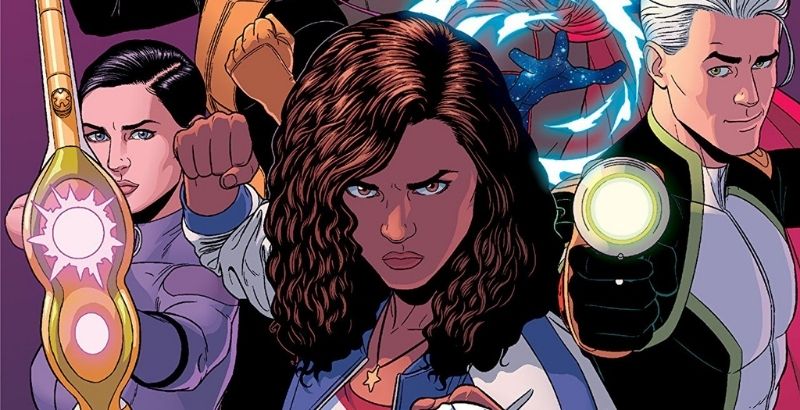 Multiverse of Madness marks the live-action appearance of America Chavez, played by Xochitl Gomez. America is best known for her time with the Young Avengers, in a fan-favorite run by Kieron Gillen (Once & Future, Eternals, Immortal X-Men) and Jamie McKelvie (The Wicked + The Divine, Captain Carter). America and other Young Avengers, including Wiccan, Speed, and Kate Bishop, battle the mysterious multiversal threat known as "Mother." Young Avengers is another potential adaptation the MCU has been building to. Both Wiccan and Speed showed up in WandaVision and MUultiverse of Madness, while Kate was a significant part of the Hawkeye series.
These are just a sampling of the Doctor Strange comics that have been released over the years. With Strange set to celebrate his 60th anniversary next year, the Master of the Mystic Arts' future in film and comics has never looked brighter.
Doctor Strange in the Multiverse of Madness is playing in theaters nationwide.