Sticker Hauls have easily become my favorite thing. Opening up packs of stickers that range in size and finish and ultimately show off the things I love is always a great mail day. Redbubble has been my one-stop-shop for pretty much every sticker on my computer tower and laptop. While you can find stickers that feature original characters and art, films, and even bands, it's the anime section of Redbubble that I gladly tell to shut up and take my money. The best part is that while they have stickers for major mainstream properties that get a lot of love, all the time, they also have stickers for some of the smaller titles — especially when it comes to manga. I figured I'd do a round-up of my favorites just in time to treat yourself for Valentine's Day.
The Jujutsu Kaisen section of Redbubble is simply amazing. From fan illustrations, the very best sassy Nanami and Gojo panels and more, there is a little bit of something for every reason you love this series. With both manga and anime in these offerings you get the best of chibi, attractive, and even Sakuna's mouth – yup, that's a sticker too.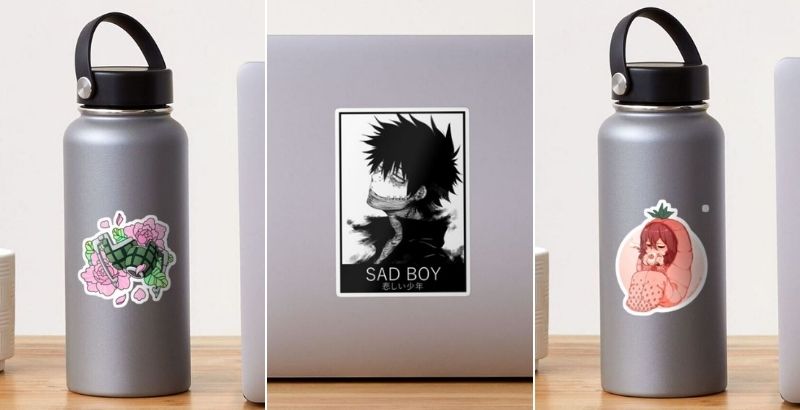 Probably the broadest selection of stickers for anime fans, the My Hero Academia sticker haul can have everything from original work to manga panels, and of course memes. You can find stickers that show your favorite characters quirked distilled into an image only fans can recognize, cute strawberry versions of your faves, and of course a sad boy or two.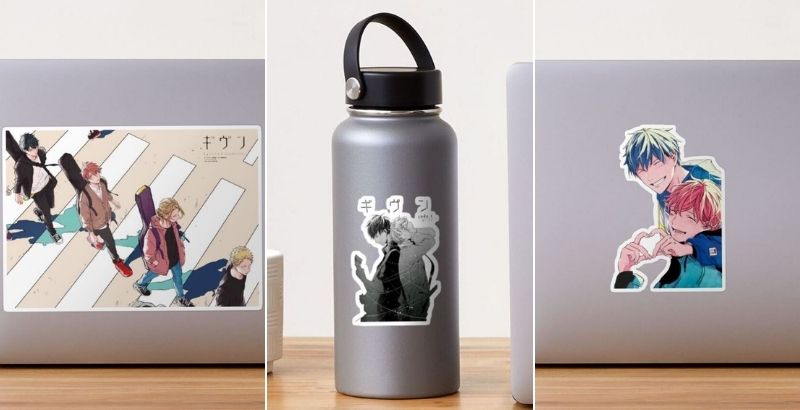 I have bought nearly every design available when you search Given. If you're looking to add some BL into your sticker haul, Redbubble definitely has offerings for you, and while you can explore the mature webtoon wones, you can also find your favorite Given couples too. If you've seen the Given artbook, you can find a lot of those prints available in sticker form too.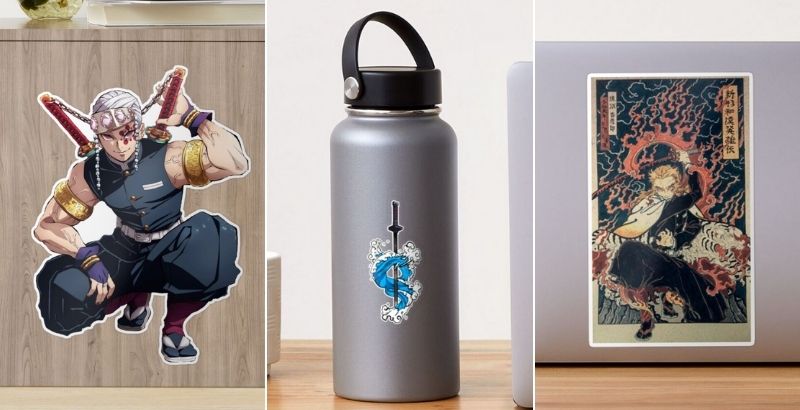 Whether you want to set your heart ablaze, look at Uzui (available in extra large size which apparently is the size of a nightstand according to the picture above), or get something cute and adorable, Redbubble has it for you. With artists selling original work using a Demon Slayer Aesthetic or making memes, there is a lot to add to your sticker haul from this one.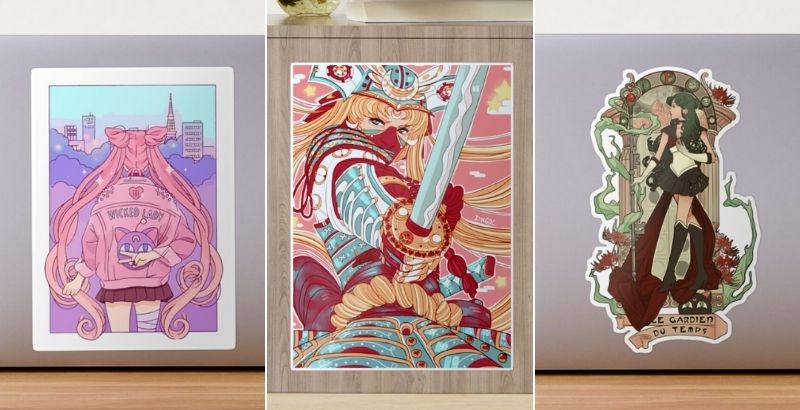 Sailor Moon has the widest range of original artwork available from any anime on this Redbubble sticker haul list. Whether it's deep cuts, modernization, or just beautiful renderings of the senshi in different art styles, there is so much to look through and find.
---
Redbubble is the largest global marketplace connecting over 1 million independent artists and shoppers with over 30 million designs to select from and that ends adding to over 125 unique products on Redbubble across the apparel, home & living, wall art, stickers, phone case, accessories and more.