Manga is great. With generations of content, collectors editions, single volumes, and so much more from different publishers, there is no shortage of gift ideas for manga readers. Having just gotten into collecting the stories that have kept me captivated for most of my life, I've learned that the best way, and the most cost-effective way, to collect can come from box sets. But, collector's edition box sets aren't the only manga gift you can get for the manga reader in your life. You can also buy them omnibus volumes and even art books.
From across publishers and genres, we've pulled together some of my favorites for a manga gift guide to get your holiday shopping done quickly and make someone in your life really happy. Or you know, make yourself happy too!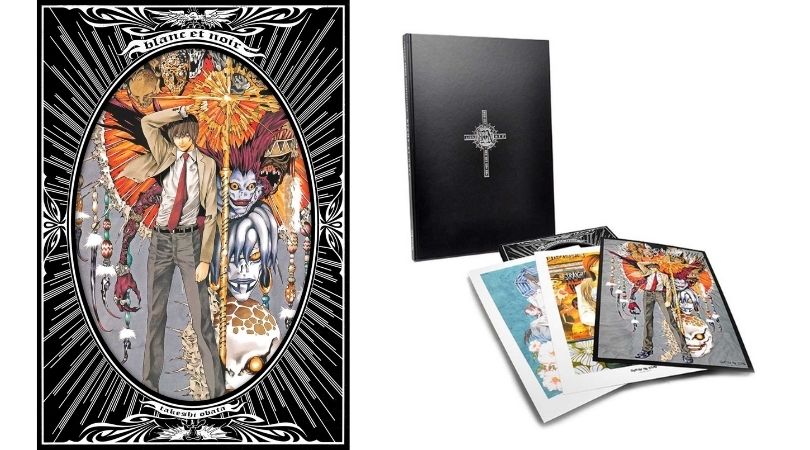 A collection of best-selling artist Takeshi Obata's work from 2001–2006, which contains definitive illustrations from popular series Death Note and Hikaru no Go. This gorgeous oversized art book is encased in a silver-stamped slipcase and is stuffed with 132 pages of full-color art, several massive foldout posters, special papers and 12 pages of artist commentary, including a "how to draw" section. It also includes three large double-sided laminated posters. This incredibly special art book is being offered as a limited edition print run of 10,000 copies.
Buy here.
This box set for the sequel to the iconic Tokyo Ghoul manga (which also has its own box set) includes all 16 volumes of the original Tokyo Ghoul:re series with an exclusive double-sided poster.
In Tokyo Ghoul: re, the Commission of Counter Ghoul is the only organization fighting the Ghoul menace, and they will use every tool at their disposal to protect humanity from its ultimate predator. Their newest weapon in this hidden war is an experimental procedure that implants human investigators with a Ghoul's Kagune, giving them Ghoul powers and abilities. But both the procedure and the newly formed Qs Squad are untested. Will they become heroes… or monsters?! Buy here.
The complete best-selling dark fantasy series, now available in a value-priced box set! It includes volumes 1–27, plus an exclusive booklet of black-and-white cover art previously unreleased in the English editions.
In Claymore, monsters called Yoma prey on humans and live among them in disguise. Humanity's only hope is a new breed of warrior known as Claymores. Half-human, half monster, these silver-eyed slayers possess supernatural strength but are condemned to fight their savage impulses or lose their humanity completely. Buy here.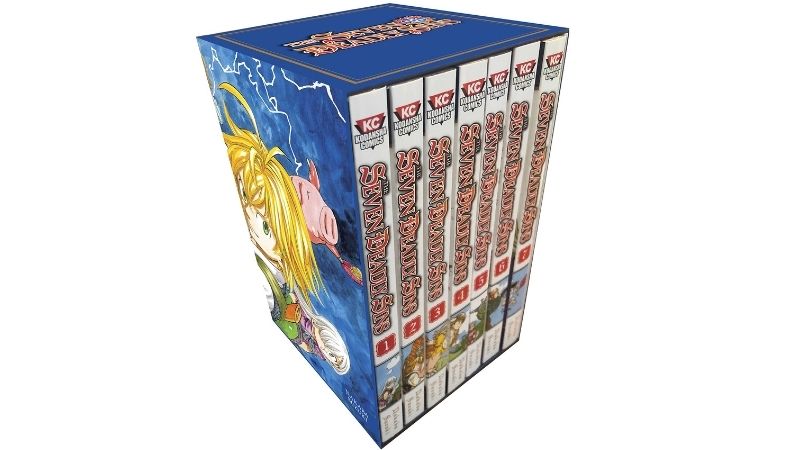 If you've been waiting to collect the manga that became the hit Netflix Original Anime The Seven Deadly Sins, or you're looking for the perfect gift for a Sins-obsessed loved one, look no further: This collector's box set contains Vol. 1-7 of The Seven Deadly Sins as well a huge, exclusive, reversible poster! The manga volumes in this set correspond to the first part of the first season of the anime. Buy here.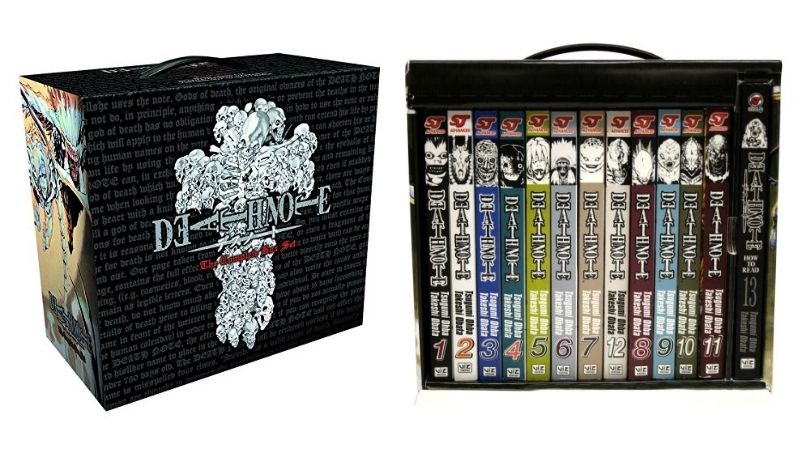 This Death Note box set includes all 12 volumes of the manga and Death Note 13: How to Read, and features story by Tsugumi Ohba and art by Takeshi Obata. Light Yagami is an ace student with great prospects – and he's bored out of his mind. But that changes when he finds the Death Note, a notebook dropped by a rogue Shinigami death god.
Any human whose name is written in the notebook dies, and now Light has vowed to use the power of the Death Note to rid the world of evil. But when criminals begin dropping dead, the authorities send the legendary detective L to track down the killer. With L hot on his heels, will Light lose sight of his noble goal… or his life? Buy here.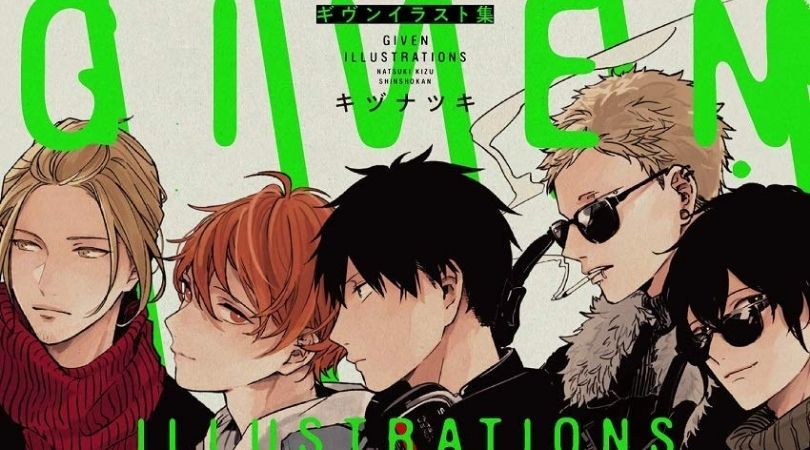 Light and shadow, night and day, summer and winter. Everything echoes vividly. Kizu Natsuki's first illustration collection that collects stylish illustrations of "Given", a super-topic work of TV animation on Fuji TV "Noitamina"! Buy here.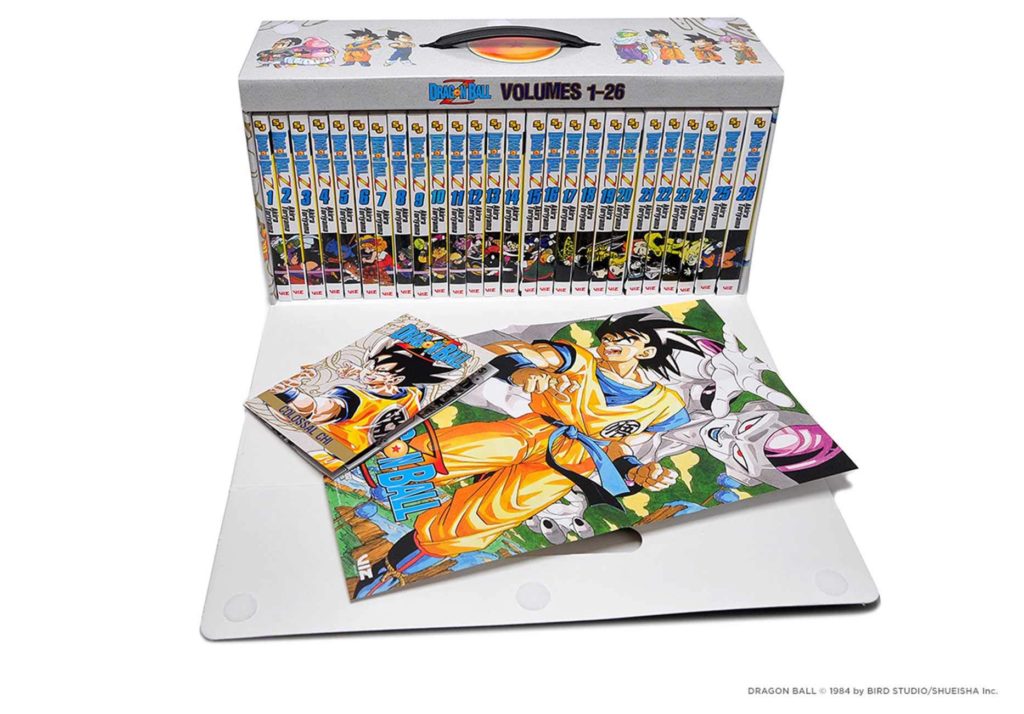 The Dragon Ball Z Complete Box Set contains all 26 volumes of the manga that propelled the global phenomenon, which started with Dragon Ball, into one of the world's most recognizable and best-selling manga. It also includes an exclusive double-sided poster and collector's booklet featuring fun Dragon Ball Z trivia and guides as well as an interview with its legendary creator.
In Dragon Ball Z, Son Goku is the greatest hero on Earth. Five years after defeating the demon king Piccolo, he's grown up and he's married and has a child, Son Gohan. But what is the real reason for Goku's incredible strength? A visitor from outer space arrives bearing terrible news—Goku is an alien, and the visitor, Raditz, is Goku's brother! When Raditz turns out to be a ruthless killer, Goku must fight his incredibly strong brother to save his family and the entire human race. A surprising alliance may be Earth's last hope: Goku will team up with his old enemy Piccolo… archenemies unite to save the world. Buy here.
This complete best-selling series, now in a value-priced box set, includes manga volumes 1-18 and an exclusive notepad featuring character art.
In this screwball romantic comedy, Haruhi, a poor girl at a rich kids' school, is forced to repay an $80,000 debt by working for the school's swankiest, all-male club—as a boy! There, she discovers just how wealthy the six members are and how different the rich are from everybody else. Buy here.
This Deluxe Box Set is a duo of Hardcover editions of Revolutionary Girl Utena and The Adolescence of Utena, which also includes an exclusive poster and color pages.
In the series, Utena strives to be strong and noble like the childhood prince she yearns to meet again. But when she finds herself seduced into the twisted duels of Ohtori Academy, can she become the prince she's been waiting for? Buy here.
A full-color art book showcasing the terrific and terrifying work of Sui Ishida, creator of the hit manga and anime Tokyo Ghoul and Tokyo Ghoul:re. Tokyo Ghoul:re Illustrations: zakki features artwork and behind-the-scenes notes, commentary, and a Q&A from Tokyo Ghoul creator Sui Ishida. Discover the creative process behind the popular series in gloriously ghoulish full color. Buy here.
An all-new, complete 35th anniversary hardcover box set of one of the most acclaimed and influential comics of all time, with the original Japanese art and right-to-left reading format for the first time! The science-fiction epic that changed anime and manga forever is presented in six beautiful hardcover volumes, plus the hardcover Akira Club art book and an exclusive patch with the iconic pill design.
In 1982, Kodansha published the first chapter of Akira, a dystopian saga set in Neo-Tokyo, a city recovering from a thermonuclear attack where the streets have been ceded to motorcycle gangs and the rich and powerful run dangerous experiments on destructive, supernatural powers that they cannot control. In 1988, the manga was adapted into what was at the time the most expensive animated film ever made, which brought Akira's influence out of the manga world and onto the global stage. Today, it remains a touchstone for artists, writers, filmmakers, and fans, retaining all the brutal impact and narrative intensity it had when Otomo first unleashed it onto the world. Buy here.
Link must defeat evil at every turn in his perilous quest to help Princess Zelda! A deluxe box set of exclusive hardcover editions. Contains all five best-selling volumes of the The Legend of Zelda: Legendary Edition series. The battle for Hyrule and the Sacred Realm has begun! A young boy named Link must defeat evil on his long, perilous quest to find the spiritual stones that hold the key to the Triforce, and deliver them to Zelda, princess of the land of Hyrule. Buy Here.
---
Manga readers collect volumes, omnibus editions, art books, and so much more. This is just the tip of the iceberg for possible gifts for the fan in your life. So dive into this manga gift guide, take suggestions, and get that holiday shopping done for your friends, family members, or even just yourself.
Synopses featured in this manga gift guide were taken from Amazon product pages.