Reading Time:
10
minutes
Adapted from August Wilson's 1984 play of the same name, by Ruben Santiago-Hudson, and directed by George C. Wolfe, Ma Rainey's Black Bottom is a sultry, rhapsodous, desperate, and tragic tale of African-Americans trying to make it in a society that seeks to prevent them from obtaining the American dream. Moving from the sultry heat of the south where the sounds of jazz and blues were birthed, north to the bustling city of Chicago, Illinois, Ma and her bandmates seek to have a record of their music produced.
Taking place over the course of one day, the film delves deeply into the ways race, sexism, religion, and generational trauma have created deep scars in the characters. As an openly lesbian Black woman, Ma Rainey (Viola Davis) has had to learn not to be intimated by anyone. She's a Black woman who knows the worth of her voice and music and refuses to let any man – Black or white – dictate how she uses either of them, including the men in her band.  These four musicians are representative of the types of men she encounters daily.  Levee (Chadwick Boseman) the trumpeter is desperate for recognition and fame. His hunger to be heard drives him to make a decision that changes his life and the band forever. Caught between the two, are Cutler (Coleman Domingo), the trombonist, whose easy going manner provides a buffer when Levees's attitude threatens to send Ma's plans careening off the tracks, but unfortunately not enough when things eventually go wrong. Toledo (Glynn Turman) a pianist, whose convoluted expositions on social theory that are as meandering as notes of a jazz musician riffing,  often set Levee on edge, creating tension that's as thick as the humidity of their southern home towns. And finally Slow Drag (Michael Potts) the band's bassist, whose only concern is playing music and getting paid.
From the moment the band arrives in Chicago it's obvious they're in new territory. The city is noisy with the sounds of trains rattling along their steel tracks overhead and horns from cars are constantly blaring. To add to it, they're surrounded by white people staring as though their territory has been invaded. At the hotel where she's staying, Ma is also stared at, not by white people, but by other Black people. Sitting in the restaurant she, her nephew Sylvester (Dusan Brown), and her girlfriend Dussie Mae (Taylour Paige) can't escape the prying eyes. It's not hard to figure out that the bougie patrons see Ma and her small entourage as outsiders. This scene serves as a reminder that even amongst fellow Black people there are invisible barriers of class, gender, and skin-tone. Yes, it's no coincidence that the hotel's patrons would pass the paper-bag test, which Ma would not with her dark skin and large figure.
In the dank and hazily lit basement room where they've been sent to rehearse, Levee puts on a brand new pair of leather shoes, excited and prepared to begin playing. But before a note is even played he heads to a steel door, puzzled as to how it got there, saying "they've changed things around". He jiggles the handle trying his best to figure out where it leads to as the others laugh thinking he's joking because the door has always been there. It's been there since the building was built. Toledo begins talking about the ever-changing state of the human body and the world around us, but Levee ever the contrarian tells Toledo he's talking about something completely different, and jokingly makes a remark about Toledo having too much book knowledge. This one comment reveals an insecurity that Levee does his best to hide under his swagger and braggadocios.
One of the main contentions between the band is Levee's insistence that he knows better than everyone else about music, including Ma. He wants them to play his arrangement of Black bottom as approved on the tracklist by Irvin, a white man, rather than Ma his actual boss and writer of the song. During one of the many breaks they fall into when Levee interrupts their flow as soon as they get to the trumpet section of the song, Slow Drag recounts a story of a man he knew who sold his soul to the devil to get rich, acting as a contractor and recruiter for anyone willing to do the same. Levee hearing only about the fame he could gain says he'd sign without hesitation and becomes belligerent when Cutler cautions him about being blasphemous and challenging God.
On the streets above, Sylvester gets into a minor fender bender with another car driven by a white man. Before you know it, a white cop arrives. Hearing the commotion, Irvin comes out to see Ma arguing with the cop who says he wants to take Ma away and charge her with battery. He wants to give his own version of the story, but Ma insists that he "tell it right" and not lie on her. This is the first time we see Ma in a white space and it's a sight to behold. It's powerful to see a Black woman standing up for herself, arms akimbo, demanding this white police officer be truthful because she refuses to let him lie on her.  This moment is one of many where Wolf's direction and the actors' performances work perfectly to fill in the spaces between the dialogue.  With the camera placed below the actors, Ma is the center of attention. As Irvin bribes the cop, Ma faces off against a group f white men, placing herself between them pushing Sylvester and Dussie Mae away.
In one scene we see an example of how Black women constantly place themselves on the frontlines of defense for the Black community. We see how Black women are always ready and willing to stand up to people who mean them harm, and the cowardice of those same people when faced with that courage. But in this moment of extreme courage, I also saw an example of how larger Black women are afforded no protection by their own people, in similar and other situations, because neither Sylvester nor Dussie Mae showed any kind of willingness to protect Ma. It can't be overlooked that Ma's display could've easily turned out differently if Irvin hadn't arrived. Showing that a white man's word and money holds more sway than the truth from a Black woman.
Ain't nothing changed much since then has it?
There's a unique rhythm to the way Black people speak that is wholly and wonderfully ours. No matter what our nationality is, what dialect or accent we speak with, that rhythm moves through and out of us when we give voice to our thoughts. It allows us to relate to, and understand each other in a way that interpretation isn't needed. We use this rhythm to speak of our joys and our sorrows and it's beautifully displayed in this film. Composer Branford Marsalis perfectly uses the unpredictable path that jazz can take along the music score to match the ups and downs of the character's dialogue through their ever changes moods and emotions.
The music of Ma Rainey's Black Bottom serves to underscore what's being said, pulling the audience along with the speaker as they move around the sets. And just as a good composer knows when to slow the rhythm or stop it completely to let their audience sit in the last note and feel it resonate, Wolf does the same with the camera. When accused of basically shucking and jiving for the studio's owner, Levee recounts a story about the rape of his mother by a group of violent white men, the camera rests on Boseman's face. There's no sound other than the rustle of his shirt as he opens it to expose a deep and jagged scar across his chest made by a knife when he tried to defend his mother at just eight-years-old.
Chadwick Boseman is achingly brilliant in his performance, but it's this scene where he lets the pain of a young Black man who's been hurt by a society where his mother couldn't get justice for the wrongs done to her. In Levee, Boseman exposes the deep hurt of a young boy who's father sold their land and abandoned them to seek revenge for his wife, leaving his family with no support after being brutally killed by the same men he hunted. For his last film, Chadwick Boseman laid bare the deep-seated pain that still exists within Levee beneath a scar that's imperfectly healed. In Levee, Wilson shows the resentment many Black men are forced to live with when their fathers don't put their children's needs above their own, and when they have to swallow their anger at being dismissed or spoken down to by white men.
Then, it's finally time to record. But once again, something's off, and this time Irvin hasn't provided Ma with her required bottle of cold Coke. To most Ma stopping the recording to complain about a bottle of drink would be petty and going against her objective, but's the opposite. Ma knows how men are. She knows she has to constantly show her dominance, especially in a space where she's the one in charge. This is her show and she can't afford to let them forget it. Viola Davis is just as commanding as ever. She's impassioned when she lets the band know that she refuses to let white men use her and throw her away.
It's the early days of the American music industry and she's already well aware of how exploitive the music industry is towards Black people. She's seen white producers and record companies take a singer's voice, and sell it leaving the singer with nothing. They'll smile in a Black person's face while scheming ways to exploit them. There's no doubt that Davis's performance of Ma Rainey is imbued with her own experiences as an actress in Hollywood, but the words are ones many relate to. Once again, this scene, like many others from his plays are proof that August Wilson paid just as much attention to Black women, as he did men. He watched and listened, taking what he observed and putting them into characters that Black people across the diaspora could relate to. But in keeping with his goal of showing the bitter truth of the African American, Wilson shows what happens when an artist doesn't demand the respect they deserve as a musician and person and he does it with Levee.
For all his arrogance and smooth-talking, with Cutler and Toledo, Levee hustles behind Sturdyvant. Hungry for the chance to prove that he's a cut above the rest, Levee tries to get the studio owner to listen to music he's written. He just knows that if he's given this chance he can prove that he can play "real music" and not the "jug band shit" Ma and the band make. His actions make a lier of him as they reveal that while he may know the white man, he can't bend them to his will as he keeps claiming. Cutler calls him a fool for putting his trust in a white man. He reminds Levee that for all her confidence Ma is still a Black woman in a white man's world, where her opinions don't count and she's still denied entry into certain spaces. As Cutler shares these harsh truths, Levee once again goes to the locked door, pushing against it and rattling the handle before anxiously turning away from it.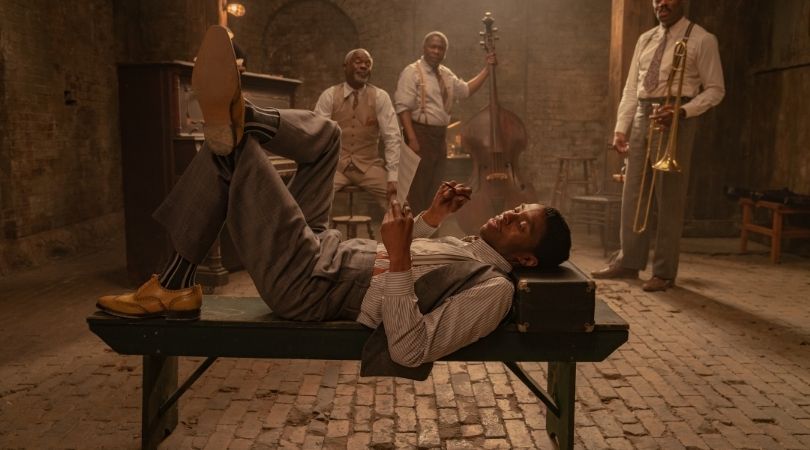 In the third and final act the tension that has been simmering under the surface finally boils over, but it's not quick. Wolfe has it slowly pour over pulling out the tension even more. Beginning with Levee eavesdropping on Cutler telling the story of a Reverand Gates who was forced to dance by a group of racists, before they tore up his Bible. Overcome once again with his anger and frustration Levee goes up to Cutler and asks him where God is when Black people are placed in danger. Boseman shines in Levee's rage. His anger at God is justifiable and understandable but something those of us in the Black community aren't allowed. At church, we're told that it's blasphemy to question God's will – that whatever happens is for a reason, no matter how painful and soul-crushing it may be. We're expected not to let our grief, and pain come pouring out because God is fearsome.
Whether many want to admit it or not, the Christianity to the Black diaspora is a reminder to us of the horrors our ancestors suffered at the hands of their enslavers. Those white men and women preached about a merciful and loving God on Sunday to those they held in bondage, and on Monday was whipping the flesh from their bones in the sugar and cotton fields on American and West Indian plantations. We can't ignore how missionaries claiming to be "spreading the gospel" to the "unsaved" as Jesus intended, have desecrated entire indigenous civilizations all around the globe from the war of the crusades to the present day. They claim to be doing righteous work while disrespecting native cultures, treating ethnic peoples like oddities to show off in pictures to their friends back in the "civilized world."
Levee questions why he should believe in the white man's god when that god didn't answer his mother's prayers to be saved. Staring in horror, Cutler watches speechless as Leveee screams to the sky beyond the roof above his head for God to turn his back on him because at this point Levee is accustomed to fathers turning their backs on him, whether they be on earth or in heaven. There's an almost eerie sense of foreboding that lays over this scene as one remembers this performance is Bosemena's last as an actor. You can't help but wonder if some of the anger he's showing as Levee is actually his own. It's heartbreaking to think that at this moment we're watching a man letting his grief come out for us to see. This vulnerability is breathtaking to see on screen and something that will stay with many for years to come.
With the pot still boiling over, the band heads back upstairs to record the song for the last and final time. After Irvin declares they've done a perfect recording, Levee again lets his mouth get the best of him and disrespects Ma, causing her to fire him. Downstairs in the basement, Levee pushes and pushes at the door till it finally opens into a small space created by four walls, with the sky showing high above. Upstairs Ma is fed up and done with Irvin and Sturdyvant when they expect her to pay Sylvester for his part in the recording. Before she leaves she makes sure they pay him for his work, and signs a contract, reminding Irvin that she could make her music anywhere else. In another example of how Levee knows less about the world and the music industry than he believes, he's swindled out of his music when Sturdyvant only pays him five dollars for his songs, and summarily dismisses him.
With the rushing beat of drums that mimic the rush of hot water boiling over, Levee's anger and embarrassment explodes out of him, but rather than directing his rage at the person who caused it, he turns it towards Toledo when he accidentally steps on Levee's brand new shows. Unable to let yet another slight go, Levee in an instant makes a terrible decision. Though it isn't actually there you can almost hear the slam of that steel door as it closes, leaving Levee trapped, surrounded by those four walls with the sky-high and unreachable above him. Like a taunt, the film closes with a black and white reel of a white band playing and singing a watered-down version of Levee's music.
Besides my one issue with the use of a fat suit (the breast area was distracting for me at times because you can see where the prosthetics weren't fitting properly), and the very obvious tell that Davis was lip-synching, Ma Rainey's Black Bottom is another fantastic adaption of August Wilson's work. George C. Wolfe, Reuben Santiago-Hudson, the production crew, and the cast do justice to the words of a man who sought to bring Black experiences to the masses. Domingo, Turman, and Potts are strong in their supporting roles. Watching Turman go toe-to-toe with Boseman in their scenes together is a joy to see. Just as Cutler is proud of his position as a supporter and advocate for Ma, Domingo is a strong supporter for his fellow actors. Ma Rainey's Black Bottom is an example of what happens when a director and cast have intimate knowledge of the material, making it as great as it can be.
Ma Rainey's Black Bottom is available now, exclusively on Netflix.
Ma Rainey's Black Bottom'
TL;DR
Besides my one issue with the use of a fat suit (the breast area was distracting for me at times because you can see where the prosthetics weren't fitting properly), and the very obvious tell that Davis was lip-synching, Ma Rainey's Black Bottom is another fantastic adaption of August Wilson's work. George C. Wolfe, Reuben Santiago-Hudson, the production crew, and the cast do justice to the words of a man who sought to bring Black experiences to the masses.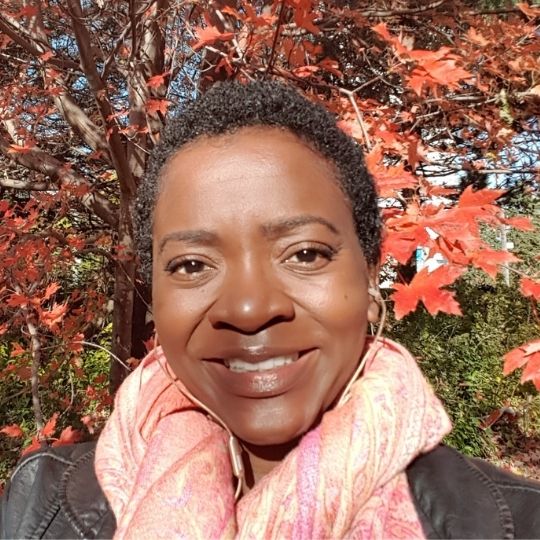 I am a Freelance Film Critic, Journalist and Podcaster – and avid live tweeter. Member of the African American Film Critics Association (AAFCA), my published work can be found on ButWhyThoPodcast, The Beat, Observer, and many other sites. As a critic, I believe my personal experiences and outlook on life, give readers and listeners a different perspective they can appreciate, and help them to see things in a new light.
I am the proud host of Beyond The Romance Drama Podcast – a podcast dedicated to discussing Korean and other Asian dramas, the co-host of So Here's What Happened! Podcast (@SHWH_Pod), and the weekly science fiction film and TV live tweet event #SaturdayNightSciFi.