Reading Time:
11
minutes
2021 is right around the corner and while everything about normal life has changed, there is not a shortage of good books to be read in the upcoming year. This is a compiled list of my personal anticipated 2021 book releases that range everywhere from horror to romances. I have specifically chosen to highlight debut authors, queer writers, and POC authors that will surely blow everyone away in the new year. While we may have to wait a couple of months to get them, I cannot wait to show people the fan-fare, the magic, and the thrills that my anticipated 2021 book releases list has to offer.
---
Cynical twenty-three-year-old August doesn't believe in much. She doesn't believe in psychics, or easily forged friendships, or finding the kind of love they make movies about. And she certainly doesn't believe her ragtag band of new roommates, her night shifts at a 24-hour pancake diner, or her daily subway commute full of electrical outages are going to change that.
But then, there's Jane. Beautiful, impossible Jane.
All hard edges with a soft smile and swoopy hair and saving August's day when she needed it most. The person August looks forward to seeing on the train every day. The one who makes her forget about the cities she lived in that never seemed to fit, and her fear of what happens when she finally graduates, and even her cold-case obsessed mother who won't quite let her go. And when August realizes her subway crush is impossible in more ways than one–namely, displaced in time from the 1970s–she thinks maybe it's time to start believing.
Casey McQuiston's One Last Stop is a sexy, big-hearted romance where the impossible becomes possible as August does everything in her power to save the girl lost in time.
Welcome to Mexico City, an oasis in a sea of vampires. Domingo, a lonely garbage-collecting street kid, is just trying to survive its heavily policed streets when a jaded vampire on the run swoops into his life. Atl, the descendant of Aztec blood drinkers, is smart, beautiful, and dangerous. Domingo is mesmerized.
Atl needs to quickly escape the city, far from the rival narco-vampire clan relentlessly pursuing her. Her plan doesn't include Domingo, but little by little, Atl finds herself warming up to the scrappy young man and his undeniable charm. As the trail of corpses stretches behind her, local cops and crime bosses both start closing in.
Vampires, humans, cops, and criminals collide in the dark streets of Mexico City. Do Atl and Domingo even stand a chance of making it out alive? Or will the city devour them all?
(Side Note: This is one I would suggest everyone read from this anticipated 2021 book releases list.)
When Trixie picks up her best friend Lux for their weekend getaway, they're looking to forget the despair of being trapped in their dead-end rustbelt town. The girls are packing light: a supply of Diet Coke and an '89 Canon to help Lux frame the world in a sunnier light; half a pack of cigarettes that Trixie doesn't really smoke, and a knife she's hanging on to for a friend that she's never used before.
But a single night of violence derails their trip, and the girls go from ordinary high schoolers to wanted fugitives. Trying to stay ahead of the cops and a hellscape of media attention, Trixie and Lux grapple with an unforgiving landscape, rapidly diminishing supplies, and disastrous decisions at every turn. As they are transformed by the media into the face of a #MeToo movement they didn't ask to lead, Trixie and Lux realize that they can only rely on each other, and that the love they find together is the one thing that truly makes them free.
Julia Lynn Rubin takes readers on "a blistering, unapologetic thrill ride" (Emma Berquis) that will leave them haunted and reeling. Trouble Girls is a "a powerful, beautifully-written gut punch" (Sophie Gonzales).
Piper Bellinger is fashionable, influential, and her reputation as a wild child means the paparazzi are constantly on her heels. When too much champagne and an out-of-control rooftop party lands Piper in the slammer, her stepfather decides enough is enough. So he cuts her off, and sends Piper and her sister to learn some responsibility running their late father's dive bar… in Washington.
Piper hasn't even been in Westport for five minutes when she meets big, bearded sea captain Brendan, who thinks she won't last a week outside of Beverly Hills. So what if Piper can't do math, and the idea of sleeping in a shabby apartment with bunk beds gives her hives. How bad could it really be? She's determined to show her stepfather–and the hot, grumpy local–that she's more than a pretty face.
Except it's a small town and everywhere she turns, she bumps into Brendan. The fun-loving socialite and the gruff fisherman are polar opposites, but there's an undeniable attraction simmering between them. Piper doesn't want any distractions, especially feelings for a man who sails off into the sunset for weeks at a time. Yet as she reconnects with her past and begins to feel at home in Westport, Piper starts to wonder if the cold, glamorous life she knew is what she truly wants. LA is calling her name, but Brendan–and this town full of memories–may have already caught her heart.
The wolves are circling and a young king will face his greatest challenge in the explosive finale of the instant #1 New York Times-bestselling King of Scars Duology.
The Demon King. As Fjerda's massive army prepares to invade, Nikolai Lantsov will summon every bit of his ingenuity and charm–and even the monster within–to win this fight. But a dark threat looms that cannot be defeated by a young king's gift for the impossible.
The Stormwitch. Zoya Nazyalensky has lost too much to war. She saw her mentor die and her worst enemy resurrected, and she refuses to bury another friend. Now duty demands she embrace her powers to become the weapon her country needs. No matter the cost.
The Queen of Mourning. Deep undercover, Nina Zenik risks discovery and death as she wages war on Fjerda from inside its capital. But her desire for revenge may cost her country its chance at freedom and Nina the chance to heal her grieving heart.
King. General. Spy. Together they must find a way to forge a future in the darkness. Or watch a nation fall.
Lo Denham is used to being on her own. After her parents died, Lo's sister, Bea, joined The Unity Project, leaving Lo in the care of their great aunt. Thanks to its extensive charitable work and community outreach, The Unity Project has won the hearts and minds of most in the Upstate New York region, but Lo knows there's more to the group than meets the eye. She's spent the last six years of her life trying–and failing–to prove it.
The Unity Project murdered my son.
When a man shows up at the magazine Lo works for claiming The Unity Project killed his son, Lo sees the perfect opportunity to expose the group and reunite with Bea once and for all. When her investigation puts her in the direct path of its charismatic and mysterious leader, Lev Warren, he proposes a deal: if she can prove the worst of her suspicions about The Unity Project, she may expose them. If she can't, she must finally leave them alone.
But as Lo delves deeper into The Project, the lives of its members, and spends more time with Lev, it upends everything she thought she knew about her sister, herself, cults, and the world around her–to the point she can no longer tell what's real or true. Lo never thought she could afford to believe in Lev Warren . . . but now she doesn't know if she can afford not to.
Welcome to The Unity Project.
This book is brave and raw and exciting and wise–wise about girls and women, weakness and strength, and the bittersweet beauty of being human.–Melissa Albert, New York Times bestselling author of The Hazel Wood Series
Jordan Baker grows up in the most rarefied circles of 1920s American society–she has money, education, a killer golf handicap, and invitations to some of the most exclusive parties of the Jazz Age. She's also queer, Asian, adopted, and treated as an exotic attraction by her peers, while the most important doors remain closed to her.
But the world is full of wonders: infernal pacts and dazzling illusions, lost ghosts and elemental mysteries. In all paper is fire, and Jordan can burn the cut paper heart out of a man. She just has to learn how.
Nghi Vo's debut novel The Chosen and the Beautiful reinvents this classic of the American canon as a coming-of-age story full of magic, mystery, and glittering excess, and introduces a major new literary voice.
Side Note: this is probably MY most exciting book pick from this anticipated 2021 book releases list.
Born two years after the only son in her family died just hours after his birth, Kat Chow became unusually fixated with death. She worried constantly about her parents dying-especially her mother, a vivacious and mischievous woman. One morning when Kat was nine, her mother casually made a morbid joke: When she eventually dies, she says laughing, she'd like to be stuffed and displayed in Kat's future apartment in order to always watch over her.
Four years later when her mother died unexpectedly from cancer, Kat, her two older sisters and their father are plunged into a debilitating, lonely grief. With a distinct voice that is wry and heartfelt, Kat weaves together what is part ghost story and part excavation of her family's history of loss spanning three generations and their immigration from China and Hong Kong to America and Cuba. This redemptive coming-of-age story uncovers the uncanny parallels in Kat's lineage, including the strength of sisterhood and the complicated duty of looking after parents, even after death.
Seeing Ghosts asks what it means to claim and tell your family's story: Is writing an exorcism or is it its own form of preservation? What do we owe in our grief, and how does it shape us? In order to answer these questions and to understand her family's ghosts, Kat unearths their loss and challenges the power structures of race, class and gender. The result is an extraordinary new contribution to the literature of grief and the American family, and a provocative and transformative meditation on who we become under the specter of loss.
Lex Gracie doesn't want to think about her family. She doesn't want to think about growing up in her parents' House of Horrors. And she doesn't want to think about her identity as Girl A: the girl who escaped, the eldest sister who freed her older brother and four younger siblings. It's been easy enough to avoid her parents–her father never made it out of the House of Horrors he created, and her mother spent the rest of her life behind bars. But when her mother dies in prison and leaves Lex and her siblings the family home, she can't run from her past any longer. Together with her sister, Evie, Lex intends to turn the House of Horrors into a force for good. But first she must come to terms with her siblings–and with the childhood they shared.
What begins as a propulsive tale of escape and survival becomes a gripping psychological family story about the shifting alliances and betrayals of sibling relationships–about the secrets our siblings keep, from themselves and each other. Who have each of these siblings become? How do their memories defy or galvanize Lex's own? As Lex pins each sibling down to agree to her family's final act, she discovers how potent the spell of their shared family mythology is, and who among them remains in its thrall and who has truly broken free.
That book. It was about two women, and they fell in love with each other. And then Lily asked the question that had taken root in her, that was even now unfurling its leaves and demanding to be shown the sun: Have you ever heard of such a thing?
Seventeen-year-old Lily Hu can't remember exactly when the question took root, but the answer was in full bloom the moment she and Kathleen Miller walked under the flashing neon sign of a lesbian bar called the Telegraph Club.
America in 1954 is not a safe place for two girls to fall in love, especially not in Chinatown. Red-Scare paranoia threatens everyone, including Chinese Americans like Lily. With deportation looming over her father–despite his hard-won citizenship–Lily and Kath risk everything to let their love see the light of day.
Iraya has spent her life in a cell, but every day brings her closer to freedom–and vengeance.
Jazmyne is the Queen's daughter, but unlike her sister before her, she has no intention of dying to strengthen her mother's power.
Sworn enemies, these two witches enter a precarious alliance to take down a mutual threat. But power is intoxicating, revenge is a bloody pursuit, and nothing is certain–except the lengths they will go to win this game.
A thundering waterfall of magic, vengeance and intrigue. –Samantha Shannon, New York Times & Sunday Times bestselling author of The Priory of the Orange Tree and The Bone Season.
The Gilded Ones is a fierce, unflinching fantasy that marks Forna as a debut to watch.—Kiersten White, New York Times bestselling author of And I Darken
The most anticipated fantasy of 2021. In this world, girls are outcasts by blood and warriors by choice. Get ready for battle.
Sixteen-year-old Deka lives in fear and anticipation of the blood ceremony that will determine whether she will become a member of her village. Already different from everyone else because of her unnatural intuition, Deka prays for red blood so she can finally feel like she belongs.
But on the day of the ceremony, her blood runs gold, the color of impurity-and Deka knows she will face a consequence worse than death.
Then a mysterious woman comes to her with a choice: stay in the village and submit to her fate, or leave to fight for the emperor in an army of girls just like her. They are called alaki-near-immortals with rare gifts. And they are the only ones who can stop the empire's greatest threat.
Knowing the dangers that lie ahead yet yearning for acceptance, Deka decides to leave the only life she's ever known. But as she journeys to the capital to train for the biggest battle of her life, she will discover that the great walled city holds many surprises. Nothing and no one are quite what they seem to be-not even Deka herself.
The start of a bold and immersive fantasy series for fans of Children of Blood and Bone and Black Panther.
Eve Brown is a certified hot mess. No matter how hard she strives to do right, her life always goes horribly wrong. So she's given up trying. But when her personal brand of chaos ruins an expensive wedding (someone had to liberate those poor doves), her parents draw the line. It's time for Eve to grow up and prove herself–even though she's not entirely sure how…
Jacob Wayne is in control. Always. The bed and breakfast owner's on a mission to dominate the hospitality industry and he expects nothing less than perfection. So when a purple-haired tornado of a woman turns up out of the blue to interview for his open chef position, he tells her the brutal truth: not a chance in hell. Then she hits him with her car–supposedly by accident. Yeah, right.
Now his arm is broken, his B&B is understaffed, and the dangerously unpredictable Eve is fluttering around, trying to help. Before long, she's infiltrated his work, his kitchen–and his spare bedroom. Jacob hates everything about it. Or rather, he should. Sunny, chaotic Eve is his natural-born nemesis, but the longer these two enemies spend in close quarters, the more their animosity turns into something else. Like Eve, the heat between them is impossible to ignore… and it's melting Jacob's frosty exterior.
Josh Baxter, the man behind the wheel, is a virtual stranger to Charlie. They met at the campus ride board, each looking to share the long drive home to Ohio. Both have good reasons for wanting to get away. For Charlie, it's guilt and grief over the murder of her best friend, who became the third victim of the man known as the Campus Killer. For Josh, it's to help care for his sick father. Or so he says. Like the Hitchcock heroine she's named after, Charlie has her doubts. There's something suspicious about Josh, from the holes in his story about his father to how he doesn't seem to want Charlie to see inside the car's trunk. As they travel an empty highway in the dead of night, an increasingly worried Charlie begins to think she's sharing a car with the Campus Killer. Is Josh truly dangerous? Or is Charlie's suspicion merely a figment of her movie-fueled imagination?
What follows is a game of cat and mouse played out on night-shrouded roads and in neon-lit parking lots, during an age when the only call for help can be made on a pay phone and in a place where there's nowhere to run. In order to win, Charlie must do one thing–survive the night.
---
Two bonus books to look out for that aren't on the anticipated 2021 book releases list is Gillian Flynn's (Gone Girl) Hamlet retelling that I am OVER the moon about and You'll Be the Death of Me by Karen McManus, which is described on McManus's website as a YA murder mystery meets Ferris Bueller's Day Off.  Neither of these projects has book covers or releases dates. I hope that as we continue to social distance and stay at home, that one of my anticipated 2021 book releases has grabbed your attention. Whether you are looking for a Queer retelling of The Great Gatsby to a fake dating romantic comedies to car thriller rides, I put in a little bit for everyone while also being personally very excited about all these titles on this anticipated 2021 book releases list!
All book descriptions presented within Anticipated 2021 Book Releases are taken from Bookshop.org description pages.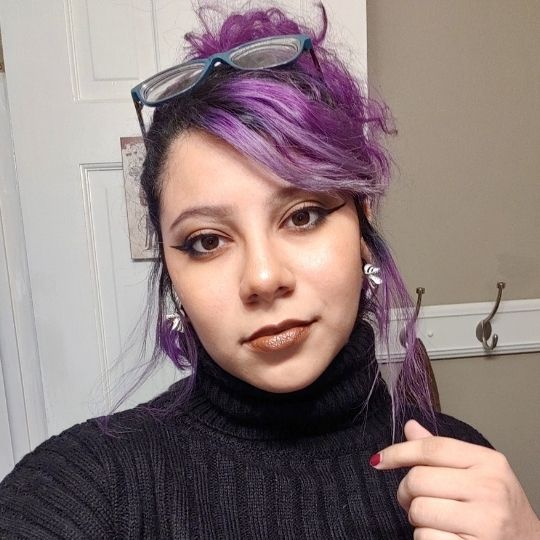 An avid reader since childhood, Cidnya has always surrounded her free time with pop culture. From watching horror movies to playing JRPGs, Cidnya loves to consume and immerse herself in various fictional worlds. Some of their favorite things include Twin Peaks, Batman, Kingdom Hearts, Coffee, and JoJo's Bizarre Adventure.