Reading Time:
3
minutes
The Other History of the DC Universe #1 is written by John Ridley, illustrated by Giuseppe Camuncoli with finishes by Andrea Cucchi, colored by Jose Villarubia, and lettered by Steve Wands. It is published by DC Comics under their DC Black Label imprint. The issue focuses on the origin of Jefferson Pierce/Black Lightning, starting in 1972 and lasting until 1995. Along the way, Pierce deals with the emergence of his fellow superhumans and real-life events including the Iranian Hostage Crisis in 1979.
Ridley is well known for his screenwriting work, including 12 Years A Slave and the American Crime anthology series. He applies those same talents to his comic work, making the issue feel extremely cinematic. This comic reads less like a comic and more like a chapter in a novel, and it never loses momentum-or interest. Ridley's writing is a testament to the fluidity of the genre and how different creators can take a different approach to it.
Ridley also manages to put the audience squarely in Pierce's head and have them empathize with him. Pierce grew up in Suicide Slum, which is considered the cesspool of Metropolis, and witnessed his father being killed at a young age. He also sees his students suffering at the hands of the gang known as the 100, and his vigilantism costs him his marriage. Ridley's script has Pierce come to terms with his faults and flaws and genuinely feels like Pierce himself is writing down the story.
We also get to see what Pierce thinks of other superheroes, and it sheds new light on their place in the DC Universe. From Superman literally "shining" due to his absorption of solar energy to Batman admittedly scaring Pierce when they first meet, Ridley explores these superhumans from the perspective of a common man. He also isn't afraid to tackle why the so-called "Justice League of America" shies away from a real-life event such as the Iranian Hostage Crisis, and how Pierce bonds with Green Lantern John Stewart after the latter destroyed the planet of Xanshi. DC's heroes have often been compared to gods, yet under Ridley's pen, they feel just as flawed as us mere mortals.
The artistic side of things is equally as compelling. This book eschews traditional lettering designs, with Wands opting to present Pierce's narration in paragraphs. This not only adds to the cinematic feel of the book but also gives Camuncoli and Cucchi room to experiment with their art. Each page has a different, vividly striking image.
Perhaps one of my favorite pages in the book features Pierce in his Black Lightning costume, with bolts of electricity streaming from his body. The bolts splinter the page in three, as he describes the 100 and their crimes. Said crimes are shown within the splintered page, the images eventually trailing off into the darkness. Just as Ridley is experimenting with scripting, Camuncoli and Cucchi have the chance to put their artistic mark on the book.
The Other History of the DC Universe #1 is a stunning reinterpretation of Black Lightning's origin, with the creative team layering history and superheroes to create a unique narrative. The next issue will focus on the Teen Titans' Bumblebee and Herald, and I hope that the creators can continue to draw the audience in with their take on DC's rich history.
The Other History of the DC Universe #1 is available wherever comics are sold.
The Other History of the DC Universe Issue 1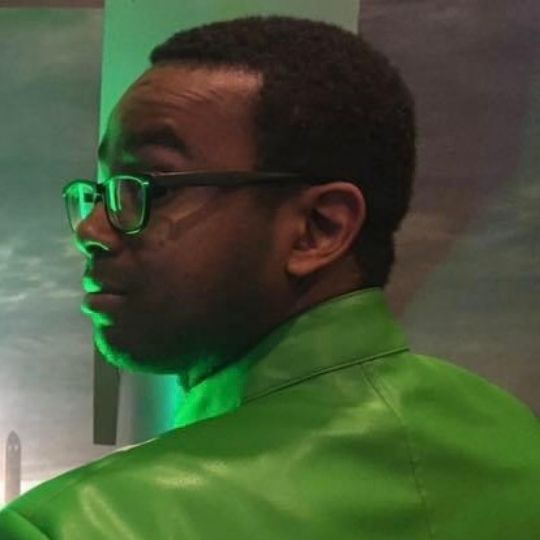 Born and raised in Texas, Collier "CJ" Jennings was introduced to geekdom at an early age by his father, who showed him Ultraman and Star Trek: The Next Generation. On his thirteenth birthday, he received a copy of Giant Size X-Men #1 and dove head first into the realm of pop culture, never looking back. His hobbies include: writing screenplays and essays, watching movies and television, card games/RPG's, and cooking. He currently resides in Seattle.