Reading Time:
4
minutes

Content Warning: The piece contains spoilers for Daughters of Darkness and discussion of violence and assault
As the largest genre film festival in the United States, one can always rely on Fantastic Fest to deliver next-level screenings. Every fan of the fest knows to expect an introduction to a classic genre titan, just as much as they expect a quirky new release or bizarre slate of shorts. Daughters of Darkness may be one of the most provocative and exciting entries to the festival's programming, in some time. Daughters of Darkness (also known as The Red Lips in Belgium and France) is a seductively and sadistically sapphic take on the Countess Bathory by Harry Kümel. The film stars Danielle Ouimet, John Karlen, Andrea Rau, and the iconic filmmaker/feminist activist/actress triple threat Delphine Seyrig as Bathory.
In Daughters of Darkness, a recently married young couple, Valerie (Ouimet) and Stefan (Karlen), spend a leg of their honeymoon in a grand seafront hotel. Their stay is meant to be quick, as the young bride is anxious to be introduced to her new mother-in-law – though her new husband seems hesitant. It is the offseason and the hotel is empty except for one other set of guests, the glamorous Elizabeth Bathory, and her beautiful young "secretary."
Just as the Countess arrives at the hotel, news begins to circulate in the town about the murders of three beautiful young women in other nearby villages. Meanwhile, the old hotel clerk swears he remembers the Countess from his youth as a bell boy working at the hotel — 40 years prior, though Bathory has not aged. Stefan is oddly fascinated by the murders of the women, the Countess is absolutely obsessed with Valerie, and Valerie begins to fear that she does not know the man she has married at all. She fears him. She fears Bathory. She may be forced to choose between two seductive evils.
Daughters of Darkness occupies a fascinating intersection of several points in film history. It rides in on the 70s wave of highly erotic European cinema, one which explores queer sexuality. In fact, many credit Daughters of Darkness in part for the normalization and expectation of sex on the screen within the horror genre. Further, the success of Dracula inspired a surge of vampires on film and it was Daughters of Darkness that uniquely positioned the vampire monster as a sexual creature. The film's shadow looms large in both our tropes for horror, as an entire genre, and in terms of influencing how the vampire functions in the popular imagination as a seductive night stalker.
Cinematic takes on the Countess Bathory are incredibly rare and no doubt a symptom of our social discomfort with the idea of a female serial killer. It's fitting that Daughters of Darkness would develop such a fully realized take on the character, in the context of an unapologetically feminist film. A film that has no problem brazenly dancing with the taboo. It's tired and unimaginative to indulge the term "elevated horror," but in this instance, I'll make an exception as Daughters of Darkness is just as elegant as it is titillating. The result is a heady and beautiful film experience.
In classic 70s style, Daughters of Darkness gives in fully to its perversions. It beckons the audience to be unapologetically voyeuristic and while it is coy with its actual depictions of lesbianism and bisexuality, it is certainly not vague. A criticism that some may level at the film is that its depiction of gay men and bisexuals is unforgiving and vilified. While it's easy to see where that impression may come from, I believe it is an oversimplification. Daughters of Darkness is going much deeper than queer sexual attraction and act.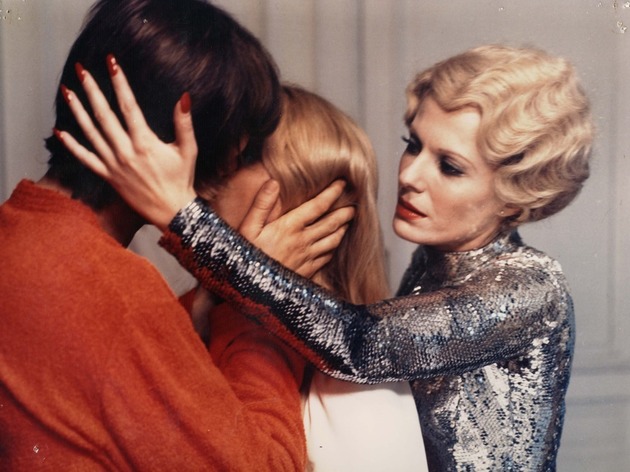 The lesbian Bathory is a predator and a sort of abuser. She uses her secretary and keeps her at arm's length while her head is turned by Valerie. Likewise, Valerie's new husband Stefan is perhaps grappling with misogyny and self-loathing of his own. It is revealed in the film that the elusive "mother-in-law" that Stefan does not want Valerie to meet is actually a flamboyant (coded as gay) man. While the details of their relationship are somewhat concealed, it is very clear that Valerie presents a threat to an arrangement enjoyed by Stefan. In many ways, his relationship with "Mother" mirrors the relationship between Bathory and the women she surrounds herself with. In Stefan, this manifests in sadism and physical abuse and assault directed at Valerie and later at Bathory's secretary.
Valerie finds herself at a dangerous crossroads. Does she accept the abuse, deceit, and control of her husband? Or does she accept the seduction and danger of Bathory, someone she fears just as much? It's not about sex. It's about freedom.
Bathory is an example to Valerie of what it is to be a free woman. Bathory describes herself as outspoken and unfiltered, something that Valerie is not allowed to be. In observing Bathory, Valerie sees her as a representation of sexual pleasure and the freedom to do as she pleases. Bathory is strong and well-traveled and not limited by men, in any capacity. This is what Valerie wants for herself and it is ultimately what leads her to run away with Bathory and, eventually, break free a second time and enjoy an eternity of solitude. An eternity that is entirely her own.
This bold feminism is packaged in an utterly decadent production. Daughters of Darkness is richly textured, gorgeously composed, and always elegant. On looks alone, it's an absolute delight but it is Delphine Seyrig's performance that makes it a must-watch. The character of Bathory offers a stimulating look into Seyrig as a genre queen, a bold filmmaker, and a fierce feminist activist. It's the role she was born to play and her Bathory is completely hypnotic.
Daughters of Darkness is an absolutely essential text. Strange and beautiful, it's a perfect cocktail of the weird, the horrible, and the oh-so-sexy. Simply intoxicating.
Daughters of Darkness screened at the 2020 Celebration of Fantastic Fest on September, 27 2020.
TL;DR
Daughters of Darkness is an absolutely essential text. Strange and beautiful, it's a perfect cocktail of the weird, the horrible, and the oh-so-sexy. Simply intoxicating.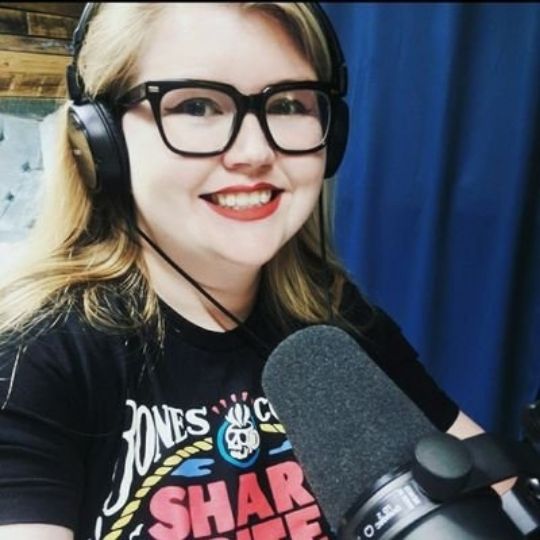 Caitlin is a sweater enthusiast, film critic, and lean, mean writing machine based in Austin, TX. Her love of film began with being shown Rosemary's Baby at a particularly impressionable age and she's been hooked ever since. She loves a good bourbon and hates people who talk in movies. Caitlin has been writing since 2014 and you can find her work on Film Inquiry, The Financial Diet, Nightmarish Conjurings, and many others. Follow her on Twitter at @CaitDoes.