Craftopia is HBO Max's original competition show that sees three kids competing in arts and crafts challenges to win $5000 and the fabulous Craf-trophia. Hosted by Lauren Riihimaki, aka LauraDIY of YouTube fame, the show is judge by Toya Moore-Broyles of MyFroggyStuff, James Worsham of Handy Dandy Productions, and a new guest judge each episode. The young contestants are given certain challenges and then set loose into the craft store of dreams to put all of their crafting skills to the test.
Everything about Craftopia is just so positive and fun. The host and judges are engaging and encouraging without being overbearing. The set design is colorful and whimsical. The challenges are creative and silly, but not too silly. Every minute of the twenty-five-minute episodes is simply a delight to look at and listen to.
The structure of the competition is also quite smart, but not without its drawbacks. Typically, reality competition shows see a large cast of competitors compete over a season with one being sent home each week. The structure allows viewers to connect with the participants and ultimately, find as much enjoyment in watching them just being on the show as they do watching the actual contest. Having your favorite contestants go home is a huge bummer and can even stop you from wanting to finish the season. Each new episode of Craftopia features a fresh set of three new kiddos to watch. This means you never really have a chance to get attached to any of the kids. While I do miss getting to squeal over how cute the kids are as I grow to love them like when watching similar shows like Kids Baking Championship, each episode is still plenty of fun while it lasts. Plus, only having three contestants at a time means more airtime can go to watching the actual crafting.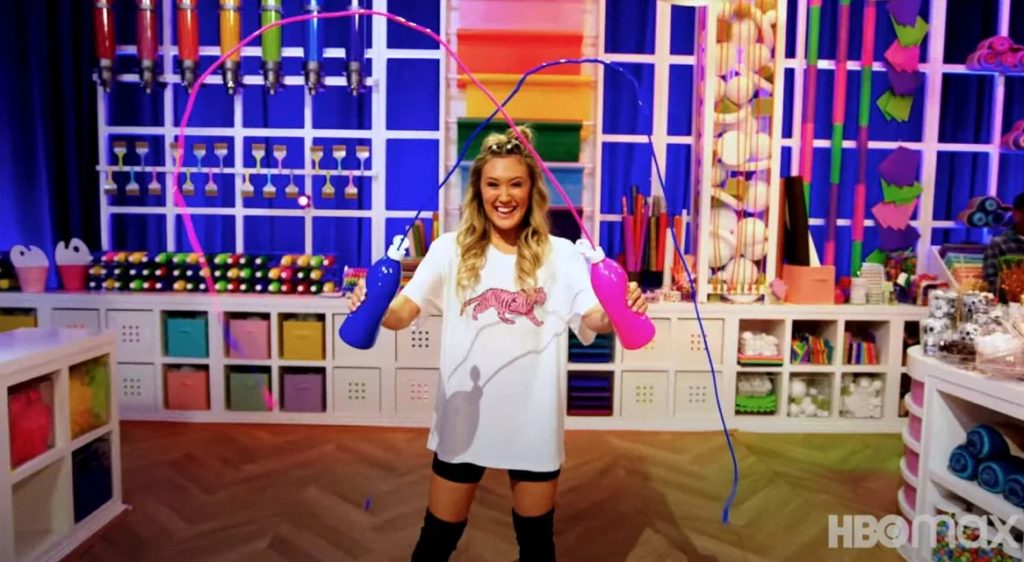 Something that drags similar shows down, like the recent Lego Masters or really most baking shows is that you don't actually get to watch too much of the creative process. To be fair, it is a huge production challenge to condense 12 hours of competition into 42 minutes of TV, or split screen time between a large number of competitors. But Craftopia's small-scale competitions make room for more time to watch the crafts go from scratch to complete before your eyes.
What I love most though about Craftopia is that the kids all just get to be themselves. Whether its the boy who is an absolute croche wizard but he's also shy and contemplative or is the girl with a wacky sense of hair and clothing style who loves design is has no qualms speaking her mind, they all just get to showcase how uniquely themselves they are. And the judges and host not only encourage it but they embody it themselves. So many unique personalities and favorite types of crafting are on display in this show and it just makes it all the more fun and all the more inspiring to try new skills yourself.
Releasing in the middle of mandatory stay-at-home orders is perhaps the perfect time for a show about being crafty and creative. Craftopia is filled with all different kinds of arts and crafts ideas for all ages to give a try. LauraDIY's crafting tips are much-appreciated interludes and honestly, the fact that the show is a giant advertisement for her YouTube channel just serves as an easy place to search for ideas on what kind of projects to give a try.
Craftopia is the perfect new reality competition show for the moment. It's creative, positive, fun, and bound to inspire an arts and crafts bug in its viewers.
All eight episodes of Craftopia are streaming now exclusively on HBO Max.
Craftopia
TL;DR
Craftopia is the perfect new reality competition show for the moment. It's creative, positive, fun, and bound to inspire an arts and crafts bug in its viewers.