Reading Time:
3
minutes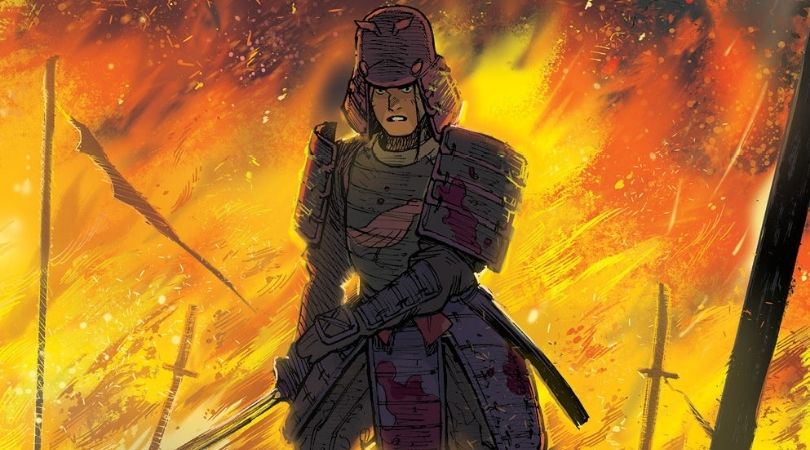 Written by Greg Pak, with illustrations from Giannis Milonogiannis, colors by Irma Knivila, and letters by Simon Bowland, Ronin Island #5 continues the story of Kenichi and Hanna, two teenagers forced into becoming saviors of their island and now the shogunate. Last issue, Kenichi ran off, separating from Hanna and General Sato, refusing to aid the man responsible for the outbreak of byōnin. When it's discovered that the shogunate and its scientists are to blame, the compound is taken over and Kenichi and Hanna lose their master.
Pak has scripted one of the best divides between characters that I've read this year. Hanna and Kenichi are routinely at odds with each other and in some ways don't like each other. One is the son of a samurai, the other is a Korean farmhand.
Although life on the island brought them together, the biases around them have pulled them apart. But despite that, Pak does much to show us that they are truly in the same book, albeit on different pages. The opening of Ronin Island #5 highlights this, showing a young Kenichi trying to play with Hanna, only to be pulled from her by his mother, a symbol for the gap between the two.
The hubris of the shogunate is on display this issue and with a bleak ending, Ronin Island #5 holds both emotional and narrative weight as Pak takes time to build out the lore around the byōnin and where the shogunate comes into play with it. Hanna continues being unstoppable this issue, her skill and power on full display for the reader and for the shogun. But her fight isn't valued. Instead, the shogun views her as expendable, keeping the byōnin from him, if she wins she saves him from them longer, if she loses out against them, well at least it wasn't him or his Japanese officers.
Pak has done a phenomenal job showing us who Hanna is in her own eyes, through Kenichi's, General Sato's, and ultimately in the eyes of the shogunate. She is a savior, a warrior, a comrade, and an expendable pawn.
This complexity is also given to Kenichi, albeit in smaller doses. Where the reader sees him through Hanna's eyes as an impetuous and impatient child who has been given life, Pak also shows us that he is a student who has developed a strict sense of honor and morality. One that, although may put him at odds with Hanna, puts the Island first.
Kenichi finds himself in trouble in the end of Ronin Island #5, as the story expands to a new group of people. Looking forward, as this is the half-way point in this series, I'm excited for the world being built narratively by Pak and visually by Milonogiannis and Knivila. Working on illustration and colors respectively, these two have stretched their creative muscle in creating a dynamic world with beautiful creatures and environmental designs that help set the atmosphere for Pak's dialogue. Milonogiannis' action scenes are dynamic and Knivila's ability to use a sickly color palette for the plagued byōnin without having the page become muddied is commendable.
Ronin Island remains a must-buy series. With the volume currently available, Ronin Island #5 is the perfect time to jump into the series.
Ronin Island #5 is available August 8, 2019.
Ronin Island #5
TL;DR
Ronin Island remains a must-buy series. With the volume currently available, Ronin Island #5 is the perfect time to jump into the series.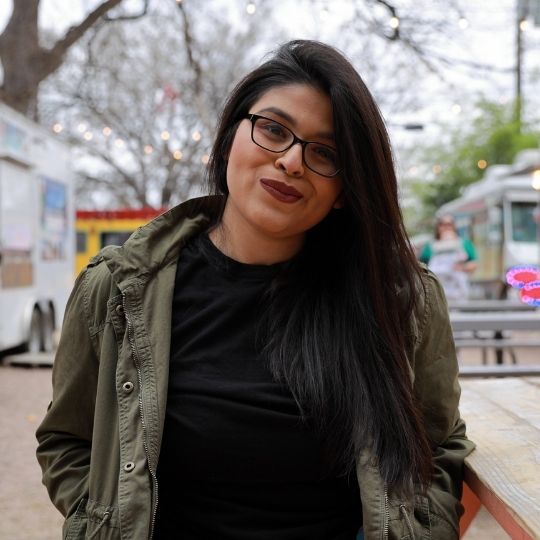 Kate Sánchez is the Founder and Editor-in-Chief of But Why Tho? A Geek Community. There, she coordinates film, television, anime, and manga coverage. Kate is also a freelance journalist writing features on video games, anime, and film. Her focus as a critic is championing animation and international films and television series for inclusion in awards cycles.