Are you looking for a new game? Well at South by Southwest (SXSW) Gaming, an Expo taking place during SXSW 2019, there were many indie games open to play on the floor. At the sixth-annual SXSW Gaming Awards, powered by 360 Studios and MoreFrames Animation, we got to see just who was the top of 2019 across AAA, crowdfunded, and indie titles.
Award winner highlights for the 2019 SXSW Gaming Awards included Video Game of the Year winner: God of War from SIE/Sony Santa Monica Studios, Mobile Game of the Year winner: Donut County from Annapurna Interactive/developer Ben Esposito, Tabletop Game of the Year winner: Root from Leder Games, VR Game of the Year winner: Beat Saber from Beat Saber, and Trending Game of the Year winner: Red Dead Redemption 2 from Rockstar Games.
But, these aren't the most interesting awards. That honor goes to the winners in the Gamer's Voice category. Unlike the other awards, the Gamer's Voice awards were given by the SXSW Gaming attendees, similar to the Film Festival's audience awards. The categories for these include tabletop, virtual reality, mobile, and video game. Each of these games have fallen under the radar since they're all indies and you might not have heard of them before but they are definitely worth checking out.
From designer and artist Felix Mertikat and published by King Racoon Games, Tsukuyumi: Full Moon Down is a game about "killer robots, sad whales, and moon demons." This thematic strategy game is set in a post-apocalyptic work where humankind is on the verge of extinction. But while humankind struggles, a mutated animal species, under the influence of Tsukuyumi, grew bigger, and stronger than ever. Leading up to this, the Moon has been approaching the Earth, touching the surface and ripping a rift across the world. As chaos spread from the event, it increased when it was revealed that moon was, in fact, a "kami," the white dragon Tsukuyumi, who had been exiled into the night sky eons ago.
Tsukuyumi: Full Moon Down is a no-luck boardgame, where players have to rely on strategy to survive and win. In the beginning, each player picks one of the five factions. The factions bring their own respective abilities, units, and strategies. This means that the game changes depending on what factions meet on the battlefield, which ups replayability. Because of this, each game is different as each play-through and player can create new combinations.
If you're looking to get in on the faction action, you can check out the game's Kickstarter here.
From Tessera Studios, Intruders: Hide and Seek, is an adventure-horror virtual reality game for the PlayStation 4. Based on the ever-popular home invasion horror subgenre, Intruders puts you in the eyes of a child. When three mysterious strangers break into a countryside vacation house and restrain your parents. With your sister hiding, you play as Ben as he evades the intruders and tries to figure out who they are.
The game places a large importance on being able to move around unnoticed, as avoiding confrontation is key to your survival and your family's as you attempt to survive the night. However, you have to think about your next steps because each of the intruders has a specific perspective with cone-shaped vision fields.
If you're looking for something to get your heart racing, look no further. Intruders: Hide and Seek is available now on PlayStation 4.
Pico Tanks: Multiplayer Mayhem, from Panda Arcade, is a multiplayer mobile game of epic bite-sized battles between adorable little tanks.
This mobile game allows you to play in team-based 3v3 battles, allowing you to play either solo or with friends. You can play in multiple exciting battle modes, all while unlocking and upgrading tank components to boost your tank's power. You can also create your own custom tank from oodles of collectible weapons, abilities, paints, hats, and antennas.
Join the mayhem by downloading this mobile title when it goes live later this year.
Gamer's Voice Video Game: Astroneer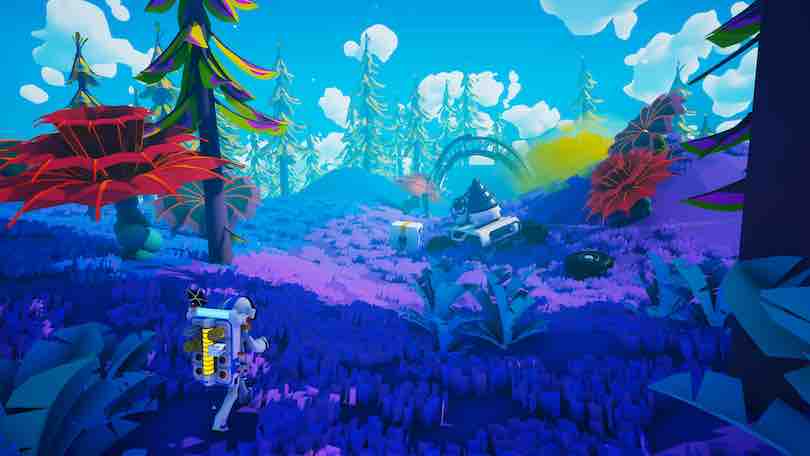 Astroneer is a beautiful space-themed sandbox exploration, survival, and crafting game developed by System Era Softworks. The game has been in early access since 2016 and with the 1.0 version of the game having been released in February it is no surprise it was the best of SXSW Gaming for a reason.
In Astroneer, you are tasked with colonizing planets, creating structures, and mining resources. Like other games of this type, there is no set story but each planet does offer challenges for players to complete.
Set during the 25th century's Intergalactic Age of Discovery, where Astroneers explore the frontiers of outer space, this game rewards creativity as you work to make a new planet your home. Played in the third person, you work to terraform the planet which results in a procedural generation; with the exception of some planet specific resources. You explore your world by foot, spacecraft, or lunar vehicle. With a beautifully immersive world that blends together Kadamari Domasi and The Little Prince, it's clear to see why it was a hit.
Astroneer is available on PC and Xbox One.
---
Of these games which are you most excited about? Looking to pick up any? Let us know in the comments below.