New York Comic Con took place this past weekend and as such my news feed has been jam-packed with exciting announcements about new comics, television shows, and anime. But one announcement, in particular, has had me buzzing. On Thursday, Lucasfilm officially revealed the first details surrounding its Disney Play series, The Mandalorian. It will be created by filmmaker Jon Favreau, director of Iron Man, Chef, and The Jungle Book. The Mandalorian takes place three years after the events of Return of the Jedi and follows a lone gunslinger as they travel the Outer Rim.
This in and of itself was exciting enough. I had long been waiting to see more details of what happened in the thirty years leading up to The Force Awakens and the Mandalorians are one of my favorite parts in the Star Wars canon. But further sweetening the pot is the murderer's row of directors that Favreau has assembled. They include the likes of Dave Filoni, the mastermind behind Star Wars: The Clone Wars and Star Wars Rebels, Rick Famuyiwa, director of Dope, Deborah Chow, one of the directors on Jessica Jones, Bryce Dallas Howard, and Taiki Waititi, director of Thor: Ragnarok and What We Do In The Shadows.
This is a very big deal mainly because fans have wanted to see more female and POC directors shape the tales of a galaxy far, far away. As much as I love a good deal of the current canon, it seemed for a while that only white dudes such as JJ Abrams, Rian Johnson, Gareth Edwards, Ron Howard, David Benioff, and D.B. Weiss were allowed to helm Star Wars projects. Starting to notice a pattern?
The Mandalorian is a refreshing jolt to this heteronormality and the talents involved are exciting. We've seen Waititi's off the wall humor. But will that same sensibility work in the Star Wars universe? Famuyiwa's filmography focuses on culture and how it shapes people, for better or worse. Surely that has a place in Star Wars? Considering Mandalorians hold their ancient traditions in high regard, he can bring that to use.
Previously, Howard has only directed one short film, Solemates. However, this is a wonderful opportunity to expand her repertoire and continue a family tradition, as father Ron Howard directed Solo: A Star Wars Story. Filoni, of course, is no stranger to the Star Wars universe, having expanded upon the lore in wonderful ways with Clone Wars and Rebels. It'll be quite interesting to see how he handles a live-action series. Additionally, a rumor circling the series is that Pedro Pascal, a Chilean-American actor known for his roles in Game Of Thrones and Kingsman: The Golden Circle, is being eyed to don the Mandalorian helmet.
I would love to see this happen. Pascal is an amazing actor but more than that, it speaks to the wide variety within the Mandalorian culture. The Mandalorians are split into clans, with warriors hailing from different races and genders. This was made especially clear in Rebels with main character Sabine Wren, as she and her family were designed with Asian features. Sabine is also voiced by Indian actress Tiya Sircar.
A POC protagonist would be an amazing leap forward for Star Wars media, especially with an actor of Pascal's caliber in the lead. Fans have spoken about how Finn, Sabine, and Cassian Andor mean so much to them and The Mandalorian could be another hero to this new generation of fans. There is so much we don't know about the Mandalorians-how do they forge their armor? What drew them into conflict with the Jedi-especially considering that one Mandalorian WAS a Jedi? What separates each clan? With a new character comes a new chance to delve deep into this race's history and possibly find a connection with them. Many POC fans have spoken about how projects like Black Panther and Crazy Rich Asians inspired them to try and reconnect with their heritage; maybe this series can do the same.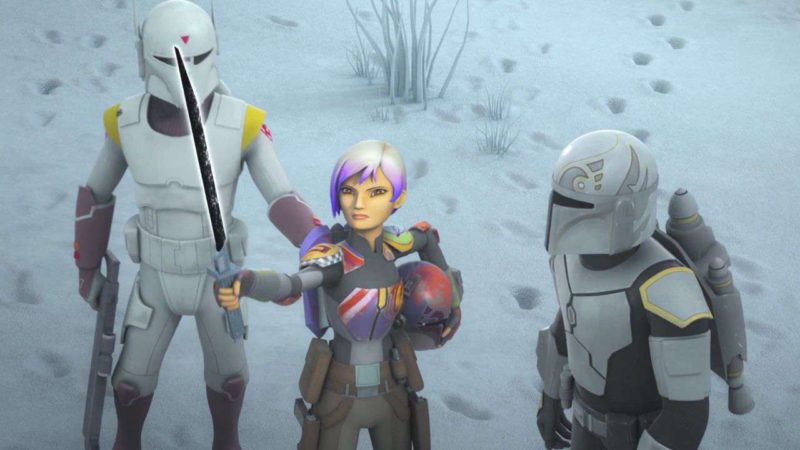 Ultimately, this series could be a chance to create a different type of Star Wars; not only what this series adds to the mythos but in how the creators bring their unique experiences to the table. As I mentioned before, Thor: Ragnarok was an example of Waititi bringing his irreverent style to the MCU that also highlighted a story about the horrors of colonialism via Odin's conquest of the Nine Realms. In Star Wars: The Clone Wars and Star Wars: Rebels, the Mandalorians were divided between those who wished to start a more peaceful life and those who wished to bring back the old warrior's ways. Some Mandalorians even allied themselves with the Empire and Darth Maul's Shadow Collective. Waititi and Famuyiwa have a chance to dig deep into the Mandalorian culture and possibly present a character who is at odds with his people.
The setting is also ripe for potential. This is a chance to show what the galaxy was like after the fall of the Empire; how did the New Republic operate? What is life like on the Outer Rim? And most importantly, what has become of Mandalore? What clan does our character belong to? Why is he traveling in what could be a lawless land? For the first time in a long time, I have no idea what to expect and that is exciting. We've seen a lot from the prequel and original eras in terms of content; here is a chance to expand upon the sequel trilogy.
The Mandalorian is shaping up to be a unique experience due to the talent behind the camera. I truly hope that it not only lives up to expectations, but it paves the way for more female/POC/WOC creators to make their own Star Wars stories.