Content Warning: Best Female-Driven Revenge Fantasies in Comics features discussion of Sexual Assault and Rape
Multiple times during the Kavanaugh hearings I have felt overwhelmed, just like I know many women in America and around the world did. Without delving into politics, moments like this are traumatic for survivors of sexual assault, sexual harassment, and rape. The National Sexual Assault Hotline saw a 147% increase in call volume during Dr. Christine Blasey Ford's testimony according to RAINN, one of the largest anti-sexual violence organizations that administer the hotline. Understandably, a lot of survivors find the most solace in turning off the news and disconnecting from stories that are similar to their own. However, I cannot function like that. Following the hearing, I instead turned to play Batman: Arkham City, a game where a white man dresses as a bat to get revenge on his parent's murder by protecting a failing city. I cope with revenge fantasies and fantasies of individuals righting the wrongs of the world and speaking for those who cannot. In that vein, here are my top five favorite female-driven revenge fantasies in comic books.
Bitch Planet by Kelly Sue DeConnick and Valentine Delandro
Bitch Planet is hailed by Image comics as a cross between a Margaret Atwood novel and Inglorious Bastards. It is set in a world where any female who is deemed "non-compliant," including criminals and women who disrespect their husbands, is sent to the "Auxiliary Compliance Outpost," aka Bitch Planet. The comic is heavily influenced by women's politics and a deeply unsettling but important story about women's compliance. Many women who felt moved by the comic have gotten tattoos similar to the inmates' jumpsuits to verify that they are also "non-compliant." The first two volumes are available now.
Man-Eaters by Chelsea Cain, Kate Niemczyk, Rachelle Rosenberg, and Joe Caramanga
Man-Eaters sees a future where girls are turning into killer cats and locked up because of it. The story features more Atwood type themes but this time Jekyll and Hyde/Werewolf metaphor. In the comic, Cain is unapologetic about her feminist views and the clear patriarchial worldview she wants to break down. The first issue of the comic recently came to shelves on September 26, 2018, with the next issue releasing in late October.
3. The Black Dahlias by Kristin Schwarz, Shad Clark, Ari Syahrazad, and Claudia Aguirre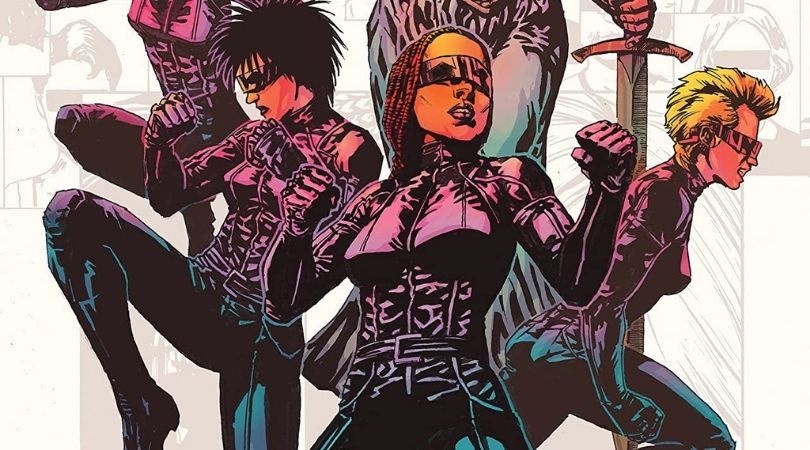 As I mentioned in my review of The Black Dahlias, "this comic punches that logic in the face even going so far as to turn it on its head by using the wording against the men committing these violent, repulsive acts." The story follows a group of survivors who have become vigilantes set on stopping powerful men from committing heinous and violent sexual crimes while using Elizabeth Short's famed moniker given to her by the press from her sensationalized rape and murder. Currently, only issue zero is out while the creative team searches for a publisher but even still this one issue is a great start.
4. Monstress by Marjorie Liu and Sana Takeda
Monstress is set in an alternate matriarchal turn of the century Asia. It follows Maika Halfwolf, a teenage girl who is struggling to survive the trauma of war while sharing a psychic link with a monster. The story explores themes of race relations, slavery, human trafficking, and female friendship in a beautiful steampunk setting with clearly anime-inspired art. The first three trades are available now.
5. Saga by Brian K. Vaughan and Fiona Staples
While not strictly a revenge story, Saga's is an intergalactic love story. The main female protagonist Alana is a fierce warrior who will kill to protect her child from being taken in the midst of a galactic war between her and her partner, Marko, planet. Saga touches deep issues within the story but particularly in Alana's specific arcs. In the most recent trade, Alana must travel to the depths of space to get a life-saving abortion and face the stigmas of the procedure and her miscarriage. Eight trades of Saga are currently out with the ninth on the way.
If this week has been overwhelming don't be afraid to reach out or call RAINN's hotline. Take care of yourselves and leave a comment below with your favorite female-driven revenge story in comics or otherwise.