Reading Time:
3
minutes

This episode of Harlots is calm but a true turning point in the season. Golden Square's doors remained shut and the eye of Justice Hunt (Sebastian Armesto) is set on Lydia Quigley (Lesley Manville), as are those of the women that are fighting her. But even under overwhelming pressure from the authorities Lydia tries every trick in the book to get back to her station as one of the best bawds in London and reclaim her status. All of her workings happen while Nancy Birch (Kate Fleetwood)and Margaret Wells (Samantha Morton) attempt to secure the witness as proof that Quigley is nothing more than a kidnapping pimp. As always, spoilers below the line.
---
Justice For None
As Quigley continues to entertain from Miss May's estate the women of Fanny (Bronwyn James), Nancy, and Margaret continue to come for her head, while Charlotte (Jessica Brown Findlay) moves in the shadows, trying to get closer. However, Quigley's status still protects her, and she begins to look at Charlotte as a daughter, a prize from her war on the Wells house. However, the tides seem to turn when the women recruit Emily Lacey (Holli Dempsey) to give her testimony. Having endured the wrath of Quigley and threatened with death, Emily has nothing to lose once the women gain the promise of Justice Hunt to prosecute Quigley once testimony is obtained. It seems as if justice has come and Emily will finally see Quigley swing from the gallows.
That is until Quigley returns to the life of the harlot and not the bawd by bedding the highest justice of London. Justice Hunt secures a warrant for Quigley, only to interrupt the sex-session and to be told to leave the Golden Square girls alone. He is instructed to go after the others, but not them, these girls, and Quigley are men of higher status and should not be punished. From between Quigley's thighs, the head justice restores her power and all but assures her return to Golden Square.
Persephone?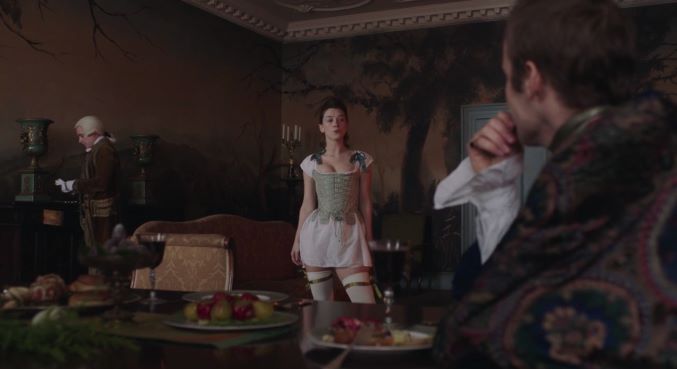 With episode three ending as Lucy Wells (Eloise Smyth) walked into the home of Lord Fallon (Ben Lambert), her stay in hell is what I wanted to see this episode. It's very clear that Lucy is not the scared girl from season one. Not only is proud of her sexuality but the fear of the man feeding her pomegranate seeds has faded into fascination. As what I assume is a high-ranking Spartan, the viewer knows that Fallon is a killer and abuser but to Lucy, he's the man who will provide for her and a new challenge.
We see her bend to his will while playfully asserting her own. She asserts to the servants that she should not be treated like Lady Fallon, she is a harlot. At that moment, I had to wonder if the Lucy of Season one who aimed to be a better Harlot than her sister had finally appeared. In a tense scene, we see Lucy spar with Fallon in a fencing match. When Lucy draws blood from his fingertip, she sucks it clean. And although it seems to be empowering, in that Lucy is in control, knowing the life and horrors that belong to Fallon filled me with dread.
The Five-Headed Beast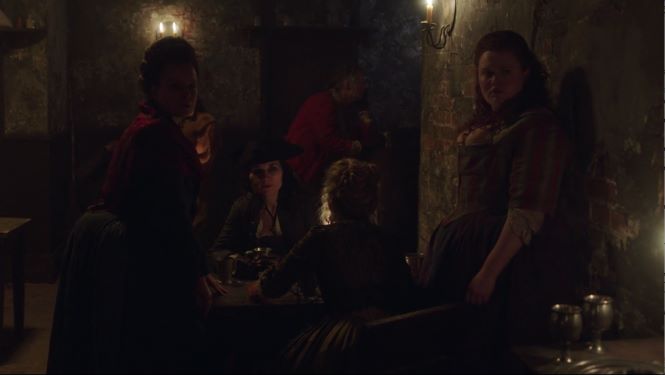 Although the women seem to have lost this round to Quigley, the episode ends with a powerful meeting of powerful women who refuse to remain silent or remain the victims. Margaret, Nancy, Charlotte, Fanny, and Emily are a united front now. And as Nancy states, a five-headed beast waiting to be told when to roar. As these women come together, we can see the pieces start to fall in place. The fighting and the anger that was between the women are gone and their strength is in plain view. They're smart, resourceful, and powerful, and as the show turns, I hope that the five-headed beast will succeed.
---
What can we expect next?
It's simple, the women are going to strike. I don't know how soon, but they need to roar. I also expect to see more of the feud between Emily and Quigley, while we see Lucy slowly descend into the world of Lord Fallon.
New episodes of Harlots premiere Wednesday nights on Hulu. Wanna stay caught up? Make sure to check back in for recaps of other episodes this season.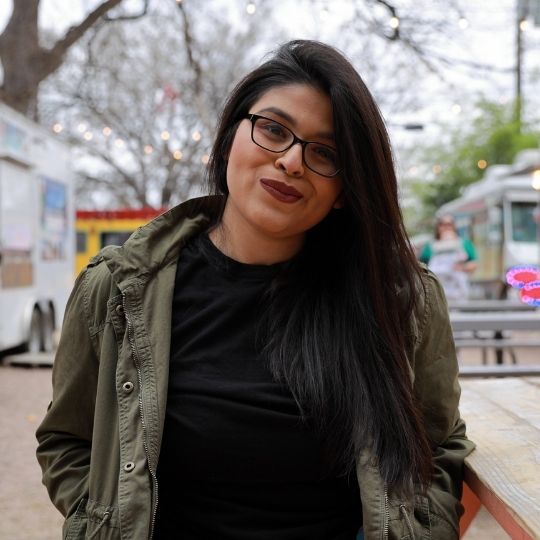 Kate Sánchez is the Founder and Editor-in-Chief of But Why Tho? A Geek Community. There, she coordinates film, television, anime, and manga coverage. Kate is also a freelance journalist writing features on video games, anime, and film. Her focus as a critic is championing animation and international films and television series for inclusion in awards cycles.