In Harlots episode three of season two, we learn so much more about this season's cast of characters as well as some an old one that we have only known as a villainess. In this episode, Margaret (Samantha Morton) is focussed on rebuilding her house following a raid from Justice Hunt which shows her failing bawdy house. In the attempt to do bring in new clients she attends the Pleasure Gardens and has an unexpected confrontation. Charlotte (Jessica Brown Findlay) tries to secure a powerful ally in her quest against Lydia Quigley (Lesley Manville) while Lucy (Eloise Smyth) becomes a Persephone. As usual, there are spoilers below the line, where I recap important moments and highlights from the episode.
---
Learning More About Characters
When it comes to Harlots, season one was firmly from the viewpoint of the Wells women. Every character we learned about was from their point of view and their relation to them. In season three, the show-runners are building out characters in ways we didn't see before. They are expanding on the background characters but adding new complexities to the stories of existing ones. There are two examples in this episode that feel like I've come to know the characters more.
First, in the beginning of the episode, we see Lydia Quigley leave Golden Square because she is unable to continue doing business there. She moves with her girls to the estate of a harlot her father kept, Mrs. May. We learn quickly that this is not a friend of Quigley, so much as a last resort in her time of need. As the two women discuss Margaret Wells' vendetta, Quigley explains that she is blamed for the loss of Margaret's innocence. To which Mrs. May replies, "but children aren't innocent." Which leads Quigley to expand on the idea, "I knew how to please father when I was still an infant. It was the making of me." This in no way makes Quigley a saint or justifies what she has done. When coupled with the reveal that, like Nancy, she had been flogged and the insinuation that is was the fault of Margaret, we are starting to see a Quigley who has a motive outside of power. This is a side we haven't seen or known. The sexual abuse Quigley endured seems to have numbed her to the abuse the women in her life face. It helps us understand her, not justify her.
Second, we get a couple of interactions between Justice Hunt (Sebastian Armesto) and Violet Cross (Rosalind Eleazar) that lets us understand them and even sets up which side Hunt is on. Now working as an indentured servant to Hunt, Violet has not stopped speaking her mind or loving Amelia Scanwell (Jordon Stevens). When Hunt is entertaining a guest that Violet had seen earlier in the day having sex with a harlot, she doesn't hold back when he starts speaking about the sins of bordellos and the women in them. She drops soup in his lap and follows it up by calling him a hypocrite, telling Hunt that she saw him that very day with a woman and that he is responsible for giving her friend the Pox. Instead of reprimanding her, Hunt seems to take her at her word, telling her to leave the room but seemingly believing her nonetheless. In another scene, we see the two discussing how and why women join houses like Quigley's.
The discussion highlights that becoming a harlot is the only way to survive for some women. The bawd offers housing, food, clothes, and life but then the women must spend the rest of their days paying that debt. I'm not sure if I missed this in season one, but we learn that this was not the life that Violet chose, she wasn't one of Nancy's girls, and I'm not entirely sure that Nancy (Kate Fleetwood) is a bawd, like I had thought. Instead, she seems to be the woman who watches over the poorest in the bad part of town, more a motherly figure to women who like Nancy, choose their freedom over "comforts" in a bawdy house. When Hunt asks her why she didn't choose that life, since Violet's living is made by exchanging sex for money but also stealing to get by, she simply says that she likes her freedom.
The reason I include this as an important moment in the show, and I believe the season, we see Justice Hunt as someone willing to learn from those around him. When we look at this in conjunction with a discussion had with Florence Scanwell (Dorothy Atkinson), where asks if it is important to stop Quigley or those who prey on the girls she kidnaps. I believe that Justice Hunt is one of the few men in this show that we can trust. He seems genuinely interested in justice and not just securing safety for the Spartans.
Rebuilding Their Houses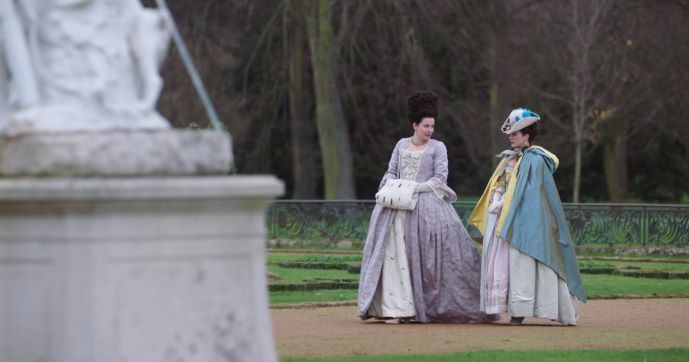 This episode is focussed on the rebuilding of houses for Wells and Quigley, and also the creation of the house by "Mother Lacey." Margaret attempts to call William back to guard the house, but the two are still at odds. She then turns attention to bringing in new girls. However, her house is now known as a house of death and some respond by telling her to come back when she's gone a month without a murder. But even with murder in the air around her house, a poor girl moving to Greek Street with pretty clothes and a safe house is a call a few girls can't resist.
Quigley is in a different boat. Her girls are still loyal but her physical house is shut down, leaving her to operate from Mrs. May's estate and attempt to work her way back into society while the mark of being imprisoned has tarnished her high-society reputation. This leaves the rebuilding of her work to Charlotte, her rival's daughter, but the only person who has stood by her in her hard time. We see Charlotte go to Lady Isabella Fitzwilliam (Liv Tyler) again, asking for an invite to her social circle. Although they receive an invite to the Pleasure Gardens which will begin to rebuild their house's reputation, Charlotte continues to build a relationship with Isabella. As an ally in Charlotte's journey to destroy Quigley, it seems that this entrance back to society will only result in failure, if Charlotte can maintain her nerve in the long game.
Finally, Emily Lacey (Holli Dempsey) is starting to carve out her own life away from Quigley's coin purse. Having brought Harriett (Pippa Bennett-Warner) into her home to work, Emily aspires to be a bawd. However, she still sees herself as a prostiture and quickly tries to bring in money with her body. And you can't blame her. With Quigley threatening to kill her last episode and Charles a shell of a man still hoping to get his inheritance from his mother, Emily just wants to survive. That being said, Charles returns with his first girl, Cherry (Francesca Miles). Having been rejected by Margaret, Cherry quickly joins Lacey's up and coming house when Charles asks her. But Emily isn't happy. Cherry is a little person and was dismissed by Margaret because of this, and Emily tries to follow suit. She is about to kick Cherry out when Harriett speaks up for her, explaining that with her and Cherry they can build their house as different from the rest and entertain men by offering what other houses don't. We'll have to see how their house progresses but I find myself rooting for them, even though Emily is less than likable.
Persephone
The biggest moment of this episode is Lucy as a Persephone. Lucy is courted by Lord Fallon (Ben Lambert) again, one of the Spartans who in the previous episode made it clear that in order to silence Wells they would need to go after her daughter and not a common callgirl. We know that there is an impending doom on Lucy's head and although Nancy explains to her that Persephone, the name that Fallon keeps calling her, is the woman who was stuck in Hell and wed to Hades. Her description of Persephone, while a warning, seems to have seemed like more of a challenge to Lucy. A challenge to be in control of the deal. When Lucy agrees to go on a carriage ride with Fallon, he makes an offer for her, she ups it by 100 and he says no. We see a Lucy that has been non-existent until now, she's empowered and sure of herself. She reaches into his pants and makes him agree to her terms. As much as this moment is hers, there is a weight that hanging over the scene for the viewer who knows his purpose for seeking her out and even more so for those who know the details of Persephone.
The daughter of Demeter and Zeus, Persephone was pursued by Hades. When her mother refused his marriage offer, Hades kidnapped Persephone. She became queen o the underworld against the will and her mother looked for her. Fallon's relentless pursuit of Lucy and his usage of the name Persephone for her is scary. There is no way that this ends well, but now that she is out of her mother's house and in Fallon's we'll see how this goes. In her most empowering moment, I also see her downfall.
The Pleasure Gardens
Margaret and Quigley meet each other for the first time since the latter's imprisonment. When they confront each other Mrs. May shows her disgust and continually insults her, while Quigley says that Margaret's slander is unwanted and misplaced. when Quigley takes it a step further and brings up Margaret's daughter, Margaret punches her. As Quigley falls, everyone looks. Charlotte quickly intervenes and walks her mother away, explaining that she needs to stop lest she ruins her plan to destroy their rival. While the punch is what matters from the Pleasure Gardens scene the other important revelation is that Isabelle and Charlotte are on the same page: destroy Lydia Quigley.
---
What can we expect next?
Like every one of these sections of the past episodes this seasons, I'm waiting to see the Spartans, especially now that Hunt is placed on the side of justice and Lucy is getting close to a new man that is too good to be true. Outside of this, I can't see where the story is going. I don't want Lucy to get hurt, but I feel like this is where we're going. I also expect to see more of Emily Lacey this season, moving her to one of the main characters now that she is making her house. Do you have expectations? Let me know in the comments!
New episodes of Harlots premiere Wednesday nights on Hulu.