While not a total dream come true, Disney's Wish could be worse. The animated musical directed by Chris Buck and Fawn Veerasunthorn celebrates Disney's 100th anniversary with far too many abrupt cameos and references, an egregious number of words per minute in its songs, disappointingly flat animation, but at least a cute story to make an otherwise forgettable movie entertaining enough for its runtime.
It's doubtful Wish fully lives up to the 100 years of magic-making that its creators had in mind when they dreamed up a simple story of the kingdom Rosas where its King Magnifico (Chris Pine) holds all of his subjects' wishes for safekeeping in his castle. Asha (Ariana DeBose), an ordinary girl who hopes to become Magnifico's apprentice, uncovers the hard truth about Magnifico and the wishes after she makes her own wish and the most adorable star in animation comes to life to help her.
The story is great. Anybody who has ever seen a Disney movie understands the power of wishes and their place in the studio's mythos. It's a lovely idea, making a whole movie about the power of dreams. Unfortunately, the nice idea struggles to translate to magic across the whole movie.
The issues begin instantly, with largely uninspired character designs and an art style that frankly feels lazy. Asha is fully formed, with long braids and the most emotion in her animation. And Magnifico certainly stands out. But basically, every other character just looks like they could be in any old simple cartoon. They have a rough CGI Mickey Mouse Club House look that is largely unimpressive. And they move quite stiffly with little life in their eyes.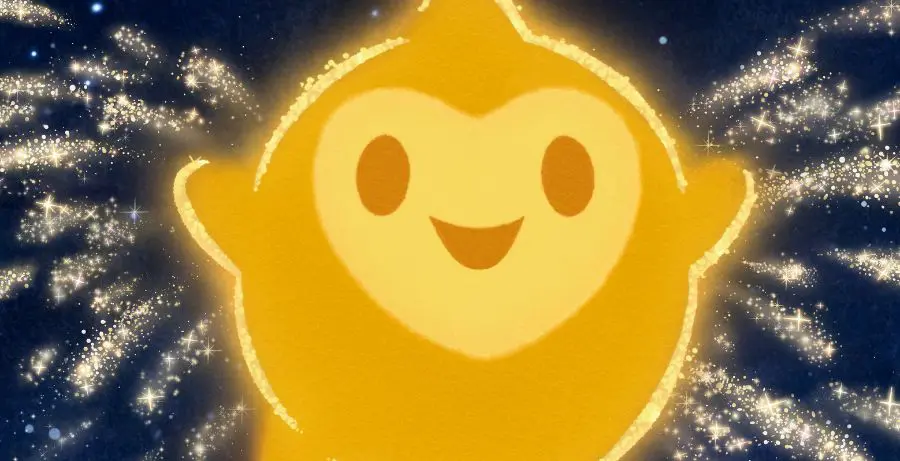 However, the many animals of Wish look great, especially Valentino (Alan Tudyk). And of course, Star itself is genuinely one of the cutest and funniest characters in a long time. It probably helps that it never talks and relies on pantomime. But, Valentino actually is hilarious, despite being mostly a one-liner machine. The one-liners Tudyk delivers all land. The animal scenes are the best pieces of animation and almost make you forget that the backgrounds are literally flat and look bad most of the time.
Similarly, the songs are hard to swallow. The score itself is great, but the songs have fallen terribly victim to the Lin-Manuel Miranda-ization of Disney music. While Miranda has certainly helped produce some excellent Disney music in recent years, the music in Wish basically feels like somebody told Julia Michaels and Benjamin Rice to make something in Miranda's style. It doesn't work.
Most of nearly every song is just pure exposition. The overstuffed sentences with SAT words galore are just sing-talking at you about who everyone is and exactly what they're doing. They're largely unsingable and unremarkable, especially the movie's big central song. The meter for the chorus is absurd to the point where I couldn't even remember how it went the moment after it ended. The villain song is maybe the best, but it has some rather harsh language for a kids' movie and Pine's voice acting isn't very good until the second half of the movie.
Wish's worst sin, however, is its utter lack of relationships between characters. Everyone has clear motivations, fortunately, thanks to the strong concept and plot generally. But whether it's Asha and her best friend, her grandfather, or worst of all her mother, there is nary a moment of genuine connection between anybody. The heart of every Disney movie ever is its relationships, be they romantic, familial, or friends. Lacking completely in strong relationships is what makes Wish, ultimately, a total wash as far as its characters are concerned.
It's a shame that Wish feels like it was completely rushed and executive produced into mediocrity because its concept is rich and its bright moments are truly bright. But Wish is ultimately not only far too cookie-cutter but disappointingly bad in some of its most important elements: visuals, music, and characters.
Wish is playing in theaters on November 22nd.
Wish
TL;R
Wish is ultimately not only far too cookie-cutter but disappointingly bad in some of its most important elements: visuals, music, and characters.