My New Boss Is Goofy continues to be the adorable, wholesome goodness that I need every week, and Episode 5 does this by deepening relationships. In the last episode, viewers were introduced to Aigo Kinjo and Chief Aoyama. While Kentaro Momose and Yusei Shirosaki have been the focus of the series so far, the second couple duo of coworkers much of the focus of "Heart Eyes!" without sidelining Momose and Shirosaki either.
My New Boss is Goofy Episode 5 is separated into two storylines revolving around business trips in really fun—read romantic—places. For one, Momose and Shirosaki are tasked with creating a new ad campaign for a hot springs and hotel. After taking a train to the town, the duo enters an idyllic situation in a remote location. In fact, going to a hot spring has been high on Momose's list, but with a boss who abused and overworked him, he never got the chance to make it. In his excitement, Momose doesn't hide anything. Only Shirosaki's cold expression makes Momose question whether or not he should have fun while on a trip for work.
The entire time, Momose bounces back and forth in his mind about embracing the moment with Shirosaki as a friend or hiding his joy because he's with his boss. It's recognizable for anyone who travels to work and those who have done so without a good understanding that you can in fact get joy from your work, and sometimes it makes your work even better.
Shirosaki tells Momose this, and like the rest of the series, the audience that it's okay to find joy in your work. Work doesn't have to be a solemn affair. It doesn't have to stress you out, and more importantly, it doesn't have to leave you empty. It's a powerful moment that showcases the target audience of this workplace-rom-com slice-of-life series: burned-out adults.
While Momose and Shirosaki continue deepening their relationship as co-workers and (boy)friends—no, I will not let this go—Kinjo and Aoyama are on their own field trip to Kumatte Land. A theme park based on Chief Aoyama's plush bear obsession Kumattechan, the park has been built in a remote location and can't seem to draw any sort of crowd. There to build out a new campaign to get the people lining up at the gates of Kumatte Land, Kinjo and Aoyama learn more about each other, how they each work, and what they bring into their experiences. Shirosaki is a goofy new boss, but Aoyama is a needy one. Only the neediness is appreciated by Kinjo.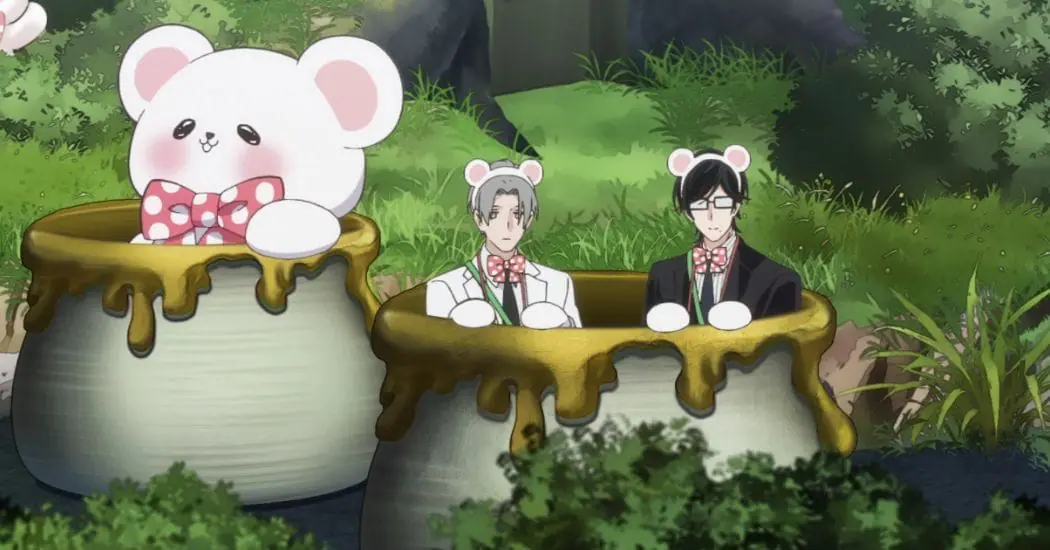 For Kinjo, he's unable to let his guard down. When he gets sick in true rom-com fashion (just minutes after being in wet clothes in the cold), the audience learns more about his past work life. Like Momose, Kinjo was belittled by his boss, only for him it centered on how quickly he got sick while ignoring the fact that his lowered immune system was because of being stressed and extremely overworked. When Aoyama finds out that Kinjo is sick, he responds with compassion and not anger, once again showing how a boss should act versus what Kinjo expected.
As a whole, My New Boss Is Goofy Episode 5 remains a fantastic look at work and life and how to recover from a terrible experience. The important thing is that the series never just tells the audience, "Work is fun. It's only bad with a bad boss." On the surface, it's easy to expect that to be the message. Instead, the series holds tight to the idea that the people around us, the people with power have to choose to care to make life at work something more than just exhaustion. In the same way abusing your power is a choice, choosing to lead with kindness is too.
My New Boss Is Goofy Episode 5 is streaming now on Crunchyroll with new episodes every Saturday.
My New Boss Is Goofy Episode 5 — "Heart Eyes!"
TL;DR
As a whole, My New Boss Is Goofy Episode 5 remains a fantastic look at work and life and how to recover from a terrible experience.