With the second season of Invincible in full swing, developer Terrible Posture Games and publisher Skybound Games delivers a new side story to the main line narrative that takes the focus away from Mark Grayson and shines it directly on Samantha Eve Wilkins. The game expands what players know about her life during the events of season one of the show, while also letting them have a bit of control over the titular character's choices in Invincible Presents: Atom Eve.
Primarily functioning as a visual novel, this game expands on Eve's story as the player guides her through numerous interactions with familiar characters like Rex-Plode and her parents. These sequences present their story through still images of the characters and written dialogue. Through numerous choices, players nudge Atom Eve's personality in one direction or another while keeping the character true to who fans are familiar with from the TV series/comic books.
This desire to not stray far from the canon version of the character is sometimes the game's worst enemy, but it can also be its greatest strength. During the moment-to-moment story beats, keeping close to who Eve is flows the story smoothly as she struggles with her parents, superhero work, and her high school life. However, Invincible Presents: Atom Eve's desire to keep things fairly close to the source materials also causes some jarring narrative moments in the back end of the game.
Knowing what I do about how things turn out in the original series, I took every option the game gave me to push Rex away from Eve. This created problems in the late-game moments. Atom Eve finding Rex in the shower with Dupli-Kate created lots of drama, for example. My Eve is barely even friends with Rex, let alone in a relationship. Why she would be upset about him and Kate didn't make sense. There weren't even references to the two of them hanging out between scenes to give some feeling of a connection between them. These forced moments of continuity greatly reduce their impact.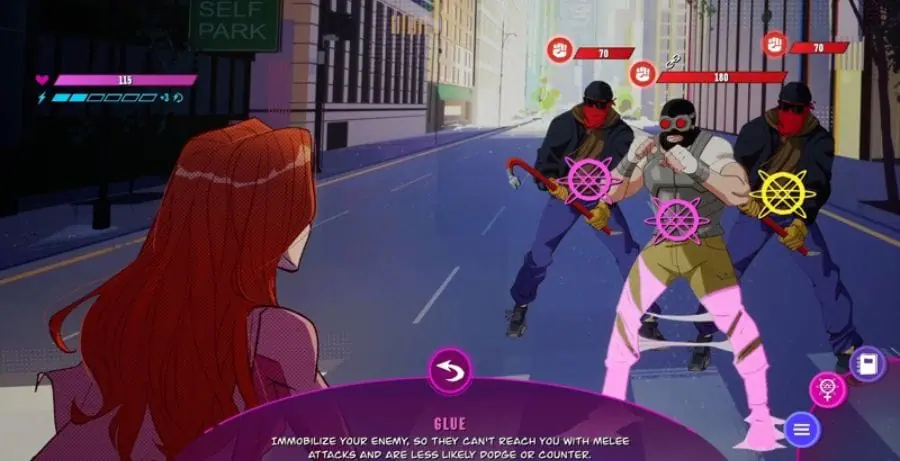 While these forced moments can hurt the story, there are others where the player gets to experience a far stronger sense of agency over their version of Atom Eve. A new narrative arc concerning a previously unknown villain puts Eve in some tough moral quandaries. She is forced to investigate an alien attack on a powerplant, as well as decide who she can trust to help her diffuse the situation so the fewest people get hurt. Thanks to the separation it has from the original story, the moments where Eve is dealing with this plot line are often the game's best. It challenges the player to make some tough decisions without knowledge from the show or comics to guide them.
The Skillful visual design frequently helps these narrative sequences. Since Invincible Presents: Atom Eve lacks any animated sequences, the game utilizes a comic panel visual style to impart moments where motion and action need to take place. These fun moments help tie the presentation to that of the comic books.
An important side note: the game assumes that the player has watched the Invincible special that aired back in July that gave the character's origin story. If you haven't taken the time to watch this look at Atom Eve's past, you'll need to or you will be confused at certain moments in this story.
While the bulk of the game is reading dialogue and making choices, several combat moments see the player take control of Eve in a turn-based style as she faces off with numerous adversaries. The core gameplay mechanic in Eve's battles is an energy system that dictates how much Eve can do each turn. Actions like punching, creating shields, firing energy blasts, and hindering opponents' attacks can all be used as long as Eve has the energy for it. With extra energy carrying over between rounds, the player finds themselves having to balance their options carefully each turn. Helping them make these decisions are preview icons over their opponents' heads letting them know which actions they will take in the coming round.
While the meat of this system is interesting enough, the problem with it is the length of many of the battles. Enemies tend to run through predictable patterns that can soon be recognized by the player. This wouldn't be bad if it wasn't for how many turns it can take to whittle down the enemy's health bar. The game tries to further bring variety to the battles by using an upgrade tree that allows players to customize how Atom Eve fights. This works, to a point. There are a couple of nodes along each path that unlock something noteworthy that players will feel the presence of in combat, but most of the time they are simply unlocking stat increases that are not noticeable.
Invincible Presents: Atom Eve delivers a mostly enjoyable look at Eve's life during season one. With some new characters and challenges brought to the experience, fans who cannot get enough of the world will find plenty here to enjoy as they get a new perspective on a great character. Anyone who is less enthusiastic about Eve, or the Invincible universe in general, may struggle to find enough to justify the purchase.
Invincible Presents: Atom Eve is available on PC.
Invincible Presents: Atom Eve
TL;DR
Invincible Presents: Atom Eve delivers a mostly enjoyable look at Eve's life during season one.