Huluween kicked off this October with a social horror story about shame. A little bit of Body Snatchers with the right amount of gross practical effects, and a message of overcoming yourself, Appendage has a lot to offer its audience. Directed and written by Anna Zlokovic, the series focuses on Hannah (Hadley Robinson), a young fashion designer who seems fine on the surface, but secretly struggles with debilitating self-doubt.
Soon, these buried feelings begin to make Hannah physically sick and sprout into a ferocious growth on her body: The Appendage. As Hannah's health declines, The Appendage begins to fuel her anxieties – her perceived lack of talent at work, her deteriorating relationships with her boyfriend and best friend, and her parents' lack of love and understanding. At her breaking point, Hannah makes a shocking discovery—there are others out there like her.
We got the chance to talk with director Anna Zlokovic about her film, growth, and choosing practical effects for the film.
---
BUT WHY THO: Appendage really speaks to me as someone who has an issue with intrusive thoughts. I think a lot of the time when films take on that issue, they don't often carry the weight that those thoughts have on people and how they build up over time. But Appendage does that really beautifully. Can you talk about the process of bringing something that is internal external?
ANNA ZLOKOVIC: I mean, these intrusive thoughts that we have feel so powerful when we're having them. And it is something that's hard to explain to people like, "No, it's real, it's happening to me," like I feel terrible, or whatever, you know, whatever you're going through. In making [Appendage], I really wanted to make those stakes real. And do it in a fun way. I thought this would be the best way to do it and literally make it real. It's birthed from her. It's part of her. It's something that actually tangibly and physically affects her life.
That came from a session in therapy that I had, where my therapist was, like, "Let's make your anxiety [and] depression a character that [you can] make and create and interact with." I thought that was really a powerful experience and also a really great narrative tool.
BUT WHY THO: I also wanted to ask a little bit about the style of capturing those moments of fear as well as those moments where [Hannah] starts to fight back or accept the process of growing. Can you talk about Hannah confronting everything?
ANNA ZLOKOVIC: I think the biggest theme to Hannah's arc was shame and the want to not talk about what she was going through and hiding everything, feeling like she didn't have a safe space to communicate that because of her family life, even though she had friends that were willing to sort of support her in that way. I think it's really her shame that prevented her from connecting with other people. So when the appendage is birthed, her instinct is to be like, "This doesn't exist," and "No one's gonna find out."
The whole map of her character arc was, how does that become so extreme that she literally can't avoid it anymore? Because I think the more you hide it, the worse it becomes. That was sort of what we tracked across for the arc. And the motives aren't to be like locking it up, and hiding it from yourself and others is just going to make it worse. So what else is there other than accepting it and bringing it out into the light? And so that was, I think, the main arc that we were looking at the whole time.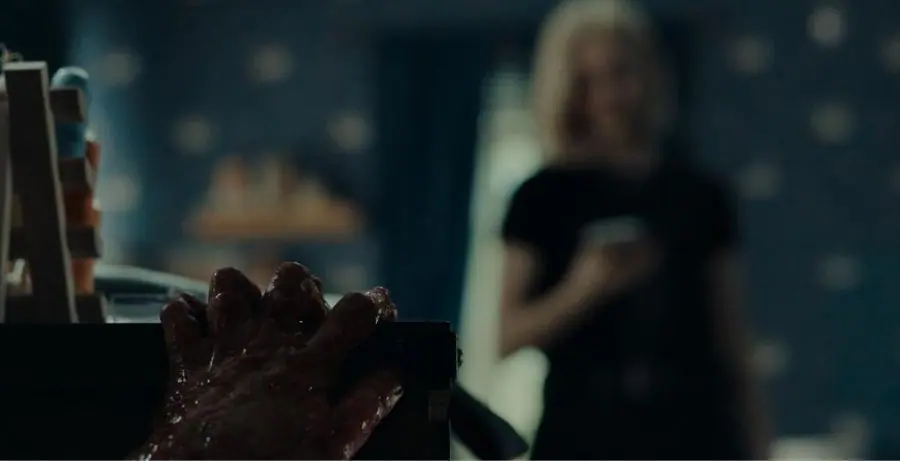 BUT WHY THO: The visual effects in the film are one of my favorite parts of it. I'm a sucker for practical, especially for some gross-looking practical effects. Can you talk about the development process behind the effects? What was it like to shoot those scenes, and why did you choose practical as the way for Appendage?
ANNA ZLOKOVIC: Yeah, practical was really, really important. Because these monsters create the stakes of the entire movie. It's like Hannah's anxiety is, they are the stakes. If it was something that looked like a cheap, VFX monster, or something like that, I think that the movie wouldn't work because it'd be like, Oh, this isn't real now. And so, the fact that it really is real, in the frame with the actor, I think, makes a big impact.
We knew really, really early on that that's what we were going to do. The development process of creating them and designing them was pretty quick. Amber Marie, our special effects and creature makeup head really works. She is a genius. We went back and forth a lot on every stage—there were three or three stages that we were working on—and she 3D modeled them…It was definitely a big challenge. When those creatures come on set, you're like, "Whoa, there's a new actor on the set." But this is a real thing. And so, it poses its own challenges. I mean, one of our puppets had six puppeteers and there was a remote robotic face. So we had seven people manning this one singular puppet and it slows things down. You have to rehearse it to prepare. So it's cool, and it's a challenge, but it's a cool challenge.
BUT WHY THO: For my last question, the film obviously deals with some heavy topics, but also as you said, has a message that tells people not to hide their shame, grow from it, confront it, and embrace it in a way. What do you want somebody watching this film to take away?
ANNA ZLOKOVIC: I want audiences to feel less alone if they're going through something. And I would love for them to just be like, "Okay, I'm not alone, and the answer to whatever I'm going through is self-compassion and a path of love and not shame." Maybe you can talk about it, after [the film], you know? That would be cool.
---