Get in with Ironwood Studios for a drive to explore a reimagined Pacific Northwest in their first-person driving survival game Pacific Drive. The Pacific Northwest, also referred to as the PNW, carries a hushed calmness. Captivating in its lush greenery and vast space, surely there's plenty of room for mystery and adventure, right?
As a lone traveler, players ambitiously brave the roads in their trusted station wagon. This is no ordinary exploration, of course, as you'll come face to face with peculiar anomalies. How will you decide to address these creatures and the strange happenings in the area? Cue Pacific Drive's "road-lite" structure where each expedition brings players a little closer to unraveling the mysteries while gaining intel for the next drive out.
Pacific Drive pulls inspiration from team Ironwood's fondness for road trips and the connection a wandering drive through a beautiful unknown can bring. Just you, your vehicle, and the open road. While liberating, eventually, minor issues present themselves. Since it's just you and your vehicle acting as your sole companion, you'll need to rely on each other.
Before heading out on the drive, players are prompted to fix up a worn and battered protector, their station wagon. Mend parts to restore it to an optimal level. Fasten on new tires. Replace car doors and even lay on a new color of paint. How players choose to maintain and personalize their vehicle forges a personal and unique attachment. While this introduction seems brief, it begins to show how much you and your car will need each other in order to survive. Once prepared, it was time to gas up and head out.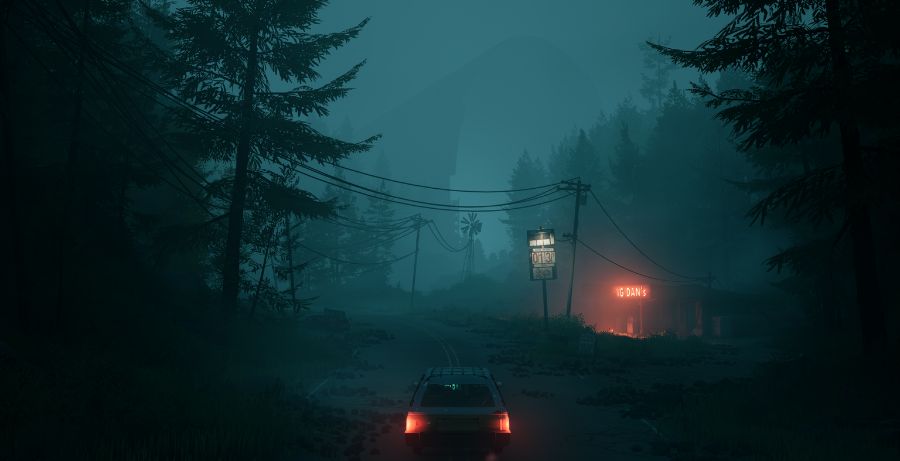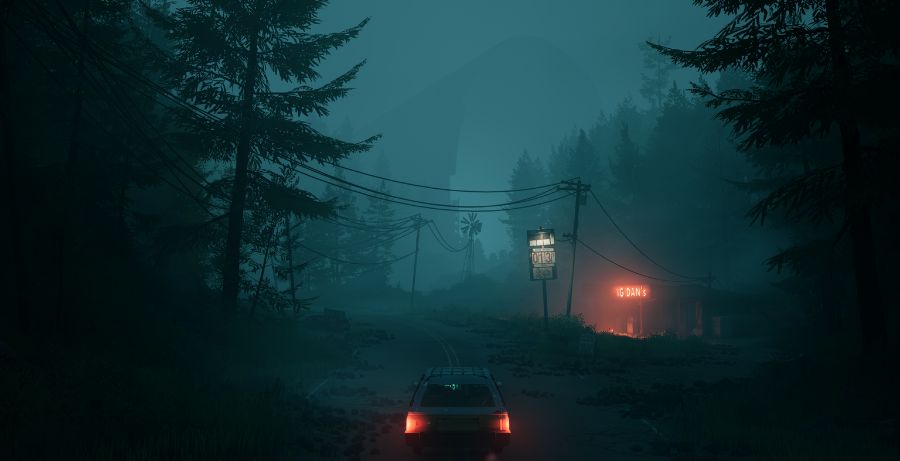 The interior is illuminated with neon meters and legends against a late evening setting. They highlight key pieces like the health of your vehicle, a gas gauge, and a large digital map of the area. Peering past and through the windshield, the scenery immediately grasps you with towering evergreens. Roads wind and at times are overgrown or sprout peculiar monoliths and large matter. Veer around them or take a chance by going off-road to reach where you need to go or avoid a severe weathering storm.
On an expedition, do what you must to source new and better materials to help you survive. Much time can be spent inside the vehicle feeling moderately safe from instances like a radioactive field while reaching a point of interest. Eventually, you'll have to get out though. Players will collect key items for story progression, often lingering in open spaces inhabited by unknown entities. Quickly siphon gas or scrap a new driver-side door from abandoned automobiles to help further your chances of survival or support the next run.
Pacific Drive is an exciting new title that takes rogue-lite and survival to an interesting new place. Controls, like manually shifting into drive, add a subtle layer of intentional connection for players and their reliable station wagon. The PNW is brimming with unknowns and it's an experience that will have players gassing up and revving through just to unveil a little more every time.
Pacific Drive is set to release in 2024 on PlayStation 5, Steam, and Epic Game Store.