With Ciel (Nagisa Aoyama) settling in nicely in Rock Town, Kanata (Takeo Otsuka) decides to take everyone out for some fun in the sun at a nearby water park. Pools, water slides, and lots of enjoyment await as the group looks to chill out for the day. But while everyone else is focused on fun, Ellie (Konomi Inagaki) is hoping to get the chance to finally tell Kanata how she feels in Synduality Noir Episode 8, "Pure Dream."
Before hitting the beach, this episode opens with a memory from the distant past. In it, we see very young versions of Kanata and Ellie sitting together and talking. The audio is muted, so what exactly is said can't be heard, but something that Kanata says elicits laughter from Ellie. However, Kanata did not intend for this, as Ellie's reaction hurt his feelings. His sunken expression disappears as we discover the memory was part of a dream Ellie was having. Her regret over the incident is palpable as she lays in bed, struggling to start her day. Luckily for her, Ange (Ayaka Ohashi) is there to help her get going. After all, Kanata has invited her out, and she needs to get ready.
This somber opening to the episode begins the delicate balancing act that will continue throughout. Bouncing between poolside fun and distant memory, Synduality Noir Episode 8 crafts a meaningful story while paying homage to the anime tradition of breaking out the bathing suits.
After Ellie opens the episode, we learn that her trip out with Kanata is not quite what she expected. Rather than just the two of them, Kanata has also invited Noir (Aoi Koga), Claudia (Ryôka Yuzuki), Flamme (Marika Kôno), and Maria (Miku Itou) along for a day of fun. The travel scene is highlighted by the other ladies playfully ribbing Ellie over her obvious disappointment in their presence. The mix of good-humored fun and genuine support the rest of the cast shows Ellie throughout this episode, keeping a pleasant atmosphere of humor and positive support present throughout the story.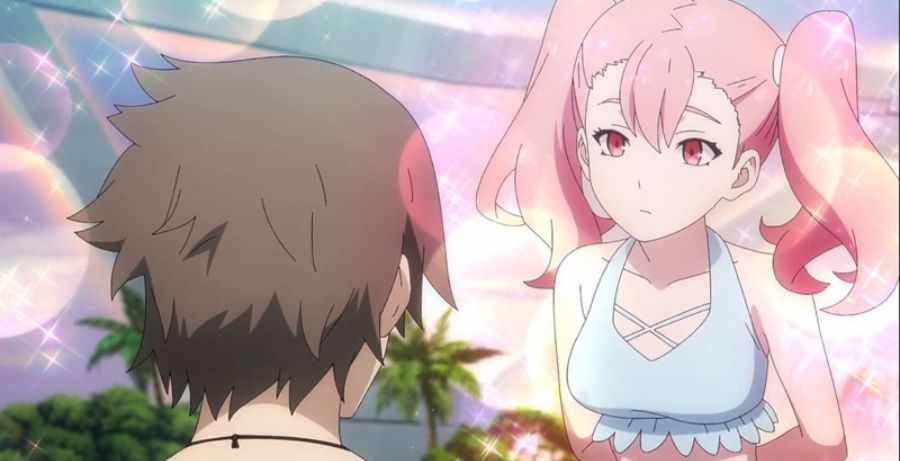 It also bears noting that, despite the omnipresence of bikinis and exposed flesh throughout this story, the camera is always respectful of its cast, never leaning into any unnecessary fan service moments. Given how little of a presence such elements have had in the series to date, it would've felt entirely out of character for the show to lean into it now just because much of the cast is sporting swimwear.
As the group arrives at their destination and prepares for the fun day, we see Noir failing to understand much of the banter and heckling between her friends. As usual, the magus' lack of memories causes her to be confused by much of the slang thrown around by her companions. Happily, this element doesn't get played out too heavily and is utilized near the end of the episode to deliver a well-earned laugh.
After some fun antics and good times at the pool are observed, Synduality Noir Episode 8 pulls out a surprise when the lights dim and Tokio (Yûsuke Kobayashi) appears to introduce the crowd of swimmers to an unexpected performance by Ciel. The pop music interlude delivers lots of fun, glitz, and glamour as the animation has all the energy and fun of a live concert.
As one would expect, as the episode wraps up, it returns to Kanata and Ellie as the two have a heartfelt moment alone after the water park festivities have wrapped up. Ellie shares her regret over the incident from their past that opened the story, leaving Kanata to admit that he had long ago forgotten about the moment. While Ellie is at first shocked that this moment hadn't stayed with him as much as she had expected, her surprise is soon replaced by joy when he explains that all the wonderful help she had given him over the years had long ago replaced that moment of harshness.
Synduality Noir Episode 8 delivers a laid-back episode that focuses on fun while delivering just enough character development and heart to make it a meaningful entry in the series.
Synduality Noir Episode 8 is streaming now on Hulu.
Synduality Noir Episode 8
TL;DR
Synduality Noir Episode 8 delivers a laid-back episode that focuses on fun while delivering just enough character development and heart to make it a meaningful entry in the series.