Recent years have seen a rise in 80s nostalgia-driven media, so it's no surprise that developer Fury Studios created their own 80s-inspired spin-off of their Kingdom series with publisher Raw Fury. What is shocking is how Kingdom Eighties proves to be more than an easter egg-filled trip down memory lane. The game, published by Raw Fury, puts a spin on familiar concepts from the series while maintaining the micro-strategy adventure gameplay that fans have come to enjoy.
Instead of taking the role of a monarch, like in the previous entries, you're playing as a young camp counselor, separated from your family, as a mysterious danger spreads throughout your town. To complete each level and reunite with them, you must travel back and forth across long horizontal levels, collecting and spending coins to expand your 'kingdom', arming your helpers, and activating buildings to increase your passive income. By night, you'll have to push back the attacking fiends with the help of your archers and allies.
There's an added wrinkle in that your health is represented by the crown and the coins you carry. Getting attacked directly by monsters makes you drop a coin, but if you're all out of money, you'll drop the crown instead, and if you're attacked without the crown, it's game over. This requires players to weigh the risks of spending all their money to increase their defenses, or holding onto their coins for more health, forgoing much-needed upgrades for security. This simple gameplay loop doesn't break the mold, but the gradual expansion and progression slowly lure players into a comfortable groove.
New to the franchise is a narrative that provides unique goals for each level. The occasional cutscene, complete with hand-drawn art, provides story beats between levels and when interacting with certain characters. The story doesn't provide any meaningful or particularly exciting moments, but it does well enough to bridge the game's four levels in a cohesive fashion and tie it to the franchise as a whole. Despite the simple premise, I still found myself celebrating the party's successes, due in part to the feeling of earned victories.
Outside of some light tutorials, the game does very little to guide you; it's up to you to discover how to recruit major allies, take the fight to the Greed, and more. This hands-off approach is appreciated, and most of the fun came from figuring out how and when to expand or reinforce your current defenses or even hire additional helpers. Once you've got a handle on that, though, the game is less engaging because while running a kingdom is difficult, convincing a couple of kids to beat up some monsters is apparently much easier.
On the normal difficulty, I only saw the game over the screen once, and that's because I walked away after loading my save, forgetting that you're vulnerable until you pause it. Otherwise, the game is a joy to play and incredibly simple to control, with the four arrow keys or a gamepad's control stick assigned to all of the main character's functions, such as moving, hiring helpers, or upgrading your structures.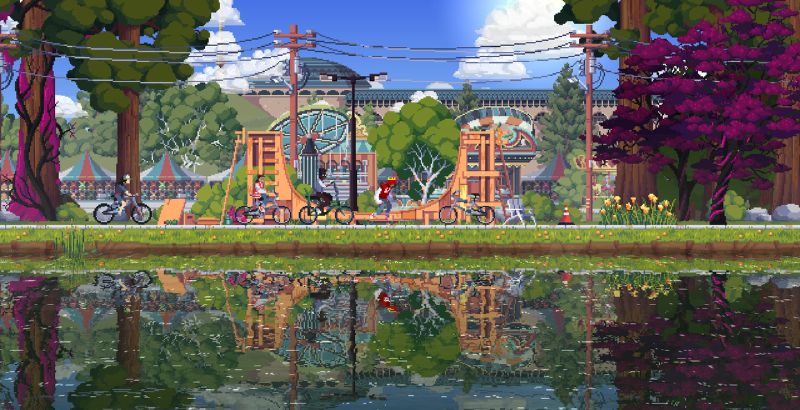 If you remember the 80s or, more specifically, 80s pop culture, there's a lot to take in. Each of the four sprawling levels is laden with references to movies, music, and TV shows of the era (there's even a holographic shark that threatens to devour you, ala Back to the Future Part 2). There's definitely a charm to seeing familiar properties receiving a nod, especially when they can be utilized in your quest. Sometimes that comes in the form of a new mount, replacing your default bicycle, or searching for car parts in a garage full of iconic vehicles. Even the final stage feels like a love letter to the 80s, culminating in a place that best exemplifies the lifestyle for kids at the time.
Accompanying the slew of pixelated 80s references is a synth soundtrack that completes the scene. Pulsing beats with arpeggiating melodies perfectly complement the story of a ragtag group of kids trying to beat back the monsters and save their town.
My biggest complaint about Kingdom Eighties is how short it is. There are four sprawling levels, but once you've figured out the core strategy for completing the first pair of stages, you can rush through the last two by repeating your successful tactics. Additionally, you cannot return to beaten levels, so you'll need to ensure you've explored thoroughly before completing each one, otherwise, you'll need to start the game over if you want to return to the first three stages. Beating the story also simply reloads the game right before you completed it, giving you very little to do other than explore the stage.
Kingdom Eighties is a fun detour in a typically serious series, and it's definitely worth the trip. If you're unfamiliar with all references, you'll still find a short but enjoyable adventure.
Kingdom Eighties is available now on PC, Xbox Series S/X, Nintendo Switch, and PlayStation 5.
Kingdom Eighties
TL;DR
Kingdom Eighties is a fun detour in a typically serious series, and it's definitely worth the trip. If you're unfamiliar with all references, you'll still find a short but enjoyable adventure.