Demon Slayer: Kimetsu no Yaiba Season 3, the Swordsmith Village Arc has been filled to the brim with stunning animation and intriguing backstories, as well as some great choices on how to adapt Koyoharu Gotouge's work. However, some pacing elements of the story have made a stellar season stumble in its back half of episodes. That said, Demon Slayer Season 3 Episode 11 sets everything on the right path. Essentially two episodes in one, "A Conquered Bond: Daybreak and First Light," Episode 11 feels like coming back home to the series pulling together the different oddly paced elements of the series into one resilient episode that showcases Tanjiro Kamado's dedication and strength.
Demon Slayer Season 3 Episode 11 starts with Tanjiro, Nezuko, and Genya fighting what he believes is Hantengu's main body. Tapping into Thunder-breathing, Tanjiro pushes forward and seemingly wins. That is until first light begins to peak over the mountains, and he's left with a choice to save villagers or save his sister.
Nezuko and Tnajiro, how do you choose between who you love and those in need of help. It's a choice that pushes Tanjiro more than we've seen, and with Nezuko in immediate danger, his panic and fear is palpable. Tanjiro is a big brother as much as he is a protector of people. He carries the weight of needing to choose but not being able to. That complexity is a rough one for Tanjiro as a character. However, in a rare show of agency from Nezuko, she decides for him, kicking Tanjiro off of her body and into the air. She will sacrifice herself for him, for his conscience, and to keep people safe.
Nezuko, as a character, is often written off. She doesn't speak, and there has been some contention around the fan service her older self provides. However, as the series has continued and she's been allowed to fight more, she has shown that is as important to Tanjiro's success as a member of the Demon Slayer Corsps and to the narrative as any other character with dialogue. As we see flashbacks of Naxuko's life and her jey moments over the past seasons and arcs, it's hard not to be emotional, as Tanjiro is. But we have to accept it and her decision to save others. There is an emotional and narrative weight that comes from Nezuko's sacrifice is heavy and easily one of the best parts of the season.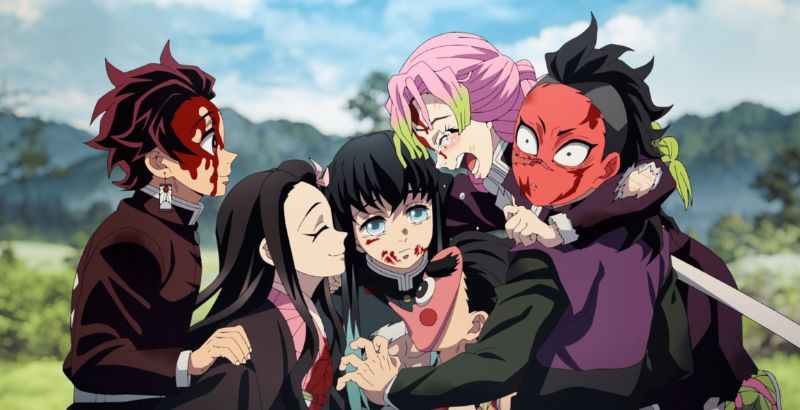 That said, the finale and backstory for Hantengu lack the gravitas of last season's finale with Daki and Gyotaru. The emotion in Demon Slayer Season 3 Episode 11 all comes from Tanjiro's love for Nezuko and her willingness to sacrifice herself. In a much anticipated moment for manga readers, Nezuko gets her due and finally gets the chance to speak, not just be Tanjiro's strength. I won't defend the lack of women in Demon Slayer as a series, but when we allow the story to progress, fans get the chance to see complex femme characters both in and out of the corps hold an importance bigger than you would expect.
But even at the halfway point of the episode, Demon Slayer Season 3 Episode 11 hits even harder. Nezuko's ability to survive the sun isn't just good for her ability to talk with her brother, but it's the catalyst for the next element of the series. Done being a child, demon Michael Jackson, I mean Muzan Kibutsuji reveals pieces of his past while making the decision to capture and devour Nezuko.
In that history, the audience learns about Muzan as the first demon and the path he set on after becoming one. Shown in black and white, ufotable uses red to accent the scenes and highlight the violence. Splashes of red show Muzan's love for being brutal and craft a gorgeous animation section of the episode that pays off greatly.
Finally, Demon Salyer Season 3 Episode 11 also allows Tanjiro to have meaningful moments with the Mist Hashira Muichiro Tokito, Genya, Haganezuka, and the Love Hashira Mitsuri Kanroji. While the levity in these moments is tonally disconnected from the rest of the episode, it fits in line with what this particular anime tends to do. Swing into emotional moments of difficulty after an action-packed battle only to become humorous right after. This isn't anything bad, but it does, at times, do too much to make audiences stop thinking about some of the deeper moral questions in the series.
In another gorgeously animated episode, the only thing that one-ups the visuals is the rousing and dynamic score. Perfectly accenting action moments and pushing the animation even further, I would pay to hear this finale's score in a theater.
As the finale of the Swordsmith Village arc, "A Conquered Bond: Daybreak and First Light," is well-paced, well-executed, and the perfect runtime to take into account the depth that the story needs to reach before the arc is closed. A nearly feature-length episode, I can't help but wish that more episodes were this length instead of cutting the pieces into weird connecting parts. Within this season alone, Muichiro's episode would have benefitted from being released as one episode instead of multiple. That said, as the finale of the third season of Demon Slayer, this was one hell of a way to end an arc. Still, in the last moments of the episode, it's clear that there is so much more to see as the Butterfly Mansion takes center stage and Tamayo makes interesting discoveries about Nexuko and breaking the tethers between demons and their connected bond to Muzan.
Demon Slayer: Kimetsu no Yaiba SwordSmith Village Arc is available on Crunchyroll, with new dub episodes continuing every Sunday in June.
Demon Slayer Swordsmith Village Arc — Episode 11 "A Conquered Bond: Daybreak and First Light"
TL; DR
As the finale of the Swordsmith Village arc, "A Conquered Bond: Daybreak and First Light," is well-paced, well-executed, and the perfect runtime to take into account the depth that the story needs to reach before the arc is closed.