Milestone Media is one of the most important imprints in comic history, and now, it's in DC Universe Online with "Episode 45: Shock to the System." To celebrate the launch of Milestone in the DCUO, we got the chance to speak with Leon Chills. One of the comic writers who helped relaunch the iconic Milestone Media for DC Comics, he weighs in on what its like to bring the fantastic Milestone roster into DC Universe Online. No matter the platform, the foundational principle to all of Chills' work is putting Black characters at the forefront of genres they are normally pushed to the side in. An accomplished screenwriter and comic writer, Leon Chills is bringing the world of Milestone to new fans. You can play "Episode 45: Shock to the System" in DC Universe Online now.
In Shock to the System, players will see that Dakota City is just built different. The Big Bang attack that created new heroes, villains, and victims has drawn sinister, otherworldly attention. Who's the big bad? Well, Ebon's powers cast a long shadow, but it's the Apokoliptian Parademons that have Static shocked enough to contact you. In this episode, you'll explore why are people disappearing and find out why Apokolips has turned its attention to Dakota City. Players will travel to the heart of the Milestone universe in Dakota City to offer help and to investigate why these heroes and villains are disappearing.
---
BUT WHY THO: What is it like to bring the Milestone Universe to video games?
LEON CHIllS: It feels amazing. I grew up playing video games and I'm still a gamer to this day. So to write for a video game was a dream come true moment. The popularity of gaming has only increased over the years, so hopefully this helps create even more fans for the Milestone Universe beyond those who may only read the comic books.
BUT WHY THO: Milestone and its characters mean a lot to so many people, particularly Black comic fans who were seeing themselves for the first time when the comics first launched. Milestone also paved the way for the diversity we see in superheroes today. What is it like bringing characters like Static, Ebon, and Rocket to a new generation in a new medium?
LEON CHILLS: I'm very happy to have been able to check video games off the list of mediums where Milestone exists, and to carry the torch of bringing the characters to a new generation. The Milestone Universe is so deserving of as much exposure as possible. I hope it's brought to live action TV shows and movies next. I hope James Gunn recognizes he has diamond in the rough in Milestone and includes it in the future of his DC plan. I am ready to write an Icon and Rocket movie, just waiting for the call!
BUT WHY THO: What do you hope fans encountering these iconic characters for the first time will take away?
LEON CHILLS: With Static I wanted to convey his wit, his charm, his clever jokes, his use of pop culture references, his overall blerdness. With Rocket I wanted to convey her bravado, her take no BS demeanor while still being sensitive, her being cooler than Static, her interest in issues that are bigger than her, her savviness. For both I wanted to convey their intelligence, their sense of justice and to create cool opportunities for them to use their powers. With Ebon it was about having him continue to be one of the coolest villains around.
BUT WHY THO: Are there differences between coordinating a relaunch of comic characters on the page and developing them for a video game? How do you balance and manage the differences if they occur?
LEON CHILLS: The biggest difference in writing the characters for the page versus writing them for a video game was that for DCUO the voice actors had a limit on the amount of lines they could say. You could say there's a limit in comics too in terms of not wanting to overcrowd a page with too many words, however, when I sit down to write an issue I don't get told that Icon can only have this many lines of dialogue, and that Rocket can only have this many lines of dialogue, etc. It made it a lot more difficult to get some things across. I had to be very efficient.
Another element that was completely new was writing combat chatter and ally lines. Combat chatter is dialogue that's intended to make the fights feel more lively and dynamic. Ally lines are opportunities for the characters to most directly interact with the player when idle. I'm used to writing maybe 1 or 2 one-liners when doing an action movie. You don't want to overdo it. For this DCUO episode I had to write like 500! It was a steep learning curve in that regard, and the most difficult part for me.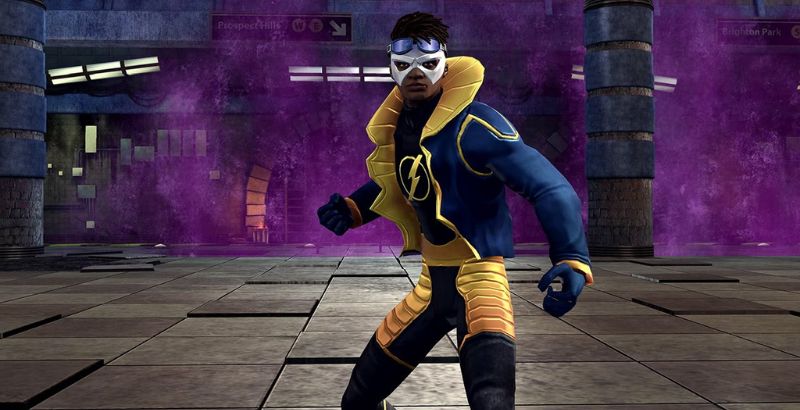 BUT WHY THO: Do you have any advice for creatives today trying to make it into an industry, whether that is comic writing/illustrating or game writing?
LEON CHILLS: For comic writing I got ushered in by Reginald Hudlin. I was his assistant for two years and during that time I would send him scripts that I had written. Luckily he liked them and became a fan of my writing. So when the opportunity finally presented itself for us to work together in comics, he immediately called me and I immediately said yes. It's been great. Then, because I write the comics, DCUO asked me to write for the game.
But I'm a screenwriter as well and for that it was a much more difficult journey. I started screenwriting in 2011, but wasn't able to become a professional screenwriter until 2018. So one piece of advice for those trying to break into industries like this is to make sure you're prepared to work jobs that aren't necessarily the dream but they allow you to stay in pursuit of the dream because your bills are getting paid.
I would also say to become a student of whatever the craft you're interested in. And that doesn't necessarily mean formally, as I never went to film school, but I did read a ton of books and a ton of scripts to learn how to do it. You should become a student of the business of that craft as well. It will help you have a better understanding of where the opportunities exist for you to break in.
And some part of it will always be who you know, so make sure you're networking and meeting people in your dream industry too.
BUT WHY THO: Are there any special Easter Eggs in Shock to the System for dedicated Milestone fans to find? Do you have a favorite?
LEON CHILLS: There are some lines that I think will hit especially hard if you're a long time fan of Milestone that I won't spoil. In general, I'm excited for them to react to Ebon. I think it's his first time appearing in a DCUO episode. He's a legend from the TV show that I think players will enjoy. I'm also excited for them to see all of the other heroes and villains who pop up along the way.
---
In addition to co-creating and selling a supernatural young adult TV drama to Netflix alongside Gerard McMurray, Chills has also written episodes of television for SPINNING OUT (Netflix) and THE WILDS (Amazon Prime) where he was an Executive Story Editor. On the feature side he had his first spec sale with SHADOW FORCE, selling to Lionsgate after a bidding war between various studios. He has other feature projects set up at Universal via Will Packer Productions, Netflix via Hartbeat Productions/Chernin Entertainment with Kevin Hart attached to star and another at Studio 8 as well.
Chills is also a comic book writer, helping relaunch Milestone Media for DC Comics by co-writing ICON and ROCKET with Reginald Hudlin.
Episode 45: Shock to the System is available on PlayStation 4, Nintendo Switch, PlayStation 5, Xbox One, PlayStation 3, Xbox Series X and Series S, Microsoft Windows.