Reading Time:
4
minutes
Arnold Schwarzenegger is back with his first television series. The recently announced Head of Action at Netflix makes his debut on the streamer with FUBAR. Created by Nick Santora, the series follows Arnold (I mean come on, I have to use his first name, right? So you can read it in his voice) as CIA Operative, Luke Brunner, who is on the verge of retirement but discovers a family secret. Forced to go back into the field for one last job, the series tackles universal family dynamics set against a global backdrop of spies, action, and humor.
Over eight episodes, FUBAR follows Luke as he bonds with his daughter Emma (Monica Barbaro), Uncle Barry (Milan Carter), Roo (Fortune Feimster), and Aldon (Travis Van Winkle) as they work to take down Boro (Gabriel Luna). Unexpectedly pulled together in a messy mission that keeps getting messier, Luke and Emma have to find a way to bridge their generational gap, and their paternal gap, and succeed without making their loved ones suspect a thing.
From an action comedy standpoint, FUBAR genuinely excels. Every episode has at least one moment of death-defying operations that never feel out of place, no matter how absurd things get. Half of that is how well each action sequence and the set is constructed and shot, but the other half of that success is how the series' cast throws themselves into their roles. The way the cast embraces the scenes and how the showrunners have ensured to keep comedic personalities alive makes FUBAR something great. Action when leveled with comedy can be truly fantastic, and that proof is here.
Unlike other aging action stars, Arnold is all in on being an old man. Sure, he fought the Predator, was a menace to the entire timeline as the Terminator, and even had some Commando action, but here, Arnold is a dad. Does he get the chance to have stellar action sequences with big set pieces and heroic moments? Yes. Does he get to live a double life as a secret agent? Yes. Is he acting his age the entire time? Also yes. The way he embraces his age in action as much as a comedy makes the series all the more endearing, specifically where his relationship with his daughter is concerned. In fact, the way that Fubar Season 1 embraces Luke's family and his love of them just works. With a divorce as central as stopping an evil villain, what's not to love?
In FUBAR, Arnold shows that you don't need to push away the "aging action star" moniker but rather invest in it. As Luke, Arnold finds himself pulled back into his CIA life, but he does so reluctantly. He's there for his daughter because he's a good spy, but more importantly, he constantly wants to be back at home, winning over his ex-wife and rebuilding the family that he put on hold for his dangerous career.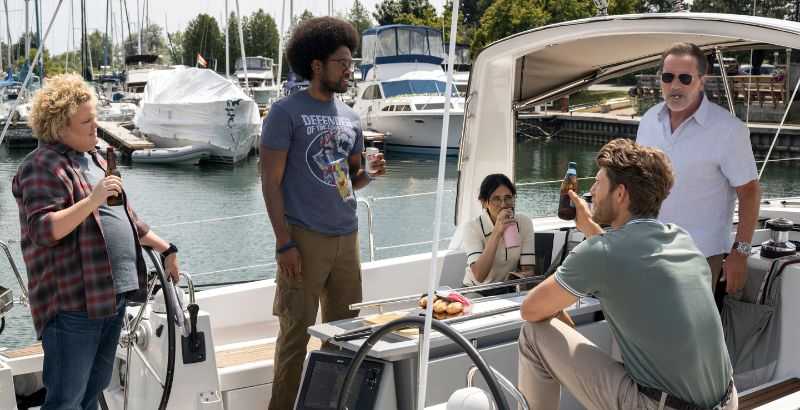 The series is charming with its relationships, but the truth is that it's actually thoroughly entertaining and really, really, yes shockingly funny. In fact, when I chose to review FUBAR, I didn't expect from it. Instead, I got a series that finally takes me back to the 2000s USA Network series in tone, absurdity, and love of the characters. There is something to love about how well each actor embodies their character and puts their unique personality into their humor.
Every idiosyncrasy plays off the next in each relationship we see making the comedy, even when it's cringe, purposeful, and funny all the same. I know describing it as 2000s USA is a specific niche but it's the best way to describe this specific blend of action, comedy, and hijinks, and ultimately why it all works together. The one-liners coupled with an even balance of intelligent and low-handing punchlines actually work perfectly. I mean even the series title FUBAR has its own joke and consistency as each operation goes belly up the whole time. FUBAR is a military acronym meaning "f*cked up beyond all recognition" and man, does that work with the absurd chain od events we see in nearly every episode.
In that vein, FUBAR excels because of everyone, not just Luke and Emma. With running jokes that span the series, Barry, Roo, and Aldon are a fantastic extended cast that makes every scene better for being it. Whether it's a voice in an earpiece or bickering face to face, or getting stuck in awfully hilarious situations, the comedic chemistry between each and every cast member is absolutely stellar.
FUBAR is better than I expected and way better than it had any right to be when you look at it on paper. It's the most shocking watch of the last few years for me and now, I want more. I want to see Luke and his family attempting to survive being CIA agents and their missions. I want to hear the bickering jokes and see the relationships develop and pay off even more given the complications from the season's end. I am just a critic, sitting at her computer, asking Netflix to keep FUBAR coming for a second season. FUBAR is the blend of action and comedy I've needed in a television series for quite some time.
FUBAR is streaming now, exclusively on Netflix.
FUBAR
TL;DR
FUBAR is the blend of action and comedy I've needed in a television series for quite some time.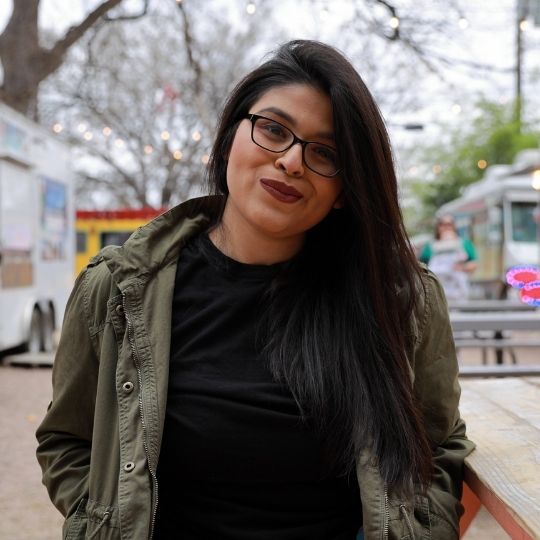 Kate Sánchez is the Founder and Editor-in-Chief of But Why Tho? A Geek Community. There, she coordinates film, television, anime, and manga coverage. Kate is also a freelance journalist writing features on video games, anime, and film. Her focus as a critic is championing animation and international films and television series for inclusion in awards cycles.