Reading Time:
3
minutes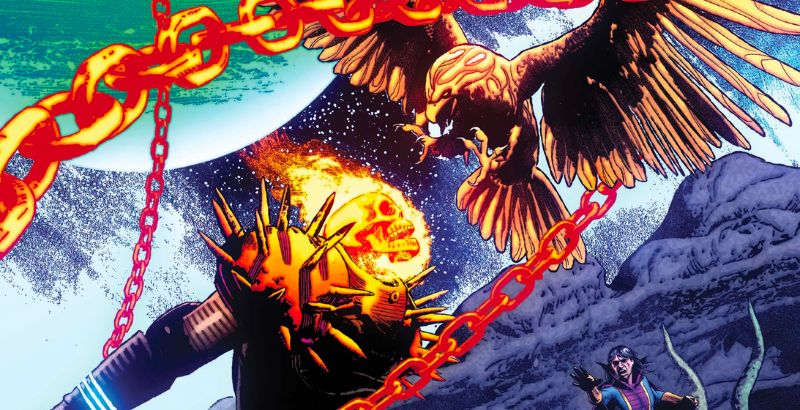 Cosmic Ghost Rider #2 is published by Marvel, written by Stephanie Phillips, art by Juann Cabal, colors by Espen Grundetjern, and letters by Travis Lanham. Frank Castle had retired from being the Cosmic Ghost Rider, but people hunting him down have put those around him in danger and dragged him back. At the same time, there is another Cosmic Ghost Rider on the loose.
The plot is now at full pace, bringing in more elements and traveling at speed. Whilst a hard, cosmic sci-fi series, Cosmic Ghost Rider #2 reminds us that this is largely still a space western. There are bounties and standoffs, infused with technology and Marvel extravagance. The bizarre possibilities of the figures that exist in space are blended with the violence and darkness that can be found in any comic with Frank Castle in. Phillips doesn't lean too heavily on the brutality of what could happen, with the comic being more fun than fatal. There are still a lot of mysteries, with the second Cosmic Ghost Rider still causing carnage and dealing death, and the first one is yet to get back up and running. And a very surprising new entrant to the story will make the next issue very interesting 
The characters in this book continue to be very different from the usual expectations. Frank Castle's dialogue is unusual, although it's easy to forget how much time has passed between the modern version and this one. He can be merciful, not wanting others to kill. He is much more chatty. Then, when actually in the persona of the Ghost Rider, he is even more talkative. There are further examples from the other Cosmic Ghost Rider, which raises more confusion as to his identity. He is a much more murderous and violent character. 
Accompanying Castle on this reluctant adventure is Axelle, the daughter of the man that was just murdered by some of Castle's bounty hunters. Even early on, her thirst for vengeance and her fiery anger makes her enjoyable to read. Then there are conspiracies and bounties being placed, with some fascinating inclusion. Phillips delves deep into the Marvel toybox for a very obscure character and uses them brilliantly.
The art is excellent. The biggest positive was much more variety and adventurous designs, with more reminders of the cosmic side to the book. There is more context to the planet before returning to the more terrestrial planet, whilst that western setting elsewhere has more alien creations. Cabal takes a character from the 70s and adapts them seamlessly, making almost zero changes. This grungy, run-down side of space is a direction not very well traveled within cosmic Marvel, but perhaps it is an area that suits the like of an insane Frank Castle more than the more grandiose, huge-scale planets. The Ghost Rider look may be one of the best costume designs in recent comics, with so much on display and to analyse.
The colors are very bright and lively for much of the issue. The area that looks like the Wild West is sunny and vibrant, with characters that match that energy. Even when the story moves to Axelle and Castle, which has darker shades, there is still energy and small details that radiate light and brighter colors. The lettering is fantastic and always easy to read, even with the custom word balloons for the Ghost Rider speech.
Cosmic Ghost Rider #2 brings a lot more chaos and brilliant storytelling to the table. It delves deeper into the war chest that the Marvel Universe has to offer throughout the far corners of the cosmos. With the story in full flow, the plot is finding its feet and able to be more adventurous, with an art team that is also having fun with some wild and wacky characters. But the book hasn't settled too much, constantly bringing in new figures that can completely change the direction of the series.
Cosmic Ghost Rider #2 is available where comics are sold.
Cosmic Ghost Rider #2
TL;DR
Cosmic Ghost Rider #2 brings a lot more chaos and brilliant storytelling to the table.
William is a screenwriter with a love of comics and movies. Once referred to Wuthering Heights as "the one with the Rabbits."