The spheres of dating, family, and romance are constantly changing and, therefore, romantic comedies are constantly evolving. There are some rom-coms that feel instantly gimmicky, as they latch onto the latest trends. It's not enough to just be cute or funny, a great romantic comedy needs a big heart. Babysplitters has that heart.
Babysplitters stars Emily Chang, Danny Pudi, Maiara Walsh, and Eddie Alfano. If that cast sounds absolutely charming, it's because they are. Sam Friedlander sits at the helm as director, pulling off a comedy so precious that you want to pinch its cheeks and coo. Babysplitters has been enjoyed by festival audiences all over and has been an official selection of the 2019 Raindance Film Festival, Santa Barbara International Film Festival (where it won Best Feature Film in 2019), Slamdance, VIFF 2019, and the 2019 Catalina Film Festival. That's just to name a few.
In Babysplitters, Sarah (Emily Chang) and Jeff (Danny Pudi) are a young married couple that is entering the next chapter of their lives together. That is, Sarah is ready to have a baby and Jeff is dreaming of leaving his stuffy "suit and tie" job for something a little more rugged. Both are feeling the pressure of societal expectations and the worry of time running out to pursue their respective goals. The decision only becomes more complicated as they try to compromise over the logistics of having and raising a baby.
As it turns out, their friends Taylor (Maiara Walsh) and Don (Eddie Alfano) are having a similar discussion. Taylor is on the rise in her career as a dancer and unwilling to take the break and Don is riding a similar wave of success and is ready to conquer fatherhood. The two couples commiserate… and then conceive a plan. What follows is a tangle of trial, error, awkward sexual encounters, a pinch of deceit, and the realization that no one is ever truly ready to become a parent, despite all their careful planning.
Honestly, what makes Babysplitters work so well is that it occupies a corner of the family narrative that we rarely talk about. Family planning and the desire or ability to start a family is more complicated now than it has ever been. Couples are putting off child-rearing in favor of establishing a career and lifestyle, sometimes out of want and sometimes out of necessity. Fertility treatments and alternative approaches are insanely expensive. Modern couples can drown in the options and factors they have to consider.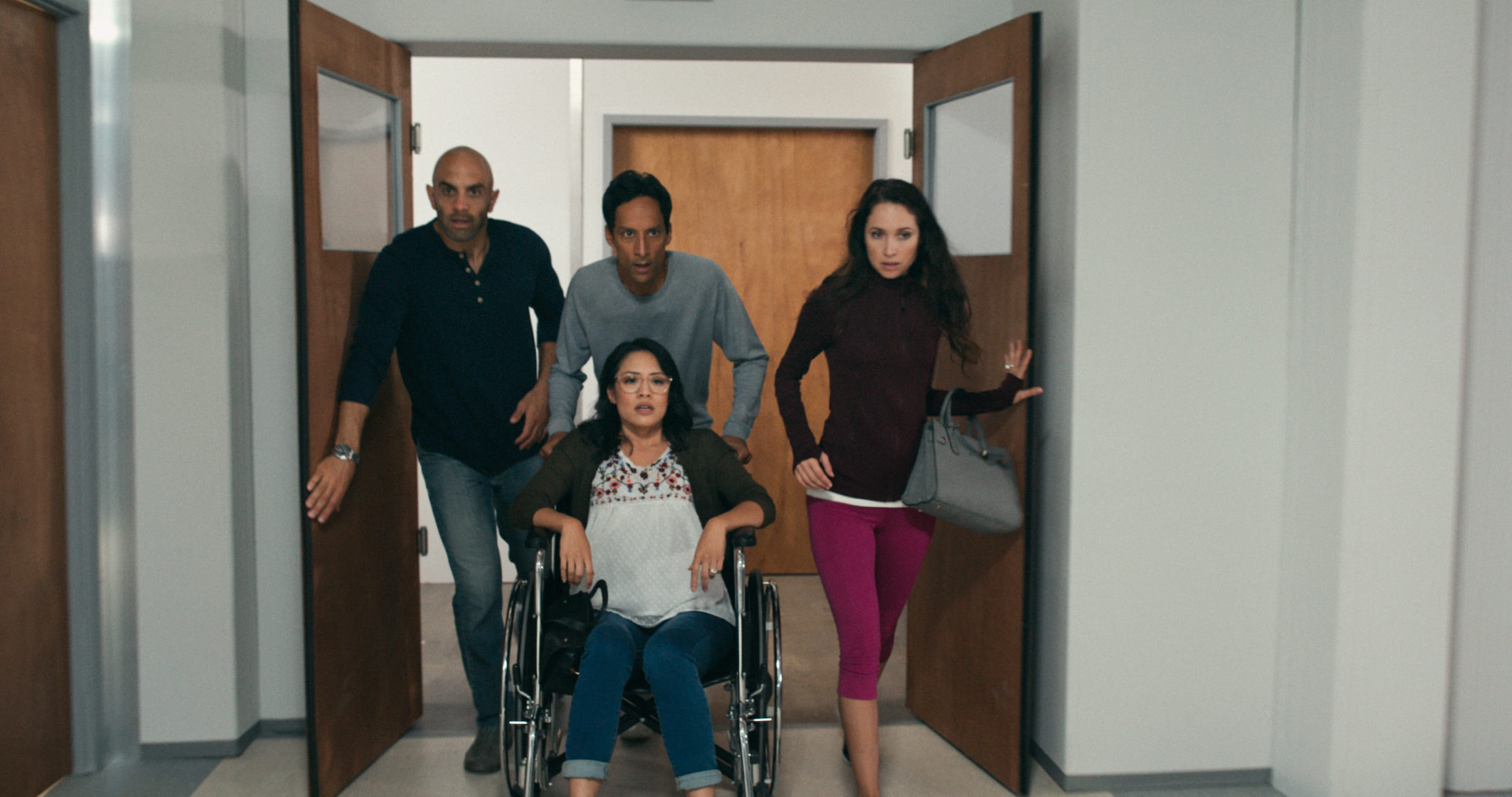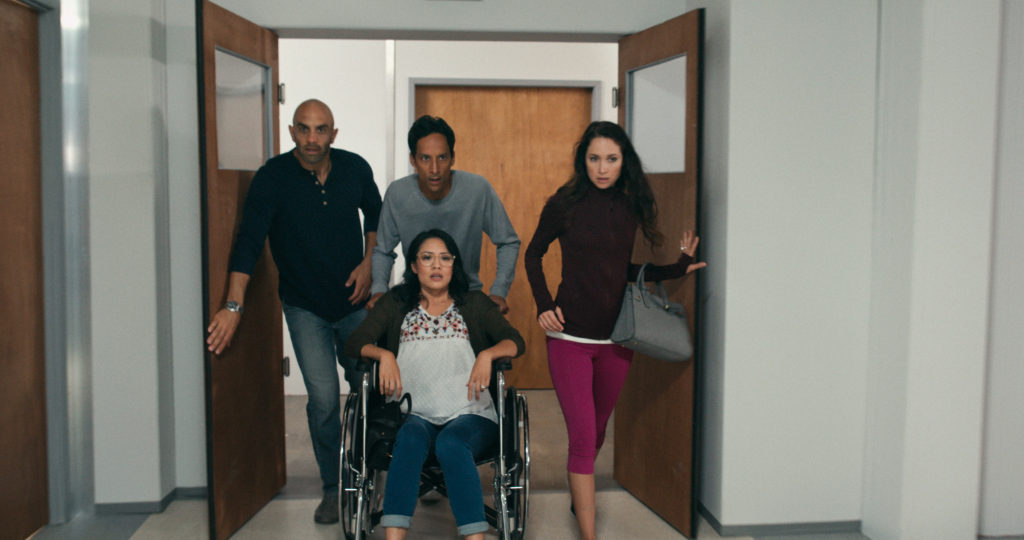 Babysplitters takes a truly contemporary and thoughtful approach to modern marriage and family. It's accepting and open and non-traditional, representing everything that the "traditional family unit" has become. (Hint: There is no single way to be a family.) Furthermore, Babysplitters tackles the difficulties of family planning without becoming snarky or cynical. The story of the unprofessional couple that sneers at the idea of having a baby is tired and overdone. Babysplitters delivers something real and relatable, but still incredibly funny.
Of course, that nuance and likability is 100% the handiwork of the phenomenal cast. This small ensemble is played to their absolute greatest strengths and their chemistry makes them a joy to watch. Danny Pudi and Emily Chang especially bring some emotional heavy lifting alongside their comedic performances. I hope viewers are ready to meet their new favorite film couple.
Hidden within all the humor and fun of Babysplitters is an incredibly mature meditation on life and morality. As mentioned previously, the film very thoughtfully turns over the circumstances of both couples. It's not simply played for shenanigans. It's refreshing to see a film consider its characters as well established and reasonable people, within a genre that is almost exclusively defined by inexperience and optimism. Babysplitters understands and speaks to the practical matters that many of us weigh alongside our personal wishes. Further, it defines love and support as a willingness to sort through those differences together. The result is a sweetness that goes beyond the cute couples and the comedy. Beautifully done.
If there were any negatives to Babysplitters, it would be that the film does have a tendency to overindulge in silliness. This isn't a fatal flaw for a romantic comedy, rather a distraction that obstructs the film's sweetness and sincerity. Some situations seemingly come out of nowhere, always for comedic or dramatic effect, and it's equally distracting. These characters are so authentic and well written that it's disappointing to see them put through the genre motions, in a way that feels out of place. Still, all of this is forgivable.
Babysplitters is energetic and incredibly funny, but it's the warmth and sincerity that lingers. Don't sleep on this one.
Babysplitters is available in select theaters and On Demand now.
Babysplitters
TL;DR
Babysplitters is energetic and incredibly funny, but it's the warmth and sincerity that lingers. Don't sleep on this one.