Like a right of passage, and matter of survival, learning to hear the words unspoken, decipher every gesture and look, navigating the tests and expectations placed on us by society from a young age is something that every woman has gone through. In writer-director Bora Kim's emotionally stirring debut feature House of Hummingbird, 14-year-old Kim Eun Hee (Park Ji Hu) is discovering those skills to be just what she needs to make it through a year of turmoil, abuse, and self-discovery.
Set in Seoul, South Korea, just after the 1994 Seoul Summer Olympics, the changes in Eun Hee's life run parallel to the those her country is making. Just as South Korea begins its path to becoming a world leader in technology and infrastructure through rapid redevelopment, Eun Hee enters a pivotal era of emotional and mental growth as she looks towards the days when she can be free to be who she wants to be, away from the shadows of a violent past.
With her days devoted to receiving an education at her regular all-girls high school, followed by cram school where she's instructed on Mandarin, and working at her parents' tteok (rice cake) factory and store, Eun Hee feels as though she's being suffocated by all the expectations and demands placed on her. She lives for when she's able to step away from the stifling judgmental assumptions of the adults around her, and can finally breathe in the precious bits of free time spent with her best friend, Ji Suk.
Throughout the film, Kim uses many themes that on their own seem to have no connection to each other, or to this 14-year-old girl. You wonder what does the collapse of the Seongsu Bridge, real estate disputes, the quest for western acceptance, marriage, and a shattered lamp have to do with a teenager learning how to stand on her own two feet. Through the juxtaposition of light-hearted imagery combined with emotionally heavy dialogue, Kim shows how everything is intertwined and reveals the cracks forming in what at first glance appears to be a solid foundation.
One way cracks form is through extreme pressure forced on one spot by weight the foundation is unable to support either due to poor design or construction. Other ways cracks form are through constant stressors being placed on a foundation that doesn't have proper support structures surrounding it. For Eun Hee, what starts out as barely perceptible fissures, are beginning to grow under the various pressures and unfair burdens placed on her.
At school, she's expected to master a language not her own, and when she stumbles over words and struggles to process and translate them, she's scorned and ridiculed by her peers and teacher – the person who should be encouraging her – because one's ability to learn and speak English has now become a sign of intelligence and a status symbol. At home, Eun Hee is subjected to physical abuse at the hands of her older brother. She's neglected by her parents when she speaks up, her feelings dismissed. In the one place where she should be safe, loved and appreciated, Eun Hee is anything but. She watches how easily violence is perpetrated and accepted, lies are told, blame shifted and truth denied. While everyone around her puts on a façade pretending nothing is wrong, she's the only one who pays attention to the signs. She sees the scars and knows what they represent. She observes and learns that while the wound may be healed on the surface, internally, it still throbs with a dull ache, a phantom pain at the memory of what caused it.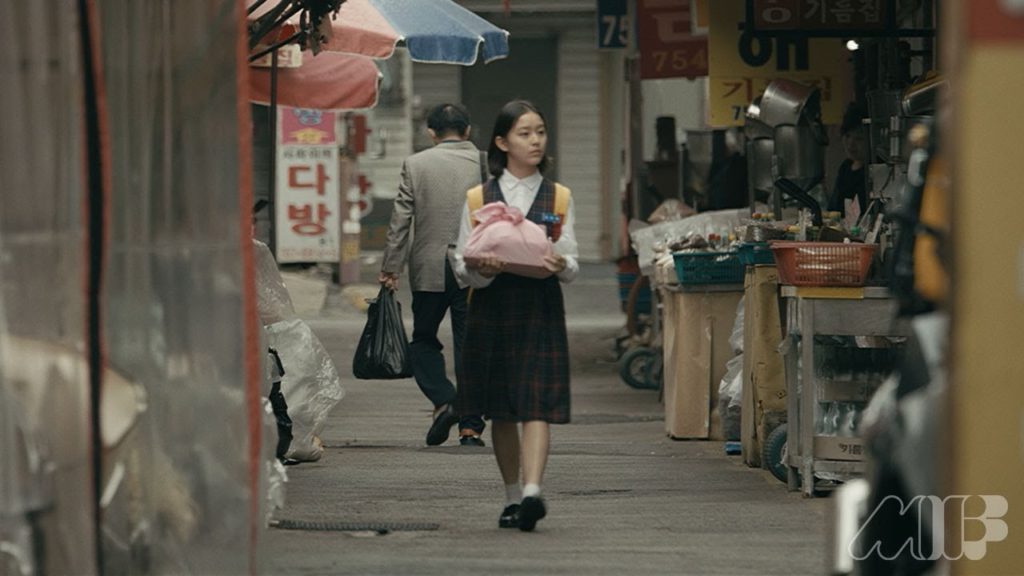 House of Hummingbird would be called a coming of age story, and it is, but it's more than that. Kim uses the film as a mirror held up towards society, showing all the imperfections people don't want to see. While the film may be set in a time gone by, Kim uses her observations to point out how the world, not just South Korea, hasn't really changed since then. South Korea's quest to be a player in the global economy, and for acceptance in the west has created a situation where anyone who wants to succeed, must now compete to conform to standards created by western – and to be more specific – white men because, patriarchy holds the world in a vise grip. And what country hasn't had to adapt in this way?
As civilizations strived to become more advanced, specific concerns of their citizens, such as the rights of women and their place within the home, work, and school were given very little credence and placed on the back burner. Though countries may be growing economically, their female populations are still being held to certain traditional standards that don't match with the message of progress. Kim reveals how misogyny continues to make it acceptable for the wants and needs of men matter more, creating a culture of oppression, forcing young girls and women to stifle their thoughts, hopes, and dreams in order to make the men in their lives comfortable.
Despite the deep and subtle explorations of economics and societal norms, House of Hummingbird maintains a sense of wistfulness. Cinematography by Kang Guk Hyun creates a feeling of nostalgia with hazy lighting and soft tones, bringing to mind times spent laughing and scheming with friends in days gone by. Within the dappled sunlight shining through tree branches, first loves and crushes are discovered and lost. In the dark, and quiet moments. Kang translates the loneliness and anxiety Eun Hee experiences when she's alone at home, through a lack of artificial lighting in certain spaces, such as the bedroom that at times feels oppressive.
Kim beautifully balances the more serious aspects of the story with moments of levity in the shared looks filled with mischief between Eun Hee and Ji Suck, or through the sentimentality evoked as they mournfully sing about love being beautiful but fragile and painful. You wonder what could these two girls know about being broken-hearted, but as Kim so lovingly illustrates, everyone, no matter their age, suffers. Pain, be it physical or emotional is something we're all intimately familiar with, and to assume otherwise is a mistake. We've all been disappointed in life. Lost loved ones and people who mattered. The length of time they were there doesn't matter, because their presence created indelible imprints in our memories, changing us in ways we're at times not aware of.
The film is paced in such a way, that by the ending, you feel as though you've been taken on a complicated journey not only with Eun Hee but also yourself. As Eun Hee, Park Ji Hu is someone recognizable and comforting. In her, I saw a lot of myself as a teenager and adult. I recognized the feeling of being surrounded by others while being lonely. The confusion, frustration and anger felt at circumstances beyond my control were mirrored in the way Park carried her bodied, hung her head, and avoided eye contact. But, I also saw the strength and determination she possessed in the way she straightened her back and looked people in the eye when confronting them. There's an interesting mix of vulnerability and maturity to Park's performance – that while probably stemming from her own experiences – that's impressive for such a young actress.
House of Hummingbird shows that even though everything in the world seems to be working against us, that people, the community, and even our own bodies may betray us, we have to keep looking forward. There will be times that it seems everything is falling apart, and it's too hard to move on because the grief and pressures of the world are weighing us down, there will come a time when we can get up and rebuild. We won't be the same because the cracks have changed into scars, but the healing process has made us stronger. I hope in the end we're like Eun Hee, stronger, smarter, more self-assured, and determined not to let others dictate who we can and should be.
House of Hummingbird is distributed by WellGo USA Entertainment, and is made available for digital viewing by KinoMarquee.com.
---
About Bora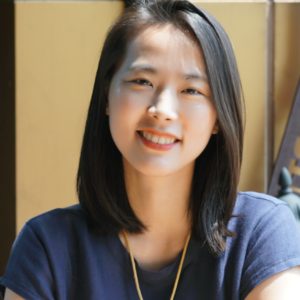 KIM Bora, born in 1981, graduated from Dongguk University in film and later left Korea for the US in 2007 to do a Master of Fine Arts in Columbia University. After her graduation short film The Recorder Exam (2011) won her Best Woman Student Filmmaker for the East Region from the Directors Guild of America, she started working on the script of her debut feature, which would be a follow-up to that film and would be strongly inspired by her own childhood. She then moved back to Korea and spent several years giving lectures in the colleges where she studied as a way to give back.
She became the Korean indie sensation of 2018 when her feature debut and result of seven years if work, House of Hummingbird, received the NETPAC Award as well as the KNN Audience Award at the Busan International Film Festival. The film has since been on an extraordinary win-streak as it took home awards from nearly all festivals where it was selected, most notable among them the Grand Prix of the Generation 14plus International Jury for the Best Film at the Berlin International Film Festival. Other accolades include the Grand Prix from the Istanbul Film Festival, Best International Narrative Feature from the Tribeca Film Festival, Best Debut Feature at the Jerusalem Film Festival. Prior to that, it was also selected for the IFP Narrative Lab and received postproduction support from Sundance Film Festival. (Bio found on KoreaFilm.or.kr)
House of Hummingbird
TL;DR
House of Hummingbird shows that even though everything in the world seems to be working against us, that people, the community, and even our own bodies may betray us, we have to keep looking forward. There will be times that it seems everything is falling apart, and it's too hard to move on because the grief and pressures of the world are weighing us down, there will come a time when we can get up and rebuild.