There is no better time than the present to catch up on some of the best Batman graphic novels ever written. With everyone in self-quarantine, now is the perfect time to dive into ComiXology Unlimited and start binge-reading like a madman.
ComiXology Unlimited allows you to read freely from thousands of titles, including comic books, graphic novels, and manga. You can read offline on any device. ComiXology Unlimited is available for $5.99 a month and you can cancel anytime. But right now, the comiXology Unlimited free trial has been extended from 30 to 60 days for a limited time. Explore over 20,000 comics, graphic novels & manga. Also, enjoy exclusive member sales and discounts. Additionally, ComiXology Unlimited members enjoy 10-15% off all books from Marvel Comics, Image Comics, IDW Publishing, Dynamite, and more (yes, even on new releases!).
That being said, ComiXology Unlimited is currently only available in the United States at this time. To sign up for ComiXology Unlimited visit comixology.com/unlimited in your browser. You can find and download ComiXology Unlimited titles directly from the app to your iPad or Kindle once you become a member.
In case you don't know where to start in the large library offered, here are the top seven Batman graphic novels available on the service. Also, many of the books below are recommended by comic book writer and Batman lover Chris Sims. All series descriptions are taken directly from comixology.com.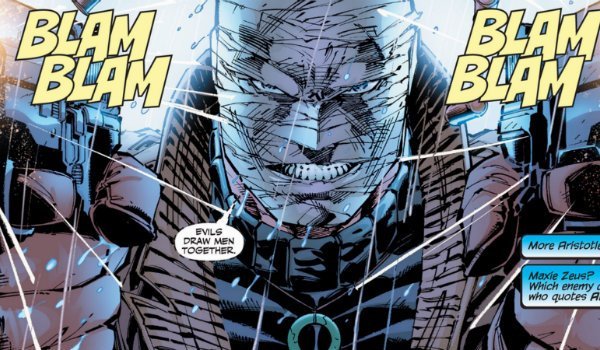 A New York Times best-seller, the complete critically acclaimed and best-selling tale is now available in one sensational volume. Batman: Hush is a thrilling mystery of action, intrigue, and deception penned by Jeph Loeb and illustrated by comics superstar Jim Lee. Batman sets out to discover the identity of a mysterious mastermind using the Joker, Riddler, Ra's al Ghul and the Dark Knight's other enemies–and allies–as pawns in a plan to wreak havoc. This volume collects Batman #609-619 as well as the 6-page segment from Wizard #0 and a 2-page origin story.
A new edition of one of the most important and critically acclaimed Batman graphic novels ever, written by Frank Miller, author of The Dark Knight Returns. In 1986, Frank Miller and David Mazzucchelli produced this groundbreaking reinterpretation of the origin of Batman–who he is and how he came to be. Written shortly after The Dark Knight Returns, Miller's dystopian fable of Batman's final days, Year One set the stage for a new vision of a legendary character.
This edition includes the complete graphic novel, a new introduction by writer Frank Miller and a new illustrated afterword by artist David Mazzucchelli. Completing this collection are over 40 pages of never-before-seen developmental material such as character and layout sketches, sample script pages, sketches and more that provide a glimpse into the making of this contemporary classic.
Written by Jeph Loeb with art by Tim Sale and set during Batman's early days, this acclaimed series focuses on a killer murdering only on holidays. Batman must race against the calendar to discover who Holiday is before they claim more victims. Issues #1 – 13 are available on ComiXology Unlimited.

Tying into his other blockbuster stories of 2008 Final Crisis and Batman, The Resurrection of Ra's al Ghul, the legendary Grant Morrison confronts readers with the unthinkable … the death of The Dark Knight. The troubled life of Bruce Wayne seems to spin out of control when his relationship with the mysterious Jezebel Jet deepens. Soon Bruce Wayne drops out completely, having seemingly become the victim of mental illness, and abandons his Batman identity for a life on the streets of Gotham City. Capitalizing on the fall of their greatest foe, the Club of Villains begin a crime spree through the streets of Gotham that threatens to bring the city to its knees. Collects Batman #676-683.

Following his ground-breaking, critically acclaimed run on Detective Comics, writer Scott Snyder alongside artist Greg Capullo begins a new era of The Dark Knight with the relaunch of Batman, as a part of DC Comics—The New 52.
After a series of brutal murders rocks Gotham City, Batman begins to realize that perhaps these crimes go far deeper than appearances suggest. As the Caped Crusader begins to unravel this deadly mystery, he discovers a conspiracy going back to his youth and beyond to the origins of the city he's sworn to protect. Could the Court of Owls, once thought to be nothing more than an urban legend, be behind the crime and corruption? Or is Bruce Wayne losing his grip on sanity and falling prey to the pressures of his war on crime? Collects issues #1-7 of Batman.

In The Black Mirror, a series of brutal murders pushes Batman's detective skills to the limit and forces him to confront one of Gotham City's oldest evils. Helpless and trapped in the deadly Mirror House, Batman must fight for his life against one of Gotham City's oldest and most powerful evils! Then, in a second story called "Hungry City," the corpse of a killer whale shows up on the floor of one of Gotham City's foremost banks. The event begins a strange and deadly mystery that will bring Batman face-to-face with the new, terrifying faces of organized crime in Gotham. Collects Detective Comics vol. 1 #871-881.
The villainous Bane breaks the Bat in one of the most popular and well-known Batman tales. The inmates of Arkham Asylum have broken free and Batman must push himself to the limits to re-apprehend the Joker, Poison Ivy, the Riddler, Killer Croc and more. Pushed to the limits, he comes face-to-face against the monstrosity known as Bane, who delivers a crippling blow destined to change the Caped Crusader forever! Collects Batman vol. 1 #491-500, Detective Comics vol. 1 #659-666, Batman: Shadow of the Bat #16-18, stories from Showcase '93 #7-8, and Vengeance of Bane.
---
What is your favorite Batman graphic novel? What is your favorite Batman graphic novel available on ComiXology or ComiXology Unlimited? Let us know on Twitter.