Netflix Original Kingdom is the horror series that redefined what to expect from a zombie story. A plague tale, a political thriller, and an action-packed zombie survival story, Kingdom has become a must-watch for horror fans. I've been in love with the series since its first season and with the second coming out last month, I still didn't know that the series is an adaptation a manhwa, Kingdom of the Gods.
Published in English by Viz Media, Kingdom of the Gods is an original concept by Eun-hee Kim, with a story by In-Wan Youn, and art by Kyung-Il Yang. The manhwa takes place in a time where years of war and famine and have plunged Joseon into chaos and focuses on the young Crown Prince Yi Moon. Having lost all of his bodyguards to an assassination attempt, he has no choice but to turn to the mountain bandit Jae-ha for help. But as the unlikely pair race to find safety in a world gone mad, it becomes horrifyingly clear that humans aren't the only thing they must fear.
Going into Kingdom of the Gods as a fan of the series it inspired, I had certain narrative expectations, but like all adaptations, the television series diverges greatly from the source material. While the prince of the series is an adult, Yi Moon is a child, which made my entrance into the world of this manhwa slightly jarring. Luckily, this was an easy hurdle to overcome because of Yang's immersive, horrifying, and beautiful art style.
Kingdom of the Gods is a wonderful story that features three lead characters with personalities that are immediately recognizable yet don't fit neatly into tropes. There is Yi Moon, the young prince who offers Jae-Ha 60 ryo to protect him, who is young, scared, and yet bearing the weight of royalty that makes him see his companions and the dead as equal to him.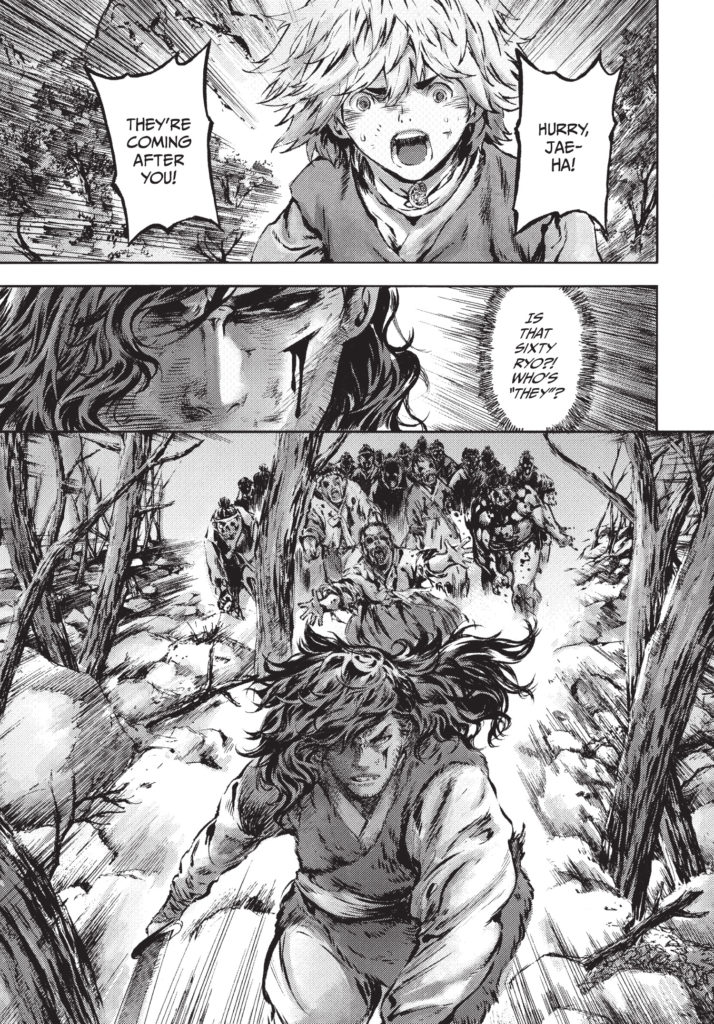 Jae-Ha has a tragic past, a visual impairment, and a moral compass that pushes him past his immediate capabilities. Then, there is Su-Jeong, a doctor who serves as a window into the Living Death. But instead of just working as a tool for exposition, she's a full character with medical expertise, trauma, and strength. There is a beauty in the pain that all three have seen that shapes their interactions with each other.
While Youn's story is phenomenal, Yang's art is jawdropping. It's brutal, terrifying, and extremely beautiful. I don't think I've seen a manhwa or manga that balances a line between beauty and horror so gracefully as Yang's art does. The violence is graphic and yet gorgeous, while the faces of the characters and even the Dead portray an emotional experience.
Additionally, the 278-page manhwa also includes a bonus story, "Burning Hell" where a secluded island has become a private battlefield as the notorious Japanese criminal and cannibal Juu and the infamous Korean serial murderer Han face off against each other and those who come to the island. While Kingdom of the Gods' story is enough to pick up this volume, "Burning Hell" only adds to the book despite being a completely separate story. The art in here is horrific, explicit, and some of the best I've seen in horror comic books or manga hands down. The entirety of "Burning Hell" is an action-packed work of art.
Overall, Kingdom of the Gods and the additional "Burning Hell" is horror perfection. This is a must-buy for genre fans because of its beauty and its violence. Even those unfamiliar with the manga format would be remiss to not add this to their library.
Kingdom of the Gods is available in book stores and online on May 19th.
All art compliments of VIZ Media, BURNING HELL KAMI NO KUNI © 2015 In-wan YOUN, Eun-hee KIM, Kyung-il YANG/SHOGAKUKAN
Kingdom of the Gods
TL;DR
Kingdom of the Gods and the additional "Burning Hell" is horror perfection. This is a must-buy for genre fans because of its beauty and its violence.