Entering a new family is rough, but for Grace (Samara Weaving) it's less about making your mother-in-law like you and all about keeping your in-laws from shooting you with a crossbow. In a mixture of gore, containment horror, and humor, Ready or Not ends the summer with a thrilling bang and if you walked out of the film wanting more, well, I have got a list for you.
To start, Ready or Not brought Samara Weaving to a wide theater-going audience. A horror darling already with her three-episodes on Ash VS. The Evil Dead, we're going to start the list with more from the scream queen and work our way towards films that fit the theme and/or feel of the film directed by Matt Bettinelli-Olpin and Tyler Gillett.
Mayhem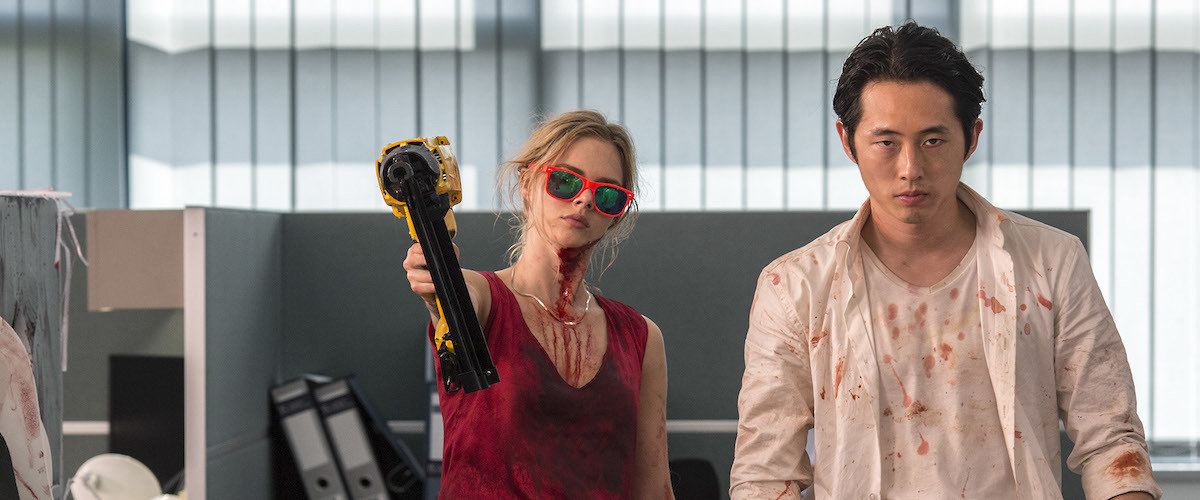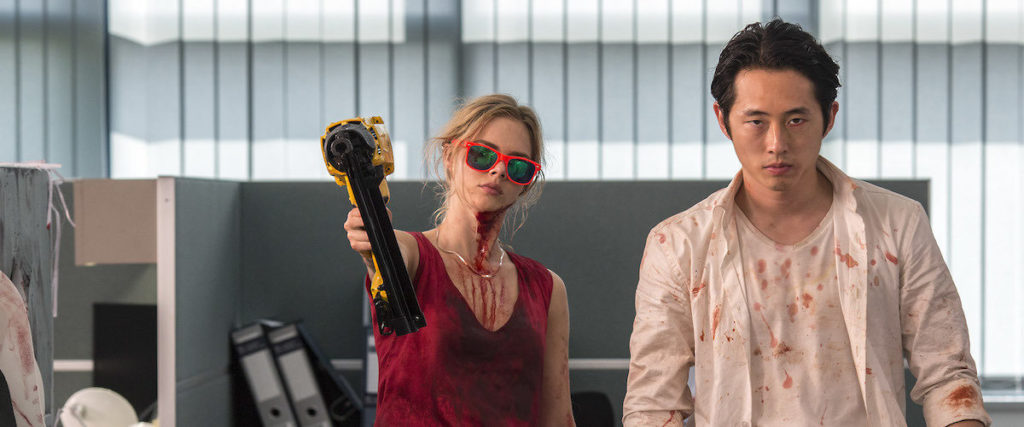 Mayhem marked Weaving's entrance in the bonkers world of blood and guts. Covered in blood and wielding a nailgun, Melanie and Derek (Steven Yeun) ascend a workplace besieged by a rage virus that removes all of the building's inhibitions. With Derek set on getting revenge for a corrupt firing and Melanie looking to recoup her losses from insurance in blood, the pair ascend the office building in a loud and gory fashion. Weaving is brutal, hilarious, and every bit as entertaining as her character acting as Grace. Mayhem matches the tone, violence, kill creativity, and gore of Ready or Not so hit play on the film currently streaming on Shudder.
The Babysitter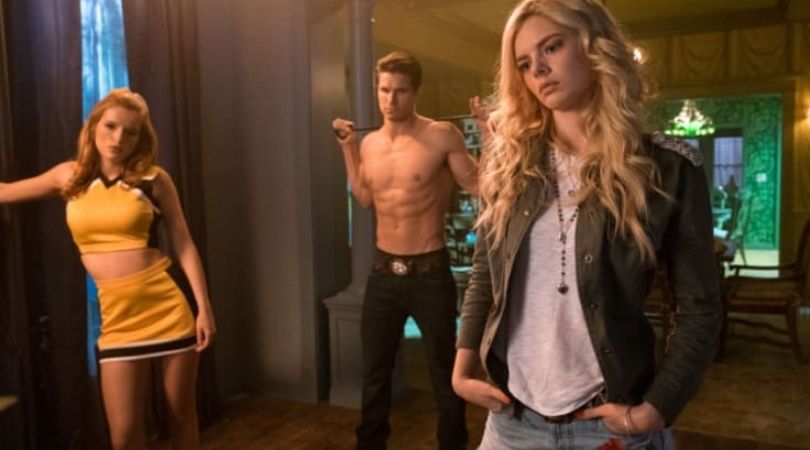 Weaving came back into horror fans with buckets of blood in the horror-comedy The Babysitter. A Netflix original movie, the film is centered around twelve-year-old Cole Johnson who is smitten with his babysitter Bee (Weaving) after she stands up for him against the neighborhood bully, Jeremy. The following day, when his parents go out for an overnight stay at a hotel, Bee and Cole spend quality time together until he has to go to bed and all Hell breaks loose.
When it comes to humor, The Babysitter nails it. When it comes with bright red blood in buckets, it even tops Ready or Not. And to top it all off, you can stream it now on Netflix to get your Weaving fix.
You're Next
While Ready or Not isn't a home invasion film, it does hit the containment aspect of the subgenre. Running from killers and fighting back has never been better than in Adam Wingard's You're Next. In it, we follow the Davisons, an upper-class family who are extremely wealthy — but also estranged. In an attempt to come together, Aubrey (Barbara Crampton) and Paul (Rob Moran) Davison decide to celebrate their wedding anniversary by inviting their four children and their children's significant others to their weekend estate. If this family get together wasn't bad enough, crossbow-wielding assailants set up all manner of ways to kill those who are inside, that is, until Erin (Sharni Vinson), the newest addition to the family, fights back.
From a terrible family to gruesome kills and creative weapons, You're Next is home invasion perfection and if you fell in love with the suspense and violence in Ready or Not then this film is right up your alley, currently available on VoD.
Clue
If you're like me, you've seen Clue more times than you can count. This cult classic based on the board-game embodies the spirit of the murderous game; big old houses and running for your life. While you won't find the gore from Ready or Not, you will find the humor and the excitement. The premise of the film is simple enough, it's the quintessential whodunit where a group of people with a small thread of connection attend a dinner party to have their host murdered. The rest of the film unravels different possibilities with memorable one-liners and moments that have lasted in Master Pancake viewings and beyond. While you can't watch it on any streaming service, but you can find it cheap on VoD.
Would You Rather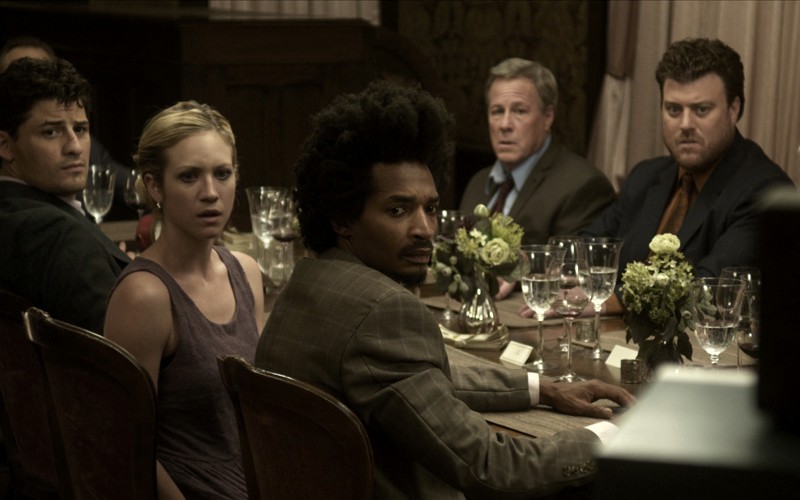 Trapped in an old house and playing a game for your life is the setting for Ready or Not, it's also the entire premise for Would You Rather. When Iris (Brittany Snow) and seven other desperate people become trapped in Shepard's (Jeffrey Combs) mansion with the hope of winning enough money to change their lives. But the money isn't easily won as Shepard forces them to play a sadistic game that starts as simple requests and morphs to deadly stakes.
If there is a game that hits almost every note of Ready or Not, it's Would You Rather. And with an emotive cast in dire situations, it offers up a look at what happens when strangers need to hurt or help each other with money on the line. Find out who survives when you hit play on Netflix.
Mom and Dad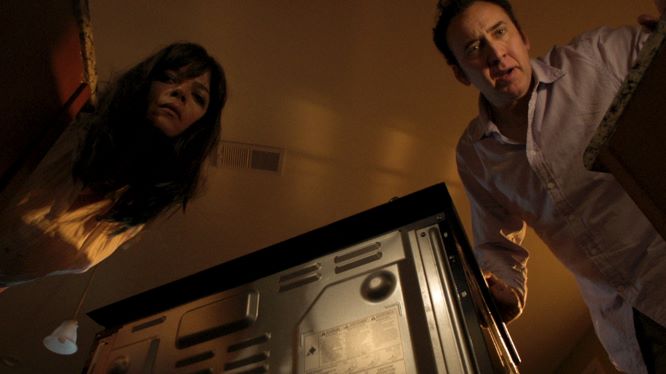 Parents suck sometimes, but they really suck when they're trying to kill you. In Ready or Not, Grace has to run from her in-laws and in Mom and Dad, Carly and Josh have to run from their own parents who have turned into infanticidal rage monsters after an unknown hysteria strikes their town. Made on a super low budget and starring Selma Blair and Nic Cage as the titular Mom and Dad of the film, the high octane film is absurd, hilariously violent, and weird as all hell.
While hiding in a house with homicidal parents may be the only connecting thread between Mom and Dad and Ready or Not, it's well worth the watch and is currently streaming on Hulu.
Knock Knock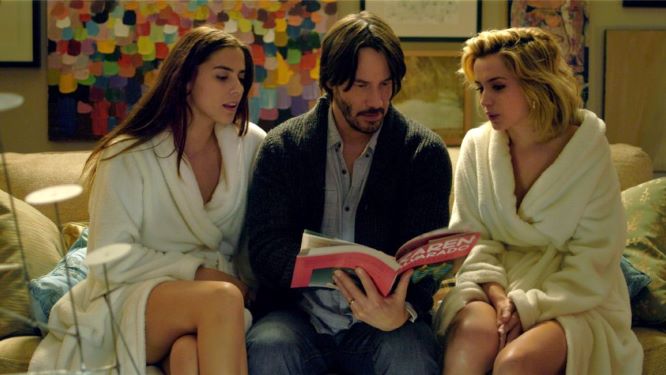 The second entry on the list in the home invasion subgenre, Eli Roth's Knock Knock stars, Keanu Reeves, as a man stuck at home while his family is out of town. Instead of spending a quiet night alone, the devoted father helps two stranded young women who knock on his door. But quickly, his kind gesture turns into a dangerous seduction and a deadly game of cat and mouse as the two young women wreak havoc on his life and house.
While this may be the farthest from Ready or Not, the brightly covered game the women play with Reeves' character, Evan, is one that will keep you from answering your door anytime soon. You can catch this horror-adjacent film with your HBO Subscription or on VoD.
---
While games, survival, and final girls ala Samara Weaving's character are the theme for this list there are certainly other films that would make a great follow up to your screening of Ready or Not. Do you have any favorites to add? Let us know in the comments.
Ready or Not starring Samara Weaving is now playing in theaters nationwide.