Photo Credit – The Austin Chronicle
Broad City, started as a web series in 2009 and was picked up by Comedy Central in 2014. It stars its creators Abbi Jacobson & Ilana Glazer and is coming to an end this month after five seasons. The final three episodes of the series aired at SXSW 2019 and I had the opportunity to join hundreds of other fans, and the creators, to say goodbye to the series and its memorable cast of characters.
Over the past five seasons, audiences have watched Abbi and Ilana's (the series' characters respectively played by their creators) friendship go through some wacky adventures, while they attempt to navigate their 20-something lives, adulthood, and trying to make it in the big city of New York.
The series is based on the creators' real-life friendship and the adventures that have led them on unexpected paths in and outside of the show. The women have very little money, but they are survivors who aren't afraid to throw themselves into nearly any situation, no matter how bizarre the results may be. The series also touches on numerous topics such as dating, LGBTQ+ representation, privilege, feminism, and much more from a humorous lens.
I had followed Abbi and Ilana's work ever since I first came across them one night in my college dorm. I was scrolling aimlessly through YouTube until I came across a video titled "Making Change." A two-minute short where the characters are walking along and come across a homeless man asking for change. Abbi apologizes and says she doesn't have change while Ilana asks if the man has change for a ten.
What I've always liked about this series is that the portrayal of the characters' of friendships and growth feels authentic and relatable. Some, if not most, of us can think of that friend who's our go-to in a crisis. The person you reach out to for venting your petty frustrations, or maybe you just want to FaceTime them when you don't have much to say, but want their company. It's through the characters' outrageous and wacky adventures that there's still something most of us can learn from.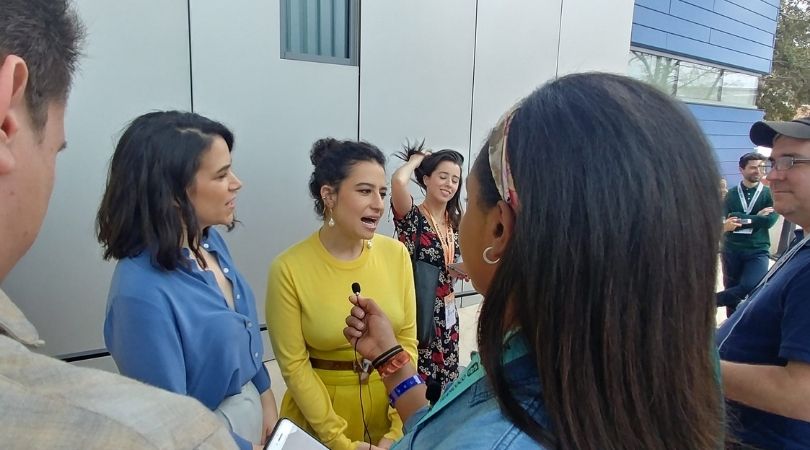 You can imagine how excited I was to have the opportunity to interview the creators, Abbi Jacobson & Ilana Glazer, of a show that have personally impacted the way I view the world and I feel has helped me grow as a person along with the characters. That's why during the red carpet interview, I was interested to know how the creators felt about how audiences have been able to grow and become more aware through the show and along with the characters over the series.
Here's what they had to say:
You can watch the entire series and the final episodes of Broad City on Comedy Central.