Hulu's Korean drama offerings have been growing steadily, thanks in large part to Disney's increased rights deals with Korean studios. The most exciting element of it is that where Netflix has a steady stream of episodic romantic comedies, Hulu is offering a fantastic spread of genre stories. From the sci-fi horror hybrid of Takashi Miike's Connect to the noir storytelling of Shadow Detective or the thrilling superpowered story of Moving, there is a lot to love from the streamer. And now, The Worst of Evil offers up a thrilling crime drama with hard-hitting action to the mix.
Led by Ji Chang-wook and Wi Ha-joon and set in the 1990s, The Worst of Evil is directed by Han Dong-wook and centers on a rural police officer Park Jun mu (Ji Chang-wook) turned undercover detective as he embeds himself in Gangnam Union, a gangster organization and growing drug cartel spreading a new powerful drug through the city nightclubs. This dangerous mission centers on befriending and taking down Jung Gi-cheol and stop the sale of Gangnam Crystal, the rampant drug.
The husband to a successful police officer who is climbing the ranks in her department, Jun-mo is stuck in his job, held back by the refusal of his bosses and town to look past his drug-addicted father's past. When the opportunity to rise in the ranks presents itself, Jun-mo goes undercover to take down a notorious drug ring before their tendrils extend throughout Korea and not just Gangnam.
At the same time, we see Jung Gi-cheol turn from a former DJ to a gangster or, well, what the authorities know hims as, a heinous underground drug king. Low level at first until he takes over Gangnam for himself with a trail of bodies behind him. Instead of just showing the story from the outside looking in, The Worst of Evil shows the audience the inner workings of the gang and Gi-cheol's push for power and the past. The narrative isn't as concerned with Jun-mo solving the crime and taking down Gi-cheol, so much as it wants deeply for the audience to understand both men.
The Worst of Evil excels in its action and pacing. Each fight sequence, whether a large many-versus-many sequence in a cramped hallway, a one-versus-many brawl, or any other combination, all serve a narrative purpose. Creative in scale and scope, the fight choreography and how it is scored allows the combatants to make the most out of their surroundings. The ways that the series uses its sets as interactive stages for its action is thoughtful and detailed. Never using too many jump cuts and always allowing the actors' physicality and motion to be captured as a whole, The Worst of Evil is perfect for action fans. Add in the varying levels of violence that different characters are willing to perform, and every action sequence has layers.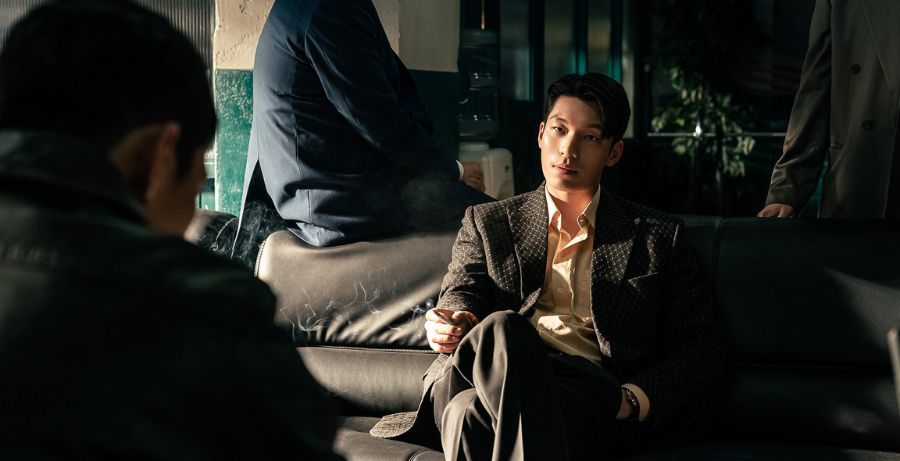 Equally, as a crime drama, The Worst of Evil has a crime narrative just as strong as its action highs. The characters are all in a large web, and the awful acts that Gangnam Union does are never filtered. They are gangsters, and with that comes a brutality to the violence that isn't for the faint of heart. The moral rest tied in? Well, it all connects.
The Worst of Evil is a success because it doesn't just lean on shocking moments or hard-hitting action. It has those two elements in spades but it always takes time to develop dynamic characters at the center of every choice and mystery. A crime drama, a gangster story, and even a childhood romance, every single aspect of the series is wound tightly together around compelling characters that draw you in immediately and hold you there.
For his part Wi Ha-joon as Jung Gi-cheol is intimidating. This isn't the first time that we see actor Wi as an intimidating man capable of violence, with his performance in Midnight standing out. But even with his past roles, this performance in The Worst of Evil feels special. A mob boss, Gi-cheol is cool, calculating, and ruthless without a second thought. But he's also deeply loyal and with just enough emotion to make certain choices come from feeling and not a grab for power. In a world of gangsters, he still allows himself to have his own code, and when allowed to have connections to his past, he embraces them.
This is necessary so that Gi-cheol becomes an antagonist with a purpose and not a villain in the story to be taken down. Yes, Jun-mo's entire purpose is to bring down Gangnam Union as a gang and Gi-Cheol as a leader. But, the complexities of the two men as they build respect allow the audience to a path to root for Gi-cheol, even in his crimes. Instead of the mob boss archetype we often get in gangster stories, Gi-cheol's penchant for violence doesn't overshadow the connections to his humanity, which runs deep. He is definitively a co-lead in The Worst of Evil, and his chemistry with Jun-mo pushes this even further.
For his part, Ji Chang-wook as Jun-mo, a detective and husband who is constantly having to balance his job with his heart, is a stellar protagonist. Jun-mo is a man trying to get out from under the specter of his drug-addicted father and live up to his full potential even if others don't allow him. Picked to go undercover by an old friend, Jun-mo is able to oscillate between being a callous detective with no gray area between right and wrong and a man moved by his own personal sense of justice that sometimes muddies the waters.
Both men, Jun-mo and Gi-cheol, have their individual breaking points. Moments where they have to question what they believe how they achieve their goals, and who is at their side. The detailed ways in which the two mirror each other is sold by the actors and their ability to adapt to the other. With body movements and facial expressions, they feed off of each other in every scene. Yes, that's scripting, but it's also a testament to Ji Chang-wook and Wi Ha-joon and how they work as scene partners. They both make each other better.
While the two men are connected to each other because of Jun-mo's success in the gang, their mutual love of Jun-mo's wife Eui-jeong (Im She-mi) is the true bond that opens them both up emotionally for the audience to explore. While Gi-cheol seemingly longs for his past through Eui-jeong, Jun-mo constantly has to hide his marriage for his wife's safety and, with it, has to hear how the world sees him as an absent husband. It's a situation that breeds a specific kind of care between every character in the story, allowing every choice and interaction to be heavy with narrative weight.
As Eui-Jeong gets pulled deeper into the story, she's never used a prop. Instead, she's the heart of two men who have their own will and drive, moving the story around her and not just for their sakes. That said, the impact she carries on the two of them is intense, pulling back their harsh exteriors and making them vulnerable. In Episode 4, Eui-jeong, Gi-cheol, Jun-mo, and Jun-mo's colleague Do-hyung (Ji Seunghyun), who is playing Eui-jeong's husband for the moment, all intersect.
It's a tense sequence that is made so by the lie everyone, but Gi-cheol is in on and is made tenser by the emotional tethers between each of the characters. As a whole, the episode shows how much everyone involved has had to give up. Heavy with grief and the inability to process it the way they want, it's a standout for the series. While the opening episode's fight sequence captures you, it's how mystery and intrigue are impacted by emotion in this episode that shows what makes the series more than just a simple gangster story, crime drama, or action-forward drama.
The Worst of Evil is one of the strongest dramas of the year, with its winding story of two men irreparably connected to each other and the circumstances that have led them to very different points in their lives. Filled to the brim with action and emotional developments, it's a genre story that uses expectations to build a dynamic depth, doing all things well and never faltering in its pacing or structure.
The Worst of Evil is streaming now, exclusively on Hulu.
The Worst of Evil
TL;DR
The Worst of Evil is one of the strongest dramas of the year with its winding story of two men irreparably connected to each other and the circumstances that have led them to very different points in their life. Filled to the brim with action and emotional developments, it's a genre story that uses expectations to build a dynamic depth, doing all things well, and never faltering in its pacing or structure.