Gunshots fire into the night and echo in an otherwise dark and damp alley. No one is around to witness a glimpse of an unknown character quickly receding back into the shadows. Sirens blare in the distance in the bustling city of Clawville, seething with crime and mischief. Return to a narrative-driven, film noir detective adventure in Chicken Police: Into the Hive by The Wild Gentlemen and publishers Joystick Ventures. Team up as your favorite rooster detective duo, Sonny Featherland (Kerry Shale) and Marty MacChicken (Shai Matheson) as they begin to expose a complex conspiracy.
Chicken Police: Into the Hive is the sequel to the highly well-received Chicken Police: Paint it Red! first released in 2020. In this follow-up title, players will not need to have played the former to grasp the world of Clawville and its characters. In this acclaimed, anthropomorphic stylized game, our clucking pair take on their most dangerous case yet: tackling the insect underground.
Classically set in black-in-white, time spent in this preview is familiarizing yourself with the area and its point-and-click mechanic. While most of Chicken Police: Into the Hive hasn't deviated much from its original format, there are a few new features fans and newcomers will come to appreciate.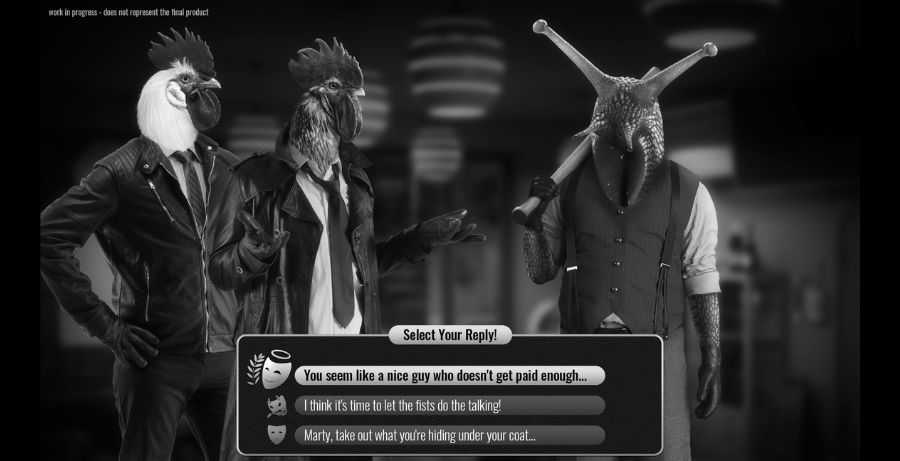 Life is seemingly a little brighter for Sonny. As such, the sequel takes a new perspective with a technicolor mode. This new mode which players can toggle at any time, adds an unexpected richness to its character and the environment. Lively and vivid, the colors add extra depth to its already spirited characters. Furs and feathers ruffle with texture. Down to the color palette and detail for each attire, Clawville feels more alive.
Moving through the story, Sonny and Marty both navigate between a couple of locations where players are introduced to wit, puns, and charm. In order to get into The Hive, though, they'll need the proper papers. As always, an ever so capable and living angel Monica Rosen (Devora Wilde) is there to help guide the two bird brains. Through its narration, players will experience one of the stand-out things about the series: it's fully voiced.
With fully voiced dialogue, players will now be able to access a new dialogue tree when engaging in conversations. Narrowed down to three responses that act like "good, mid, and bad." Whether these responses will change how the story unfolds is currently unclear. Regardless, it adds a slight player personality to the mix.
Whether players have played Chicken Police: Paint It Red! or not, its sequel Chicken Police: Into the Hive is able to stand alone regardless. It doubles down for fans of a classic point-and-click adventure who love a film-noir aesthetic that drips in satire. It's a narrative piece well worth the time and cluckes. It's more flair, more puns, and more dramatic smoke.
Chicken Police: Into the Hive is set to release in 2024 for PC.